German Clock Road
The Entdecke .de series takes you on a tour through Germany. This time we visit the German Clock Road in the Black Forest, which is famous for cuckoo clocks.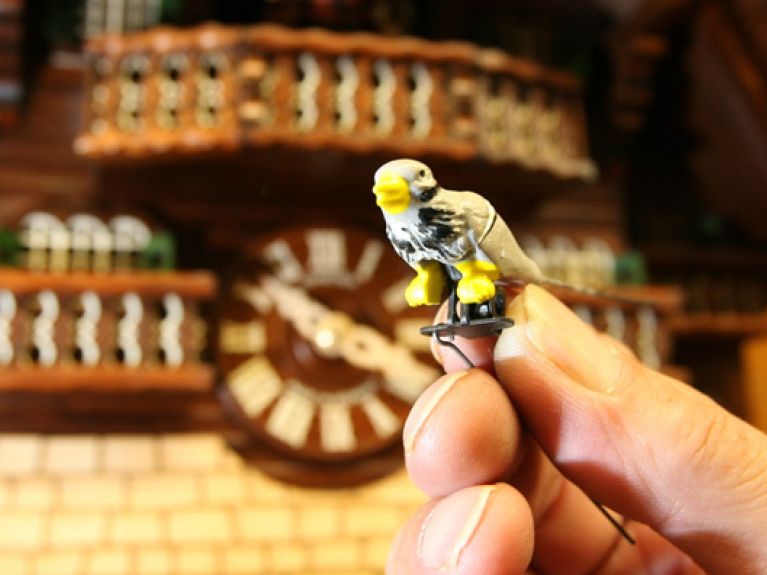 Stressed contemporaries like to complain that their lives are dictated by the clock. That certainly applies to many of the inhabitants of Triberg, a small town in Baden-Württemberg. In this picturesque Black Forest setting, experts in rustic workshops operate manufactories that create a world famous piece of Germany: the cuckoo clock.
Schönwald, a picturesque village on a mountain ridge in the Black Forest, is said to be the place where Franz Ketterer built the world's first cuckoo clock in 1737. It is also the home of the August Schwer clock factory, a family business founded in 1885. In addition to Triberg and Schönwald, the German Clock Road links several other "cuckoo nests". The route begins in the central Black Forest and runs through the southern Black Forest leading to the natural landscape of Baar. It offers many interesting sights associated with its long clockmaking tradition.
Record set by a 4.50-metre cuckoo
The master clockmakers Ewald and Ralf Eble from Schonach, for example, have demonstrated their expertise by building the world's largest cuckoo clock: it is 60 times larger than a normal timepiece. The cuckoo measures 4.50 metres and weighs 150 kilograms. The German Clock Museum in Furtwangen also presents the largest German clock collection. The success of Black Forest clock traders abroad is also documented in Kloster St. Märgen. The stylised wooden chalet with a bird announcing the passing of the hours is especially popular in North America and Asia. The ErfinderZeiten Museum in Schramberg, on the other hand, is mainly devoted to Junghans, the famous local clock factory.
For potential clock buyers the Black Forest Clock Association has introduced a certificate of authenticity that guarantees their clocks' origin. Finally, art has also discovered the cuckoo clock: Offenburg artist Stefan Strumbel, for example, designs abstract timepieces that question what we mean by the concept of home. In fact, there have been some other changes in the cosy world of the cuckoo clock. Clockmakers like Christophe Herr and Ingo Haas of the Rombach & Haas company in Triberg now also produce designer cuckoo clocks in pyramid shapes, with bright colours, as plain diamonds or with antlers instead of a cuckoo.