Faster and faster
The German autobahn – a long-distance road with a worldwide reputation. Read here what is legend and what is truth.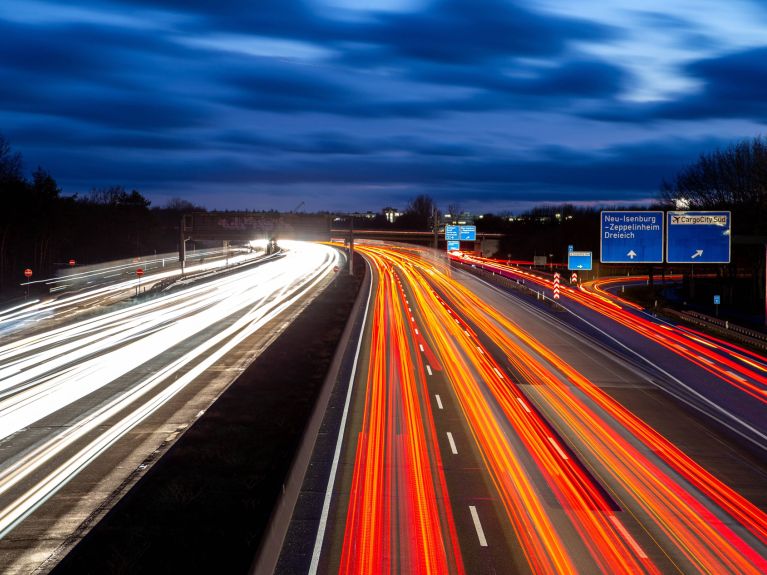 We asked our international community: "What is typically German?" We present the most common answers – with explanations and background information. This time: "Autobahn."
What is it anyway, an autobahn in Germany?
The dictionary calls it: "an intersection-free road built for motor vehicles with several lanes of traffic in each direction." In other words, a total of at least four lanes separated by a central reservation. 13,000 kilometres of these long-distance roads exist in Germany. The roads are given names with an A for Autobahn and a number. In Germany, only vehicles that can drive faster than 60 km/h are allowed to drive on an autobahn, which is marked with a blue sign. But more about speed later.
Did the Germans invent the autobahn?
Definitely not. The autobahn (which translates literally as 'motor track') was invented in Italy, or rather in Rome. In the first century AD, Emperor Claudius ordered the construction of the first multi-lane road divided by a central reservation for pedestrians: the Via Portuensis from Rome to Ostia. The first real autobahn was opened in Italy about 1,900 years later in 1924. It connects Milan and Varese and initially had one lane for each direction. The first German autobahn (so called by analogy with the railway – Auto means car, Bahn means railway track) was opened in 1932 between Cologne and Bonn – today this is the A555. Not until the end of 1933 did the Nazis claim to invent the autobahn with a great deal of propaganda bluster. To conceal their brazen lie, they simply demoted the Cologne-Bonn autobahn (which they hadn't built) to the status of a country road!
Are there really 'no limits' on the German autobahns?
Sometimes yes, sometimes no – which brings us back to the topic of speed: German autobahns are not only toll-free, everyone is also allowed to drive as fast as they like – or so they say. The former is true for cars but not for trucks, and the latter is also only partially true. Speed limits apply on about 40 percent of German autobahns. Trucks are limited to a maximum of 80 km/h everywhere, and all drivers everywhere are required to adapt their speed to the conditions. Apart from that, a recommended 'advisory speed limit' of 130 km/h applies everywhere. In practice, this means that there are only a few stretches of road where you can really drive at unlimited speeds during the day. The average speed of passenger cars on all autobahns is 125 km/h.