German Cathedrals
The series Discover DE takes you on a tour through Germany: this time to its cathedrals.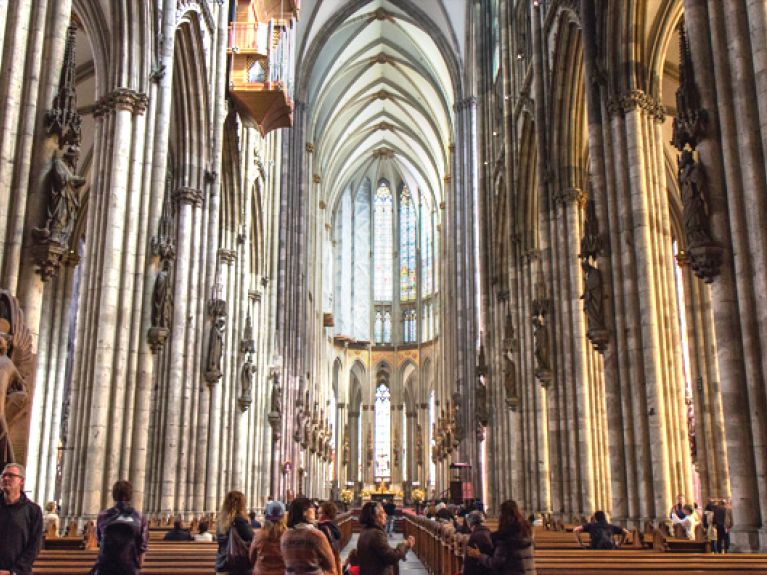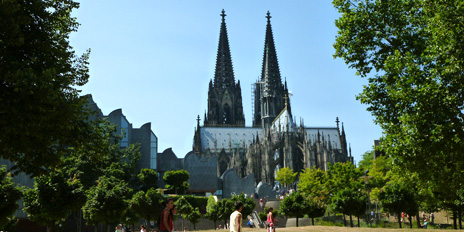 It is 533 steps to the top of the tower of the Cathedral Church of St. Peter, the official name of the Cologne Cathedral. At a height of 157,38 metres, it is the second tallest church building in Europe and the third tallest in the world. Since 1996, it has been a UNESCO World Cultural Heritage Site. Recently, "Skywalker" climbed the cathedral.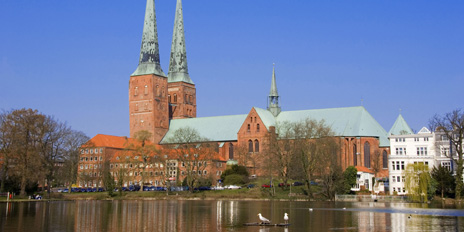 In 1173 the foundation stone was laid for the first large brick church on the Baltic Sea. Visitors today enjoy above all its large collection of art treasures. With St Jacob's, St Mary's, St Peter's and St Giles', the cathedral is one of the five major churches in the Old Town of Lübeck.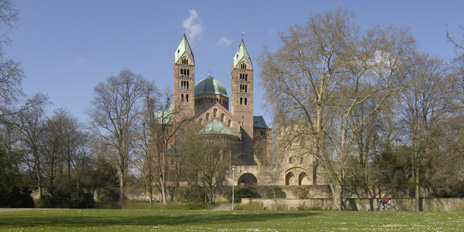 The cathedral church of the Catholic diocese of Speyer is today the largest preserved Romanesque church in the world. It houses nine bells, the heaviest of which weighs 5,350 kilograms. In 1952 Pope Pius XI raised the cathedral to the status of a basilica minor; since 1981 it has been a UNESCO World Cultural Heritage Site. An overview of Speyer Cathedral is available here.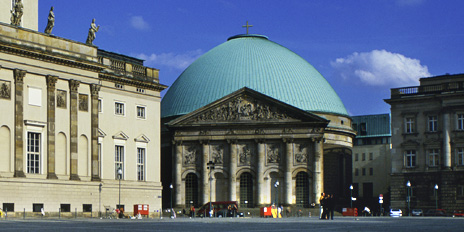 The cathedral, which was modelled on the Pantheon in Rome, was almost completely burned down by a bombing raid in 1943. Its reconstruction took place between 1952 and 1963. With the laying of its foundation stone in 1741, it became the first Catholic church in Berlin after the Reformation.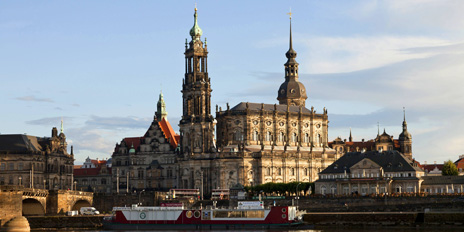 While the outside of the church, which was completed in 1751, is like an art work, its interior seems simple. The pulpit was made by the sculptor Balthasar Permoser. The crypt beneath the church houses the bones of the bishops of the diocese of Dresden-Meißen and the case containing the heart of August the Strong. 
www.bistum-dresden-meissen.de/pfarreien/dresden-kathedrale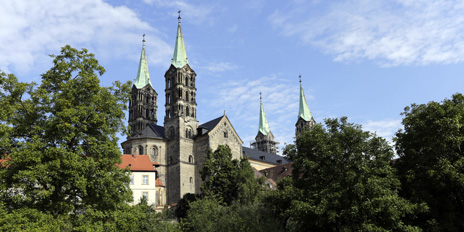 Four towers adorn the Bamberg Cathedral, founded in 1007 by the Emperor Henry II. The cathedral is the fourth basilica minor of the Archbishopric of Bamberg along with the Pilgrimage Basilica of Marienweiher, the Basilica of the Fourteen Saints and Basilica of Gößweinstein. The Bamberg Cathedral can be visited virtually here.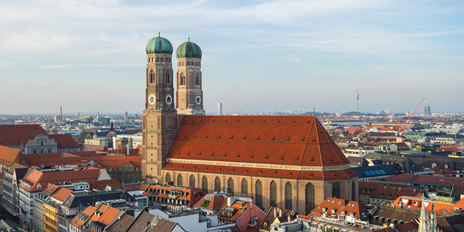 Between the two towers of the Cathedral of Our Lady (the official name of the Frauenkirche), consecrated in 1494, there is a difference of 12 centimetres in height. Nonetheless, the towers, capped by their unmistakable bonnets, are looked upon as a landmark of the Bavarian capital.
Visit the cathedrals