Scholz: "This war is Putin's war".
Chancellor Olaf Scholz has strongly condemned the attack on Ukraine in a government statement. He assured Ukraine of support.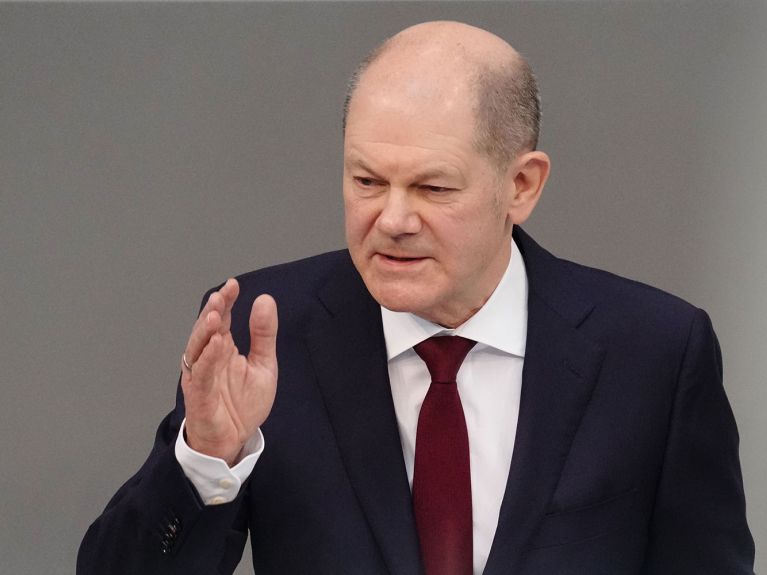 Berlin (dpa) - In a government statement, German Chancellor Olaf Scholz has strongly condemned the Russian attack on Ukraine and emphasised the determination of Germany and its partners. He assured Ukraine of support and accused Russian President Vladimir Putin of "cold-bloodedly unleashing a war of aggression". "This war is Putin's war," the chancellor said in the German Bundestag on Sunday. Scholz also paid explicit tribute to the people in Russia who are protesting against Putin's actions.
Scholz described the attack on Ukraine as a "turning point in history". At its core, he said, was the question of whether might should be allowed to violate right and whether Russian President Putin should be allowed to turn the clocks back to the time of the major powers of the 19th century. "Or whether we can muster the strength to set boundaries to warmongers like Putin," the chancellor stressed. The invasion of Ukraine, he said, was happening for a single reason: "The freedom of Ukrainians is challenging his own oppressive regime. That is inhuman. That runs contrary to international law. That cannot be justified by anything or anyone."
At the same time, the chancellor emphasised that Germany stands "by the side of all those in Russia who are bravely standing up to Putin's power apparatus and rejecting his war against Ukraine". He also added with regard to protests in Russia: "We know there are many of you. To all of you I say: don't give up!" He said he was "quite sure" that freedom, tolerance and human rights would prevail in Russia.
In response to Russia's attack on Ukraine, Germany plans to massively increase its defence spending. Scholz announced a one-off "special fund" of 100 billion euros. "We will use the funds for necessary investments and armament projects," the chancellor said during the special parliamentary session. He also said the coalition intends to ramp up annual defence spending: "From now on, we will invest more than two percent of gross domestic product each year in our defence."
Scholz stressed that Germany will have to invest significantly more in the country's security in order to protect freedom and democracy. He spoke of a "great national effort".
In his government statement, the chancellor referred to the economic sanctions already imposed on Russia and the decision to supply weapons to Ukraine. The German government had decided on Saturday to deliver anti-tank weapons and Bundeswehr surface-to-air missiles. Federal Foreign Minister Annalena Baerbock said in the Bundestag: "We must not leave Ukraine defenceless and at the mercy of an aggressor who is bringing death and devastation to the country." If the world is a different place, "then our policy must also be different."