Solar Powered Hearing Aids, Botswana
Deaftronics is an organization that manufactures affordable Solar Powered Hearing Aids.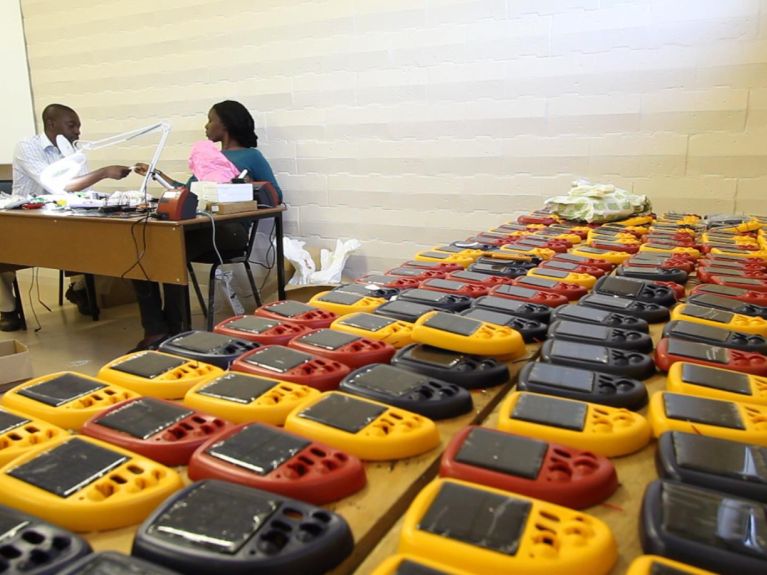 Project description:
Deaftronics is an organization that manufactures affordable Solar Powered Hearing Aids made by Deaf people for people with a hearing loss. Our vision is a world where by hearing impairment is no longer a barrier. Our core values are deaf empowerment through training and employment .Respect and dignity for all. Our mission is to make total hearing health a reality for the developing world and underserved communities globally.
Social Impact- Deaftronics manufactured the first solar-powered hearing aid unit called Solar Ear. The Solar Ear unit includes a digital rechargeable hearing aid, a solar battery charger and four rechargeable hearing aid batteries. The batteries can also be used in 80% of hearing aids currently present in the market. In direct sunlight, the solar charger is able to charge three batteries simultaneously, in only two to three hours. The batteries last a week, have a lifespan between two to three years, and are versatile, as they can also be charged via a household light or a cell phone charger. This presents significant value for Deaftronics' customers, as they are able to save money that would otherwise have been spent on replacing batteries on a weekly basis.
Deaftronics aims to empower the hearing impaired by creating employment opportunities and helping them better integrate into the deaf community. The company achieves this objective by providing training to and employing young, hearing impaired individuals to design its products. As a result, a sense of loyalty and pride is established amongst the deaf community, as the company contributes towards social upliftment of the hearing impaired. It has so far provided training and empowerment to different deaf centers including the National Institute for the Deaf, Cape Town in South Africa, Access Ear, Amman in Jordan, and Solar Ear, Sao Paulo in Brazil.Customers remain loyal to Deaftronics, as the company goes beyond supplying hearing aids, and ensures that the hearing impaired have a well-deserved place in society.
Deaftronics took the initiative and partnered with First National Bank (FNB) Botswana where it trained bank tellers countrywide to sign language in order to assist with bank-related functions. As a result, deaf communities in Botswana that were previously unbanked were able to access banking services. With the support of First National Bank of Botswana, we developed the first HIV/AIDS book in Sign Language. We managed to reduce HIV/AIDS transmission rate form 38% to 9% in deaf communities. Deaftronics is clearly not only a thought leader in development, but also one of the top agencies taking real action to address poverty across the world. Our goal is to make sure that every hearing impaired child has access to a solar powered hearing aid, thereby presenting them with an opportunity to go to school. We believe that through education we can break the cycle of poverty.
Goal and purpose of the project:
People with disabilities, especially women who are deaf represent one of the most marginalized groups in society, where opportunities to express their views and concerns are often restricted. People with special needs encounter widespread difficulties in entering the market. Problems begin at school, when people with disabilities have difficulty preparing for the work market because of various factors, including prejudice, discrimination by classmates and teachers, plus many lacking basic communication skills, such as children who are hard of hearing. Aggravating this problem is a lack of awareness by society of their potential, the lack of skilled workers and misinformation among potential employers. This is the scenario people with disabilities face on a daily basis throughout all countries.

Through the development of new technologies, we have and will create technical jobs, a sustainable enterprise, for people who have a disability by manufacturing the digital rechargeable hearing aid, a solar charger, and rechargeable hearing aid batteries which cost the same a regular battery but last 2-3 years. By investing in these women, plus equipment, training and educational programs, the revenues from this sustainable project will initially create employment for people who are deaf, offer a return on social investment as well as lower hearing loss and the burden of hearing loss to 80 million people by the year 2025.
The outcomes will be more people living independently, given their incomes. The impact will be showing society that people with a disability can work at a world class level therefore more people with disabilities will be hired by other companies. This in turn will have a multiplier effect which will enable the regional economy to grow. Hearing loss, therefore, can be directly correlated with economic hardship in the families and communities which are severely affected. By extension, where large clusters of communities with high incidences of hearing loss and no adequate educational and occupational opportunities exist, economic growth in the larger society is negatively affected.
Research also indicates that, in general, people with disabilities account for a higher percentage of the unemployed than the national average, and have less access to education and training. In countries with substantial development challenges communities coordinated action needs to be taken not only by government but by civil society to ensure that this significant portion of the population affected by hearing impairments can be guaranteed their rights of access to social services, health care services, education, employment, and full and equitable participation in society. Getting a child a hearing aid at an early age will enable this child to be mainstreamed into local school, develop speech, thereby affording this child an education and a chance to break the cycle of poverty which without a hearing aid would be virtually impossible.
Environmental Impact.
Unlike all other hearing aid companies who supply hearing aids only, this project will be selling a complete package. Included in the price of hearing aid will be solar charger and package of 4 rechargeable batteries. The consumer will have all that is required for next two to three years for their hearing aid. We will supply four batteries, because like eye-glasses, consumers often need two hearing aids. There will be many consumers who will buy only a solar charger and batteries for their present hearing aid, which cannot be recharged, but wish to save money on the purchase of batteries. It will also save the consumer transport costs to store, which can be substantial in rural areas of developing countries like Botswana. This program will also save millions of used zinc air batteries, being thrown out (minimum 25 batteries per year).
Motivation of the applicant / applicant team:
I believe that a flat battery should not be the end of a dream . Getting a child a hearing aid at an early age will enable this child to be mainstreamed into local school, develop speech, thereby affording this child an education and a chance to break the cycle of poverty which without a hearing aid would be virtually impossible. My motivation is to enable a person with a hearing loss to achieve their full potential and contribute fully towards their community and country.To hear again means to transform dreams into sounds, which translates into more education and work opportunities.
Use of prize money:
We will upgrade our equipment and hire more women who are hearing impaired.The money will also be used to develop a mobile app which will test hearing loss for newborn babies, infants and children. Screening babies and children will also have the greatest, social, economic, educational and health benefit if detected early.