A career in engineering: finding a job
The job market for engineers in Germany is very good. By some estimates, only one out of every 50 engineers is unemployed. Curious how to land a position? Find out more here.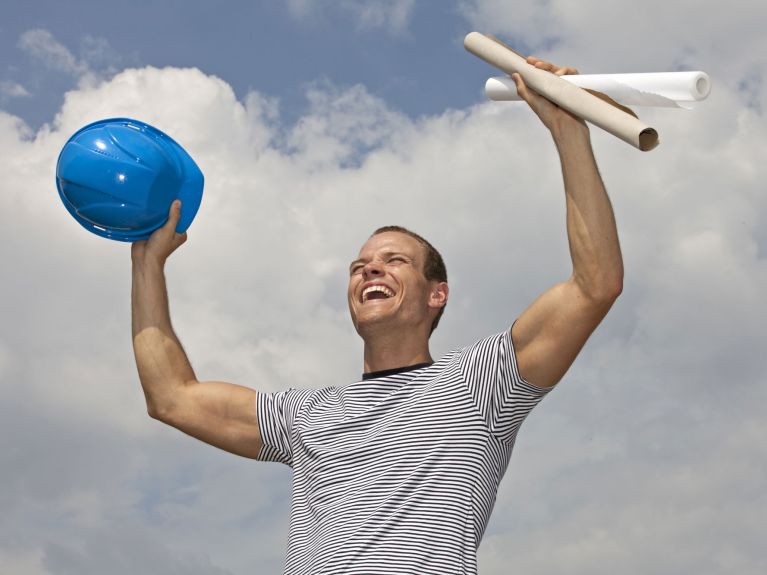 Around 40,000 students graduate with a degree in engineering every year in Germany. But that's still fewer than the number of engineers retiring every year, according to the Association for Electrical, Electronic & Information Technologies (VDE). That means employers are actively seeking trained engineers to fill positions in exciting fields like medical technology, automation, and renewable energy.
For someone interested in checking out what engineering jobs are available in Germany, there are many different approaches. Some job seekers find open positions through the connections they made at school. German technical universities and schools of applied science often maintain close cooperation with industry partners. So a student might spend a semester honing his or her practical skills at a company and then be able to parlay those connections into a job after graduation.
Online job boards are also helpful. Euro Engineer Jobs runs a constantly updating list of open positions. Most of Germany's major newspapers like the Frankfurter Allgemeine Zeitung have online job classified listings. Just type "Ingenieur" into the search field and listings will likely pop up. Headhunters can be another way to get connected with the jobs available. Posting a resume on a website like monster.de could be a way to advertise yourself to headhunters seeking engineers to fill positions at companies. The professional networking website Xing is also a popular way to advertise your engineering qualifications, though it's helpful to have some knowledge of basic German to get the most out of the website.
Job seekers who are interested in working for a larger company should look at the companies' websites directly. Often top firms that employ engineers, like Bosch, Daimler, and Siemens, will advertise primarily through job listings on their own websites. Companies will typically list contact email address for the heads of their human resources departments or hiring managers. If you don't see a job that matches your interest, but think your skills are a good fit for a company, you could send a curriculum vitae and introductory letter to the hiring manager.
Often the best way to land a job is to be proactive about it, says Alvaro Mou, a programmer from Uruguay. He landed a job handling computer systems at one of Berlin's biggest newspapers that way. "I made a presentation showing who I am what I do and sent it to all the newspapers and got a few interviews from that," he says. Mou's web-based presentation was able to demonstrate his programming skills, and he thinks that made the difference. "People should pay more attention to their curriculum vitae's to show what makes them different," he says. Mou says job seekers should ask themselves why would someone hire them and to determine what makes them stand out from the crowd.
Once you've found a job that you want to apply for, then it's important to determine what qualifications employers are looking for.
International job seekers who are unsure what qualifications German companies are looking for can visit the website Recognition in Germany. This website will tell you how to have your certification recognized in Germany. This can be important for some jobs because to hold the job title "engineer" in Germany, it will be necessary to have your foreign qualification verified.
International job seekers do not necessarily face more obstacles finding a job in Germany, but their language skills could be an issue. However, if you want to work for an international company, chances are better for non-German speakers.
These days, international job seekers looking for positions in Germany have a somewhat easier path. To help fill the many open engineering positions, the German government has taken measures to make it easier for companies to hire engineers outside of Germany. The government is supporting programs that target engineers from high-unemployment countries within the EU like Greece and Spain. The government has also lowered the minimum salary companies must pay a foreign job seeker to a level more similar to the average starting salary of an engineering graduate in Germany. Policy makers are also at work creating something called the engineerING Card. Anyone holding an engineering degree from an officially recognized German institution can apply for the engineerING card. Those who hold an engineering degree from outside of Germany should check their eligibility at the FEAN! website. The European Federation of National Engineering Associations offers a card that shows a comparable educational profile for engineers based on international standards.
The potential of finding a job in Germany depends not only on your qualifications but also on the region in Germany where you're applying. If you are a highly skilled mechanical engineer applying in automotive in the south of Germany, the odds are good, but Eastern Germany has fewer opportunities. Generally speaking, the South and North Rhine-Westphalia along with the Wolfsburg region are probably the best regions for engineers.