Iran deal: Europe compromise with US 'far away'
The German Foreign Minister's first talk with his US counterpart and the National Security Advisor ended as it began.
24.05.2018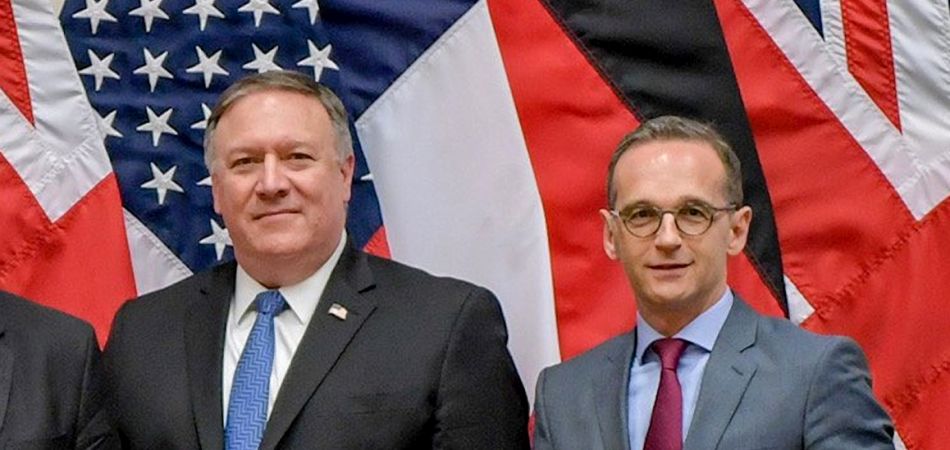 Germany's foreign office took to Twitter ahead of German Foreign Minister Heiko Maas' first meetings with his US counterpart, Secretary of State Mike Pompeo and with US National Security Advisor John Bolton in Washington.
Its tweet "America is more than the White House" alongside three pictures showing Maas in front of the US Capitol and with the US House majority and minority leaders was more than just a fitting mode of public diplomacy for the Trump era.
It could also be read as a diplomatically phrased, but curt description of where the bilateral relationship between the German government and the Trump administration stands at the moment: Pretty close to rock bottom.
Trump doesn't care about transatlantic ties
"I started working in the US government under President Kennedy and I don't think there has been any time since I became active that the relationship has been as bad as it is — because there has never been a president who cared so little about it", said James Dobbins, a former Assistant Secretary of State for European and Eurasian affairs who has also served as special envoy for Afghanistan and Pakistan, Kosovo, Bosnia, Haiti, and Somalia for Presidents Barack Obama, George W. Bush, and Bill Clinton.
But the tweet also served as an indicator of what to expect from the meetings between Maas, Pompeo and Bolton which largely focused on the deep disagreement over the future of the Iran nuclear accord after Washington's recent exit from the agreement: Very little.
And that is exactly how the talks ended, according to Berlin's top diplomat.
"I think we're far away from a compromise" on Europe and America's stance on the Iran nuclear deal, Maas said after his meeting with US Secretary of State Pompeo.
Extraordinary times
His earlier meeting with US National Security Advisor John Bolton ended in much the same fashion. "Europe is very, very united in its position on the nuclear accord with Iran, and that will not change," he said. He reiterated that Germany and Europe would continue to try and save the deal and keep Tehran in it even after the US withdrawal. 
While this sort of deep public disagreement over a fundamental issue between the top foreign policy officials of two close allies would ordinarily be considered a failure, these are no ordinary times, said Jeffrey Anderson, the director of Georgetown University's Center for German and European Studies.
"As long as Trump is president, though, I think this is an unrealistic benchmark. The best one can hope for is to contain the tensions and minimize the damage to the relationship," he said. "In that sense, Maas' visit is a qualified success. It certainly didn't make things worse."
To expect a German Foreign Minister to move the needle on the Trump administration's stance vis-a-vis Tehran weeks after Trump pulled the US out of the nuclear deal, and two days after Secretary of State Pompeo outlined Washington's dozen demands from Iran in a tough speech that was interpreted by many as a call for regime change was illusionary to begin with. 
Expected outcome 
"I think it was inevitable", said Dobbins, the widely respected former diplomat, now with the Rand Corporation, about the fact that the talks produced no tangible outcome. He noted that the Europeans, aside from confronting a resurgent Russia, should not expect much help from Congress on the Iran issue or, for that matter, on many other key foreign policy topics.
John Heffern, the top State Department official for Europe under President Trump until his exit last August, did not want to weigh in on the current tensions over the Iran nuclear agreement between Europe and the US.
But he expressed his conviction that "it's essential for us to work with the Europeans on the JCPOA, (the official acronym for the Iran accord, the ed.) and the climate agreement and some other issues where we have some differences we should be consulting more and see if we could find a way to work cooperatively", said Heffren.
He added that Germany was a critical partner for the US and that "we should continue to recognize that and try to find a way to work together."
Advice for Europe
Judging from the Trump's administration's exit from the Iran nuclear deal and the Paris climate accord, and also its continued threat to impose tariffs on European companies Washington clearly does not seem to share Europe's belief in the importance of transatlantic cooperation.
Instead, under the leadership of President Trump, this administration has embarked on a confrontation course with Germany and Europe where it simply stakes out its demands and expects them to be met.
The Europeans should refuse to just play along, said Dobbins. "I would advise Europe to specify its interests and make clear that they are going to defend them."
Europe should avoid unnecessary confrontations and the implication that Europe is anti-American, he added. "But I do think that President Trump respects strength and deals with countries that are prepared to defend their interests."