More than famine, hardship and war
They are young and creative and their work is full of poetry and tension. The work of African filmmakers meets with an enthusiastic reception – when it is actually seen, that is. The first German-African Symposium on Creative Economy & Cultural Entrepreneurship draws attention to Africa's talented filmmakers and artists.
25.11.2016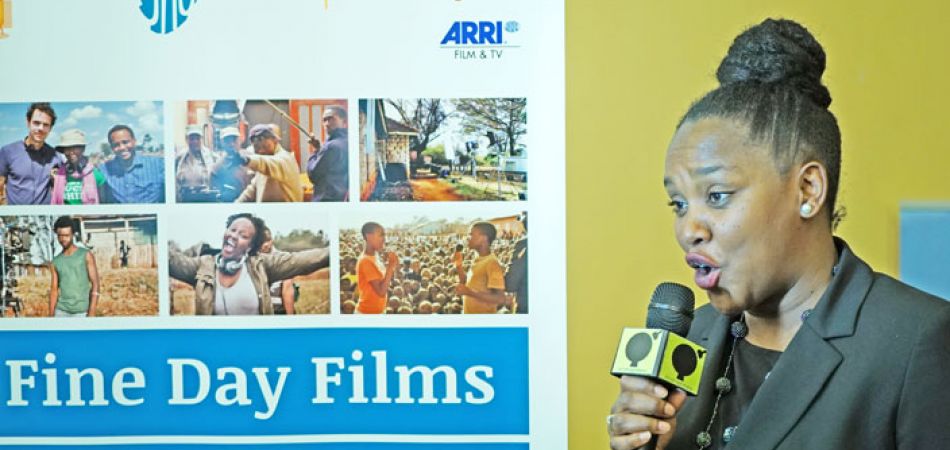 A young woman wakes up in a barren field somewhere in Kenya without remembering or knowing who she is or why she is there. Soon she finds a group of strangers in a nearby resort, who tell her the truth: she is dead and in the afterworld, somewhere between heaven and hell – where everyone is pursued by their own ghosts and is waiting to continue their journey.
This is the story told in poetical images by the film "Kati Kati", which remains packed with tension right up to the last second. Kenyan filmmaker Mbithi Masya's debut, this is the fifth and latest production from One Fine Day Films, a film company co-founded by the German producer and director Tom Tykwer.
A German-African co-production, in other words, that found its way out into the world more quickly than any of those involved had expected: "Kati Kati" will not be released in cinemas in Kenya itself until January 2017. Nonetheless, it was already screened at the Toronto International Film Festival in September 2016 and has now celebrated its premiere at Berlin's Babylon cinema – within the framework of the first "German-African Symposium on Creative Economy & Cultural Entrepreneurship".
The key questions that were addressed that evening was how art can be reconciled with economic concerns, and how a cultural exchange with Germany and funding for artists in Africa might be achieved. This is because many artists on the African continent do not receive any public support for their ideas. "The biggest barrier for artists in Kenya is the lack of support; there is no funding whatsoever for filmmakers", explains Masya. Many highly-committed artists give up in the end when they can no longer earn a living with their art, he goes on.
A new view of Africa
It was the financial and technical support provided by One Fine Day that enabled Masya to make his first feature-length film. Ever since the 30-year-old artist from Nairobi, together with a director mentor from Germany, attended a two-week film workshop organised in 2010 by the production company, he has maintained contact with the German firm. Films like "Kati Kati" offer a glimmer of hope when it comes to the German view of Africa. As Tom Tykwer explains, everyday life in Africa is by no means characterised by the kind of things that Germans still tend to associate with the continent. Africa is not only a place of famine, hardship and war, but also of creative spirit and artistic production.
The organisation behind Tykwer's firm was founded in 2008 in the slums of Nairobi by Tom's wife Marie Steinmann-Tykwer. Ever since it has provided teachers, who come several times a week to give children from the slums there instruction in various artistic disciplines. The film workshops have been run since 2008. Funding comes from a number of sources in Germany, including from the Deutsche Welle Akademie and the Federal Ministry for Economic Cooperation and Development.
Bridge-building between cultures
"The role of politics is to provide funding and thereby to keep art free from political influence", is how Andreas Görgen, head of the Directorate-General for Culture and Communication at the Federal Foreign Office, summarises the importance of such funding. "The objective of this kind of funding, which some people term branding, can also be described simply as bridge-building between cultures."
The unanimous verdict of the symposium is that both count: more exchange to increase understanding about the cultures of the other continent, and the goal of giving art an opportunity to develop its economic potential.
"There is a growing number of media producers in Kenya and East Africa", says Tykwer. But as he explains, what is needed is funding so that art has a chance. That is why the workshops are run, and that is why production support is provided to talented filmmakers from Africa. Among other things, this resulted in the production of "Nairobi Half Life" – now one of the most successful Kenyan films ever.
"Kati Kati" also appears to be well on its way to achieving international success. "It is wonderful that my work is travelling and is being seen", Masya said that evening in the packed Babylon cinema.
Philipp Hoffmann from Rushlake Media, a film distribution company that specialises in films for the African market and collaborated with One Fine Day from the outset, is also optimistic. "The African market is developing well, especially in Kenya, South Africa and Nigeria", he says. Although there are often "universes" between Europe and Africa, he describes the worldwide distribution of African films as a promising niche.
https://twitter.com/BABYLON_Berlin/status/801764760257724416