Halloween in Germany
How is Halloween celebrated in Germany? All you need to know about the origin of the tradition, typical costumes and the best Halloween events in Germany.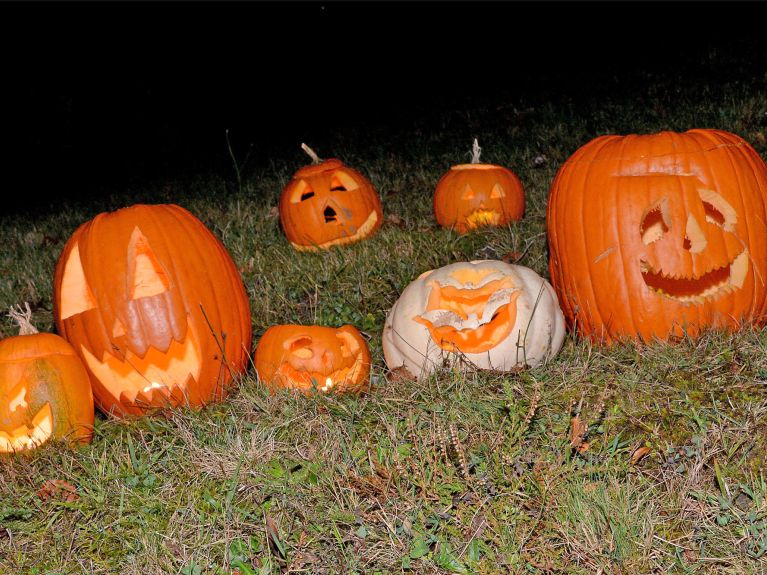 "Süß oder saueres!" is what you might hear children trick-or-treating in Germany say when they knock on your door.
Halloween has been celebrated in Germany for just 25 years, and the "trick" aspect of Halloween traditions makes many Germans angry, according to Spiegel Online, as well as the overlap with St. Martin's Day, a holiday that follows under two weeks after Halloween on November 11.  On St. Martin's Day children walk around the neighborhood with lanterns, singing songs and reciting poems in exchange for treats. 
Though many Germans are unhappy with Halloween's growing popularity in Germany, retailers rejoice: Costumes go on sale in department stores and Halloween-themed candy shows up on supermarket shelves.  While in America Halloween costumes can depict just about anything – from princesses and dragons to movie characters, doctors, and vampires – in Germany costumes should be scary.  If you want to buy a pre-fab costume that is not horror-themed, check out the costume stores around Fasching (or Karneval, or Fastnacht) in February, Germany's biggest costumed celebration. 
Origin of Halloween in Germany
Dieter Tschorn, a public relations consultant for the German Toy and Novelty Retailers Association, has named himself the father of German Halloween.  When the German government canceled Fasching celebrations in 1991 due to the Golf War, Tschorn says he introduced Halloween to Germany to make up for lost sales among costumers and other retailers.  "The industry was forced to find a way of making up the losses. Halloween was chosen," he told Spiegel Online.
Whether Halloween's growing popularity in Germany is due to Americanization or Tschorn's marketing work, the number of Halloween-themed parties and events give the impression that it is here to stay.
Halloween parties and pumpkins
If you live in a big city, there may be neighborhoods or apartment buildings that organize informal trick-or-treating. By and large in Germany, Halloween is a holiday celebrated by adults at themed costume parties and clubs.
Pumpkin Festivals are also a popular way to celebrate both the arrival of Fall and Halloween with the whole family. Finding carving pumpkins in Germany should be no problem: they are a part of many favorite seasonal meals, and you will find them in supermarkets and at farmers' markets in abundance.
Halloween events in Germany
The oldest and most revered Halloween event in Germany takes place at Burg Frankenstein near Darmstadt.  Though whether or not the castle was actually the inspiration for Mary Shelley's novel Frankenstein, it is the perfect location for an appropriately chilling Halloween event.  Visitors are free to wander the ruins, while actors dressed as ghouls, ghosts, and other gruesome ceatures; flickering lights; and an uncanny soundtrack make the castle ruins feel like a truly haunted house.
There are more notable Halloween events that happen annually in Germany.  The Movie Park Horror Fest has been, as of 2018, going on for 20 years.  Located north of Essen, this event has plenty of zombies, monsters, and mazes.  Finally, the Mayen Market "Festival of Magic" in the Eifel region includes a parade, pumpkin carving, costumes, and beer.  Recently even LEGOLAND began a Halloween event, and costumed children receive free park admission on October 31st.
Halloween and Reformation Day 
October 31st is also the date of another German holiday, Reformationstag.  Reformation Day is a celebration of the reformation of the church, particularly for Lutherans, and is a public holiday in the German states of Brandenburg, Mecklenburg-Vorpommern, Saxony, Saxony-Anhalt, and Thuringia.
www.deutschland.de/en: Get more information about society, politics, economy and science in Germany

Newsletter #UpdateGermany: You would like to receive regular information about Germany? Subscribe here to #UpdateGermany.