"Entdecke DE": Wild Moorlands
The "Entdecke DE" series takes you on a tour through Germany, this time to the country's wild moorland regions.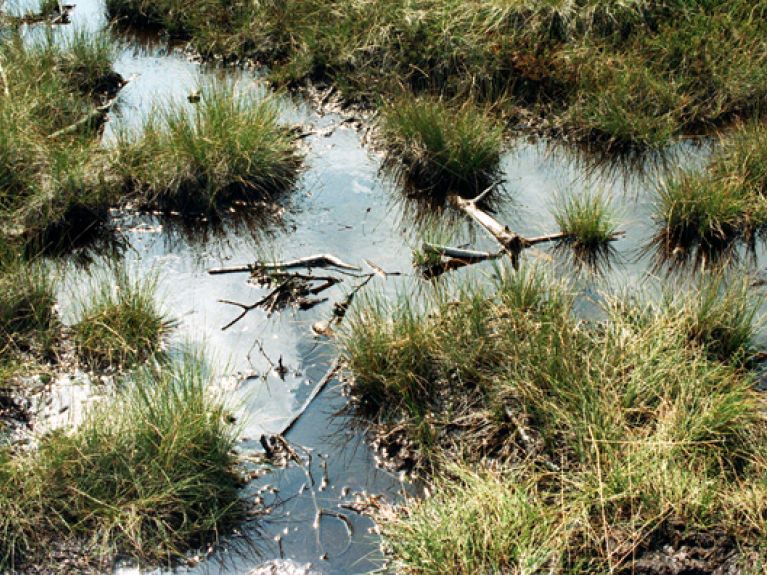 When the fog lies low over the Schwarzes Moor (the Black Moor), it is possible to imagine the wild and eerie atmosphere that must have prevailed at one time in Germany's moorland regions. Up until three centuries ago, wide swathes of the alpine foothills and the North German Plain were covered in moorland, but peat cutting, human settlement and agricultural development have caused the area to shrink radically. The little moorland that has been preserved is now protected as a natural conservation area – like the Schwarzes Moor in the Rhön biosphere reserve at the point where Bavaria meets the states of Hesse and Thuringia. A natural trail takes visitors along a wooden walkway through one of Central Europe's most important raised bogs. With a bit of luck, it is possible while walking to catch a glimpse of a black grouse, an endangered species which finds one of its last few places of refuge in the moorland. The path passes pools of water known in German as "Mooraugen" – i.e. moor eyes – and plants such as the marsh cinquefoil, names which also conjure up a desolate and perhaps somewhat mysterious landscape.
Germany's most beautiful moorland regions:
1. Schwarzes Moor/Rotes Moor in the Rhön region: www.rhoentourist.de
2. Murnauer Moos near Garmisch-Partenkirchen, Central Europe's biggest area of moorland on the fringes of the Alps: www.murnau.de/de/murnauer-moos
3. Wurzacher Ried in Upper Swabia, designated Central Europe's largest area of intact moorland by the Council of Europe: www.naturschutz.landbw.de/servlet/is/67511/
4. Teufelsmoor, legendary area of moorland near the artists' village of Worpswede in North Germany: http://www.kulturland-teufelsmoor.de
5.Peenetal near the Baltic Sea islands of Rügen and Usedom, one of the best-preserved low-lying moors with eagles, beavers and otters: www.abenteuer-flusslandschaft.de
6. Eider-Treene-Sorge, raised bogs and low-lying moors in the North German rivers region: www.eider-treene-sorge.de
World Wetlands Day on 2 February
© www.deutschland.de