Deep research
Science Year 2016*17 Seas and Oceans is focusing attention on an exceptional researcher: Antje Boetius discovers new worlds by ship.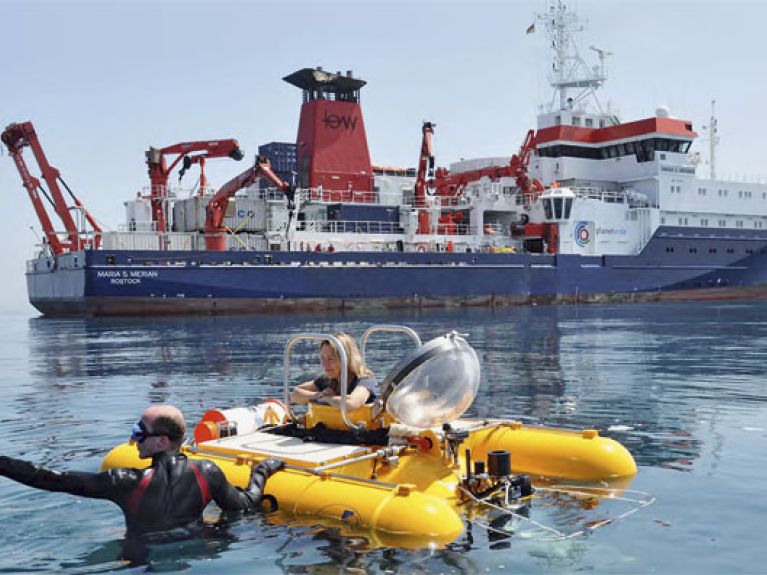 If you add up all her research expeditions and voyages, Antje Boetius has spent several years on board various ships. She has travelled through the Arctic pack ice on the Polarstern research icebreaker several times and investigated mud volcanoes in the Mediterranean. She has sailed to the Black Sea and far out into the Pacific. She has descended into the dark depths dozens of times in diving vessels. In the brightness of their headlights she has seen pale deep-sea fish, colourful sea cucumbers, bizarre giant worms and delicate brittle stars. Antje Boetius is a marine biologist. The main focus of her research is the importance of the sea floor and its inhabitants for life in the ocean and on our entire planet. Above all, her attention is directed at the microorganisms of the deep sea: they may be minute, but their metabolic processes influence the climate of the Earth.
Antje Boetius calls what she does "discovery research". She wants to understand the diversity of ecosystems and the distribution of living things in unknown regions. She is certainly not a researcher in an ivory tower. She heads the Joint Research Group for Deep-Sea Ecology and Technology of the Max Planck Institute for Marine Microbiology in Bremen and the Alfred Wegener Institute for Polar and Marine Research in Bremerhaven. She is also professor of geomicrobiology at the University of Bremen and Deputy Director of the Cluster of Excellence "The Oceans in the Earth System" at the Center for Marine ­Environmental Sciences (MARUM) in Bremen.
She knew from a very early age that she wanted to be a marine researcher. Her family often spent breaks at the seaside, and when she was twelve she received a small natural science kit from her father: a weather station, binoculars, a stereo magnifying glass and a small centrifuge. She decided to study in Hamburg where there were lots of ships and the sea was within easy reach. She wanted to experience the oceans as a researcher.
Antje Boetius became known in academic circles as the result of several publications. She presented her first major paper in the journal Nature shortly after the turn of the millennium. Methane deposits in the sea were a hot topic at that time. Methane clathrate is a firm, iron-like compound of seawater and methane that forms in low temperatures at great depth. This substance has become interesting because it may be possible to extract it from the ocean floor as a new source of energy. On the other hand, there are also fears that these clathrates could melt as a result of global warming and that the methane, a potential greenhouse gas, could rise into the atmosphere from the depths of the ocean. Antje Boetius was fas­cinated by methane clathrates because they were densely populated with strange worms, mussels and countless microorganisms. What these animals lived on was a mystery then, because no organisms were known that could make direct use of methane.
Antje Boetius is inquisitive. "Every five years or so I change my area of interest," she says. And this characteristic was very useful to her at that time. She had just familiarised herself with new research technologies for studying bacteria. Together with a colleague, she took a closer look at the bacteria from methane clathrates – and hit the jackpot: two different groups of microorganisms acting in symbiosis transform the methane into energy-rich compounds and as a result indirectly provide nutrition for the animals. That was the basis for life on the methane clathrates. This news caused a sensation in the academic world.
Antje Boetius is persistent and committed. "I simply enjoy facing new challenges," she says. "You have to give luck a chance to find you." That's also how it was during her time as an undergraduate. After leaving school, she travelled to Hamburg to ask the famous oceanographer Hjalmar Thiel how she could become a marine researcher. He initially reined in her expectations and advised her to come and see him again after her intermediate examin­ations. She did that. She attended all marine biology lectures and completed her first research trip. And one day Thiel asked her whether she would like to go to the United States for a year. There was a job free at the Scripps Institution of Oceanography. Antje Boetius didn't have to be asked twice and packed her bags for America. In addition to her work she also attended practical courses and seminars – so many, in fact, that her time at Scripps was completely recognised in Hamburg as part of her degree course.
Today she also demands self-initiative from her 60 members of staff. In the meantime she coordinates many marine expeditions as chief scientist. She has learned from her role model Hjalmar Thiel and his colleagues that you have to work hard on board to ensure that all the assignments and sample collections can be completed in the short time available. "We can still have breaks for celebration and dancing though," she says. That is why she always has a pair of high heels on board as well as her rubber boots. When she speaks, you notice how enthusiastic she is about her work. And she enjoys passing on this enthusiasm. She answers all enquiries – no matter whether they are for television, radio, podcasts or newspaper articles. And she especially likes working with children. They ask her, for example, how they can become marine biologists and how much money you earn in the job. She collects the children's letters in a special folder. She loves these conversations because the children remind her of her own beginnings as a scientist, and "because this basic curiosity about everything in the world is so crucial".
Since 2015 she has been responsible for science communication on a major stage – as head of the Steering Committee of Wissenschaft im Dialog (Science in Dialogue, WiD), an initiative of German research organisations that is committed to taking science to the general public. This is especially true of Science Year 2016*17 Seas and Oceans, which is being organised jointly by the Federal Ministry of Education and Research and Wissenschaft im Dialog. "We still talk far too little about the fact that the oceans make up the greatest part of planet Earth and are so important for our life on Earth," says Antje Boetius. She firmly believes: "We must practise explaining our research at all levels." What appeals to her most about the work with Wissenschaft im Dialog is that it enables her to meet science communicators from all German research institutions to consider better ways of firing people's enthusiasm for science. She sets the best example here herself. On the Internet you will find countless videos in which she grippingly explains her work and deep-sea research. To that extent, good science communication is actually very simple: you only need to go out and tell research stories like Antje Boetius does. ▪