Strong partners with new ideas
From student exchange through to business issues: three young views on transatlantic relations.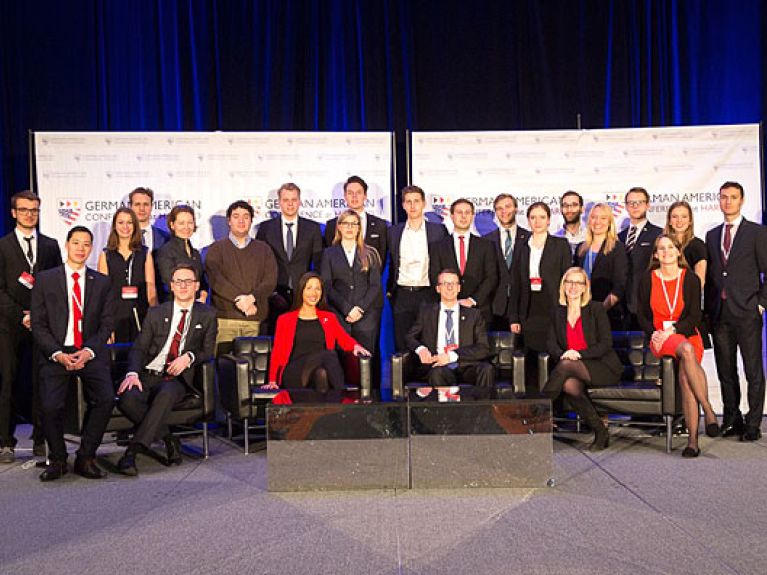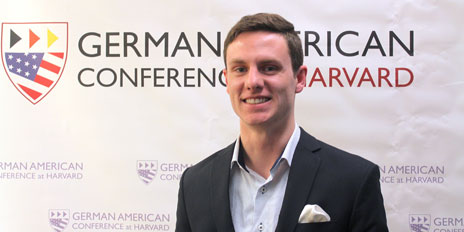 "Both sides benefit": Greg Dobak, 27, JD (Juris Doctor) candidate at Northeastern University – and one of the US organizers of the German American Conference 2017 at Harvard University.
Innovation needs exchange – of that Greg Dobak is convinced. He sees evidence of that amongst other places in Boston, where he is about to complete his law degree at Northeastern University. "Boston is one of the major 'innovation hubs' in the world. There is at least one German working in almost every tech start-up that I know of. This is a prime example of how crucial cultural exchange is for innovation." Before his law studies, Greg Dobak worked for a year and a half for a German start-up in Hamburg that offers software solutions for the management of business processes and manufacturing. "I took an interest in the German language in high school," he says. "Then later at the University of Idaho I minored in German." Dobak has no fewer than three Bachelor's degrees: in Political Science, Psychology and International Relations. In fact, alongside his current legal studies he even managed to find the time and energy in early 2017 to set up the German American Conference at Harvard University as a member of the organizing committee. There, Dobak was particularly involved with the Innovation Lounge, which serves as a networking platform to connect top managers, high quality students and aspiring talents on both sides of the Atlantic. For instance, he met a German Harvard student who also helped organize the conference; the pair are currently working on plans for a start-up in the field of machine learning. Greg Dobak also discerns strong German-American ties in business: "Both sides benefit from increased trade relations. And even if the free-trade agreement TTIP wasn't meant to be, for me, free trade is absolutely vital and is one of the corner stones of transatlantic relations."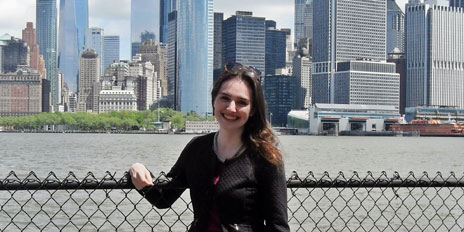 "Invaluable contacts": Caroline Leicht, 20, German student of North American Studies, one-year DAAD scholarship holder at New York University.
Caroline Leicht's fascination with the USA knows no bounds – even if she has an in-part disturbing year behind her that was shaped by politics. She started her year of study at New York University in August 2016 when the election campaigns for the presidency and Congress were already in full swing. Since then, social debates have defined her everyday life. "The political climate at NYU is primarily left-liberal. The university, for example, has explicitly sided with Muslim students who could have been or may be affected by the planned immigration bans." Caroline Leicht is convinced of the value of academic exchange: "It offers you new perspectives, on your own home country, too; and you forge invaluable international links." In the United States, she herself has encountered a great interest in Germany: "When I tell people I come from Germany the response tends to be very open, with lots of questions getting asked. My fellow students can hardly believe that German universities do not charge tuition fees." Berlin, Hamburg, Munich – her peers tend to focus in particular on the largest German cities. In Germany's capital, New York University actually has a satellite, NYU Berlin, which offers its own courses. Caroline Leicht, who after graduation wants to work as a journalist, finds transatlantic contacts outside the groves of academia important, too: "In the USA as in Germany, we need quality media that report on things in-depth. The battle against fake news is being waged in both countries and is a future task that German and American journalists share."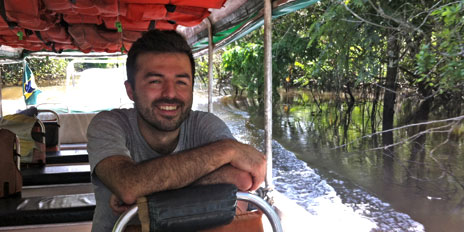 "Transatlantic communication": James Henderson, 30, US PhD candidate at the University of Bonn, junior researcher at the Center for Development Research (ZEF).
"I now have a very large personal and professional network in Germany," comments James Henderson. The network has been growing ever since his high school days. Back then, Henderson headed from Minnesota to Germany on the Congress-Bundestag Youth Exchange program as an exchange student in Kalkar, a tiny town in the lower Rhine region; he later gained a Master's in "Environmental Governance" from the University of Freiburg. Henderson has already spent a total of seven years in Germany – he has also held a Heinrich Böll Foundation scholarship. "I could imagine working in Germany once I have finished my PhD," he says. His academic career calls for an international and open mind: James Henderson has, among other things, already worked in Paraguay as a Peace Corps Volunteer and at the Stockholm Environment Institute (SEI). In his dissertation he is focussing on soybean cultivation in South America and the consumption of soya for meat production in Europe. The fact that scientific exchange overcomes all borders is also something that makes him feel optimistic as regards US-German relations, despite the cuts President Trump plans to make to the science budget. "Governments come and go," says Henderson, "and irrespective of them scientists continually manage to keep collaboration going." Henderson is also not bleak as regards the German Energy Transition concept which currently is having a tough ride in the USA: "It's also a question of transatlantic communication: The USA could be persuaded that the Energy Transition towards renewable energy is a success if we manage to emphasize specific concepts, like energy efficiency and cost effectiveness."
"Dialogue for the future": the work of the Transatlantic Climate Bridge