Networking as part of your professional DNA
Digital networks and social media have become an indispensable part of today's academic world. Regular posting is indispensable for your career, too.
Karoline Amon / 11.09.2020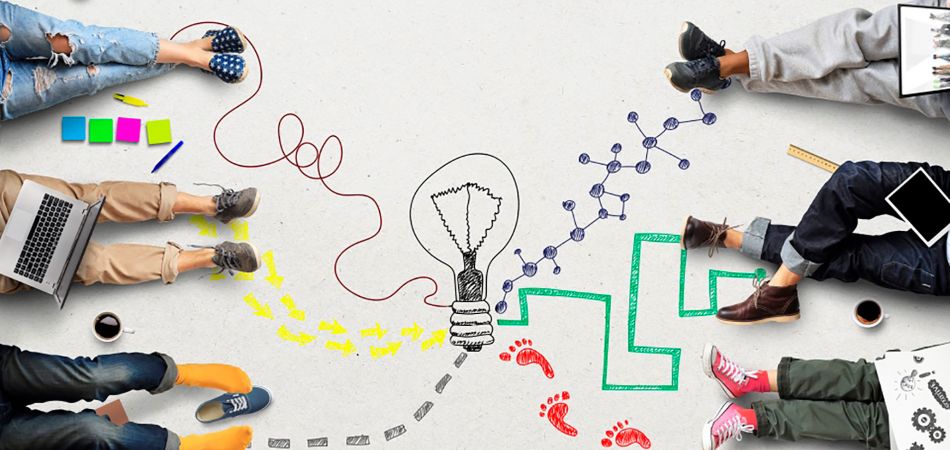 Presented by:

Rajat Rai Handa from India is involved in the area of environmentally sound waste management in developing countries. His research project revolves around the question of how the German concept of producing energy from waste can be applied in India. As a graduate physicist and political scientist, he is well connected and has a well-established profile on linkedin.com. In addition to posting on the blogger platform Medium.com, he's a member of the Deutschland-Alumni-Netzwerk and, as an Alexander von Humboldt Foundation fellow, he is active in that organisation's network.
Open dialogue on Twitter
Networking is very much a part of Rajat Rai Handa's professional DNA. For the 28-year-old, free access is the criterion that determines which digital platforms and social networks he uses. "Scientific networks like researchgate.net and academia.edu are indispensable for research, but unfortunately they're not accessible to everyone," he says. Handa is in favour of "sharing all scientific studies and results with the public and allowing free author networking" – as on Twitter, for example, where Handa has been an active user for six years. He provides his 800 followers with facts about the global waste problem and reports on his project work, while benefiting from other scientific tweets on his topic in return.
"On Twitter you can get the very latest scientific updates in real time – that's unique compared to other networks," says Handa. The fact that Twitter limits posts to just 280 characters is not a problem for Rajat Rai Handa – on the contrary: "Scientists have to be able to present their research results concisely. When it comes to areas of global significance in particular, this is the way to reach so many more people who also have an interest in the topic."
More innovation through scientific networking
Scientific networking has long become part of the social media family. In 2018, the magazine Nature found that 95 per cent of scientists surveyed regularly use at least one social media platform. "This is no surprise," says Professor Isabella Peters, head of the Web Science working group at the University of Kiel and the Leibniz Information Centre for Economics (ZBW). She says that "social networks complement the traditional publishing system by picking up scientific content of all kinds and allowing it to be published and commented on swiftly. This accelerates and increases the innovative capacity of science". In addition, social media make it easier to keep in contact, as well as creating networking visibility for other users.
Jobs and tips for scholarships on social media
Posting and sharing your own work acts like a detailed calling card which you can use to shape your career. Peters advises young scientists to publicise their articles on social networks in the early stages of their careers so as to get feedback early on. "This can potentially save researchers time and money."
Communicating your work on social networks attracts employers' attention, too. Rajat Rai Handa says that "half the jobs he has got to date came through Twitter." In one of his posts on Medium.com he documented his application and acceptance of a position as a journalist with Deutsche Welle. For his fellowship at the Humboldt Foundation, Rajat Rai Handa himself benefited from a post by a former student friend from Berlin in which she explained exactly how to apply for the fellowship. "I got in touch with her after reading it," says Handa.
The right platform for each scientific field
Twitter is also the medium of choice for Cyntia Oliveira for contacts and inspiration within the community. She is a Humboldt Fellow with the German Research Foundation (DFG) and is currently looking into how Brazil can learn from the experiences of the German Excellence Initiative. Just recently she saw again just how helpful social media can be: "I shared my experience at a meeting on Twitter a few weeks ago and got lots of excellent feedback."
On Twitter, Cyntia Oliveira has "followers who are simply interested in my work or who are involved in related topics". But Cyntia uses other networks, too. She posts on academia.edu and writes for the ECHER Blog, and she's also a member of the Humboldt Network and alumni portal. As Oliveira sees it, these closed networks are definitely also useful. "On academia.edu and echer.org I exchange ideas with scientists who are connected to my field – that's what gives me added value". For this reason, Cyntia advises network newcomers to find out in advance which platforms suit them.
Incidentally: both Rajat Rai Handa and Cyntia Oliveira strongly believe that the COVID crisis has provided scientific networking with an enormous boost. Both of them have gained significantly more followers on Twitter as a result.
.