How you can get hold of tickets for the EURO 2024 football championship
You want tickets for the EURO 2024 football championship in Germany? We explain how you can get hold of them.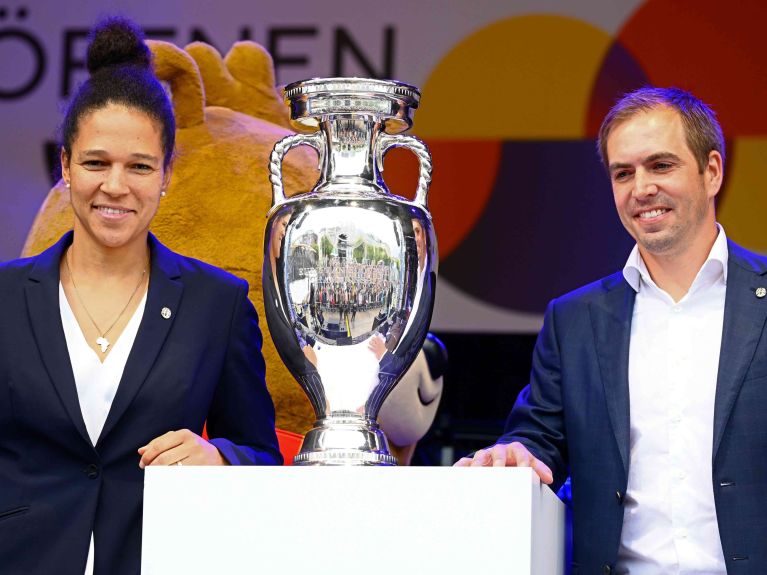 A good eight months before the start of the EURO 2024 football championship, things are getting serious for fans of football: Thefirst of four phases of ticket sales is underway until 26 October 2023. You can order your tickets on UEFA's website. Tickets range in price from 30 to 1,000 euros. We provide answers to key questions about the allocation of tickets:
How can I get hold of tickets for the EURO 2024 football championship in Germany?
Sales and the allocation of tickets by lottery will take place solely via the official UEFA website. Fans were already able to preregister on the website, but can also still register before applying for tickets. Until 26 October, applications for tickets to all 51 matches can be submitted in the first phase. The only limitation is that tickets can only be purchased for one match per day. As was the case with the Football World Cup in Qatar, tickets will be solely available in digital form.
How important is it that I apply for EURO 2024 tickets at a particular time?
It makes no difference when fans apply during the stated period. UEFA promises "a fair and transparent lottery" if there are more applications than the 1.2 million tickets available during this phase. It is not possible to buy a ticket directly.
When do I have the best chance of securing tickets and when are the different phases?
You are likely to have the best chances of getting tickets during the initial allocation phase until 26 October. That is when the largest batches of tickets will be allocated. Other phases will follow after the play-offs in March 2024, once the final three entrants have been decided, shortly before the tournament in the "last-minute sales" and during the tournament for the knock-out round. Matches will be played in Berlin, Munich, Leipzig, Hamburg, Dortmund, Gelsenkirchen, Cologne, Düsseldorf, Frankfurt am Main and Stuttgart.
Will I know which EURO 2024 pairings my tickets will be for?
No. With the exception of Germany, which is hosting the tournament, teams will only be known once the qualifiers have finished and the final draw has taken place in Hamburg on 2 December. However, there is then to be another ticket phase aimed especially at fans of the nations that have qualified. Around one million tickets are to be placed on the market during this phase.
How much do tickets for the UEFA 2024 championship in Germany cost?
The cheapest tickets cost 30 euros in the group stage. An exception is the opening match on 14 June 2024 (9 pm) in Munich, for which tickets will cost from 50 euros. The prices are staggered during the course of the tournament and increase with every knock-out round. Tickets cost between 30 and 200 euros in the group stage and between 50 and 600 euros for the opening match. Then there is the round of 16 (50 to 250 euros), the quarter-finals (60 to 300 euros), the semi-finals (80 to 600 euros) and the final, for which tickets are priced between 95 and 1,000 euros. The significantly more expensive hospitality packages have already been on the market for some time.
Are tickets personalised? Can I return them?
Tickets are initially personalised to whoever places the order. They can order tickets for up to four people. Later, the names of their "guests" will have to be provided in an app. These can be different people from one match to another. UEFA plans to make it possible to return tickets at the original purchase price via official channels.
Do children also need tickets for EURO 2024?
All children require tickets. This even includes babies or small children who can theoretically sit on their parents' laps. "All children (regardless of their age) will require a valid ticket to access the stadium and will have a seat allocated to them," states UEFA. There are also no ticket price concessions.
Can people with a disability get special tickets?
Tickets for disabled fans will be made available for every match. "Regardless of their location in the stadium, these tickets will be priced in the most affordable category," say the organisers. In addition, disabled fans can also request a complimentary companion ticket.