Germany – home sweet home
Constanze Kleis ponders the favourite private playground – the German living room.
17.12.2014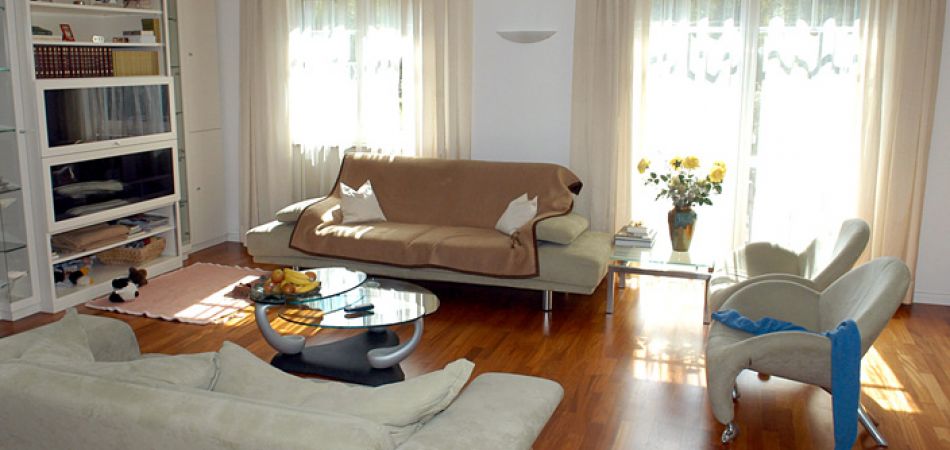 Germany's 19 million houses could lead you to ask 
the same question 19 million times: how do people live behind these facades? The answer is: ardently! If you assume that Germans confine their emotions to football or pampering their cars, you need to think again. Homemaking in Germany is a popular sport. No other nation invests so much 
in the home as we do. Nowhere else in 
Europe do people spend more money on furniture or put more effort into it. It has something to do with the close relationship between the home environment, the psyche and wellbeing, which Germans cultivate as lovingly as their front lawn. Home is a kind of emotional broad-spectrum antibiotic: retreat, ego-fulfilment, private playground. It is not simply about furnishing a couple of rooms, it is more like creating a self-portrait, an emotional canvass. Preferably with solid, sturdy, long-life items that bear the load of expectations about living on their wood-veneered shoulders as effortlessly as Atlas bears the world: fitted kitchens, wall units, sideboards.
The guiding principle of design is above all Gemütlichkeit. It has unquestionable precedence. The archetype is on show in Hamburg. The average German living room can be found at the Jung von Matt advertising agency: an area of 20 square metres, a couch, a beech veneer wall unit, a black ceiling floodlight and blue velour carpeting. This is the result of current home living statistics, study analyses and articles. The idea behind it is that the loft-loving advertisers want to immerse themselves in the real feeling of their target group's home atmosphere. It is quite ingenious really. On the other hand, numerous inhabitants 
of Germany's most widespread living room have complained that they have been robbed of their taste and the conviction 
that they are something special. This is another point on the 
to-do list of living: individuality. That is why we love such formulations as "Our clients acquire an unparalleled and unique personalised product by choosing one of these kitchens". But we tend to ignore the fact that each of these "unique personalised products" is about as common as cyclamens, ivy or orchids on the window ledge, Germany's three favourite houseplants. Or black, brown and white – the colours people buy most.
To put it in a nutshell: the divergence 
between existence and appearance, desire and reality, ability, constraints and freedoms, the craving for uniqueness 
and the need to be a part of the whole is rarely so apparent as in our own home. But that does not worry us, because we are sovereign individuals within our own four walls. In other words, we live close to life, to things as they are, and to a small extent close to things as they should be. That is why around three million Germans browse through the pages of glossy interior design magazines each month, buy furnishing guides and click their way through the ever increasing number of websites dedicated to home living. They sometimes then go to the furniture store, a favourite leisure pursuit, and take a look at the warmly recommended minimalistic designer couch, or the eccentric living room table for 
the price of a small car. But usually they return with the soft-covered monster of a comfortable television armchair, complete with a remote control for five smoothly adjustable reclining positions. You need courage for such profane convictions. And that is why Germany does not only live gemütlich, but in a way also pretty cool. ▪
CONSTANZE KLEIS lives, works and has 
made her home in Frankfurt am Main. Although the bestseller writer does not own a wall unit, 
she does have a black couch.