Travel to Germany as a Volunteer
One of the ways to spend time in Germany is as a volunteer. Different international organizations offer programs to those who want to spend a few weeks or months improving their German and working on a service project.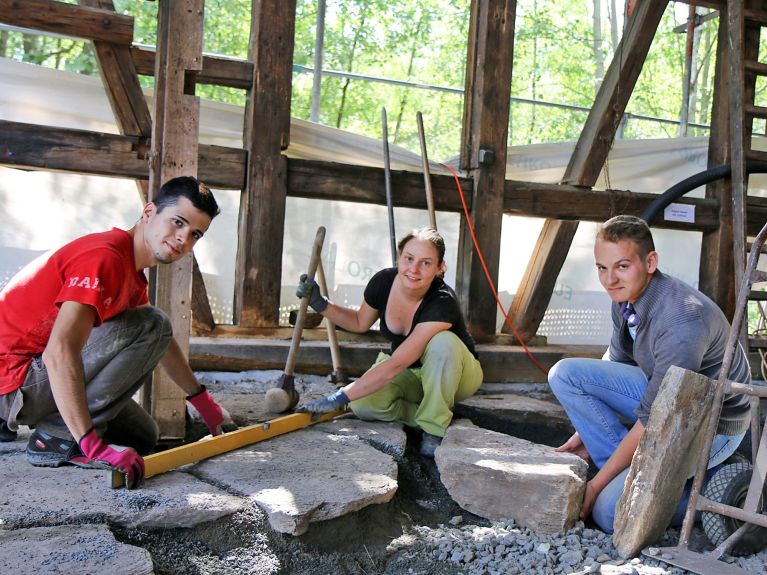 Although Germany is well known for providing charitable help and support to people who need it, the country doesn't rely on the help of volunteers as much as some countries. One reason is because German organizations usually hire full-time staff to take care of the same issues a volunteer might deal with in another country. That said, there are still many opportunities to volunteer in Germany, especially if you're an international student.
Different programs offer volunteer courses to individuals seeking experience in Germany. Generally, these programs last only a few weeks or months and are designed to give participants a taste of the culture. Some programs charge a fee for the organizational details, others are free. If you want to get a deeper look into life in Germany, volunteering may be a great place to start.
Volunteers for Peace organize two- to three-week volunteer activities internationally. The registration fee is $500 plus an occasional participation stipend. Projects range from environmental clean-up to building homes. VOP offers dozens of projects in Germany.
This is a website for people who want to trade their manual labor for food and lodging. Host families in Germany write a description about themselves and the kind of work they need help with. They also list the types of accommodation and amenities (internet or TV) they provide. Those interested in staying in Germany for free can contact the families directly. If it is a good fit, then the families offer the visitors a cost-free place to stay in exchange for some labor. The website shows reviews written by others who have visited host families, but participants should always be cautious about finding a situation that suits their expectations.
A Year-long Volunteer Project
The German Federal Voluntary Service generally deals with Germans who are doing a year of voluntary service, but there are also opportunities for international students interested in taking part. The Friends of Waldorf Education provide support for volunteers from abroad who are interested in helping out at places like schools serving children with special needs or taking care of the elderly.  Most of the programs rely on a year-long commitment. The group's Facebook page offers a lot of information and resources for people who are interested.
The UK-German Connection has a database showing different types of trips for British residents interested in learning more about Germany. There are short "taster trips" of just a few days to longer volunteer experiences. The database lists opportunities with the German Red Cross, for instance, and the British Council's Youth in Action international program.
If a volunteer program sounds interesting, contact the organizers directly for more information. The more they know about you, the better they will be able to direct you to the best fitting volunteer experience.