Many views of Europe
What does Europe's future look like – and will we see more or less solidarity? We visit experts in Frankfurt/Main.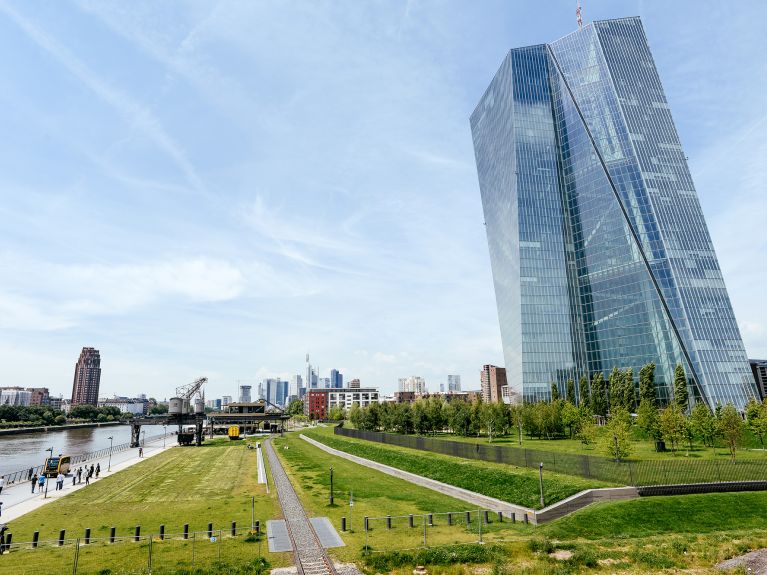 Anyone who visits the European Central Bank and the headquarters of the German Bundesbank in Frankfurt/Main in a single day will find themselves taking a little journey through time. One is a glazed, soaring new structure, while the other is a box-like reminder of post-war modernism. One, then, a radiant European future, the other an outdated concept of nations? This was one of the questions addressed by the international participants of a trip entitled 'Quo vadis, Europa? – The future of the European Union'. As part of the Federal Republic of Germany's Visitors Programme, participants got to know various places in Berlin and Frankfurt/Main and chatted to German experts about the political and economic development of Europe.
Yet in doing so, everywhere they found scepticism. Ever more Europe, ever less nation state? Not everyone believes this is realistic. Martin Rösch is in charge of political communication at the Bundesbank. In discussions he made it clear that among many states he sees only a limited will to transfer further sovereignty to Brussels. "But that's precisely what Emmanuel Macron is proposing," says Milena Lazarević. She is Programme Manager at the Serbian think tank European Policy Centre. Rösch asks if she believes the Serbs are willing to surrender quite so much decision-making power to Brussels when they become members of the EU. "Personally, I would do so immediately", says Lazarević, who then launches into a passionate appeal for greater integration. "I believe that Europe will fade into global insignificance if it doesn't move further in this direction."
This naturally gets the international guests visiting the Bundesbank – many of whom are journalists – talking too: Will its current president, Jens Weidmann, become the next president of the ECB when Mario Draghi's term in office comes to an end in October 2019? Certainly, frequent reports suggest this is the case – although it's no surprise that Martin Rösch is unable to comment. "In any case, I believe we need to move away from national thinking – whoever the next president of the ECB is, they won't be German, French or Italian, but rather European. They will make policy for the Eurozone." Portuguese journalist David Alexandre Melo Santiago from the daily Jornal de Negócios explains that in his country people are very keen to know who will be appointed. Back in 2012, when Draghi promised that "within our mandate, the ECB is ready to do whatever it takes to preserve the euro", this was an important sign for the crisis-ridden southern European states, he says. "With this in mind, we're also a little concerned about how things might progress."
Helmut Siekmann brings an entirely different perspective to the discussion. Siekmann is Professor of Money, Currency and Central Bank Law at the Institute for Monetary and Financial Stability at Goethe University Frankfurt. He points to the massive economic differences within the EU – "not merely between the members, but also within individual states." For the future, he could well imagine a Europe in which strong regions band together – including across borders. Lots of ideas, lots of food for thought. 
Nevertheless, Europe – and this is something else that became clear on the trip – has of course long consisted of more than just business and finance. European energy policy, dealing with immigration and integration, the consequences of Brexit – all these topics played a role on the visit. Quo vadis, Europa? It's a question with a great many answers.