One school for everyone. Pointing the way to 
the future
Learning together: students with and without disabilities are taught at the Heinrich Zille primary school in Berlin.
14.03.2013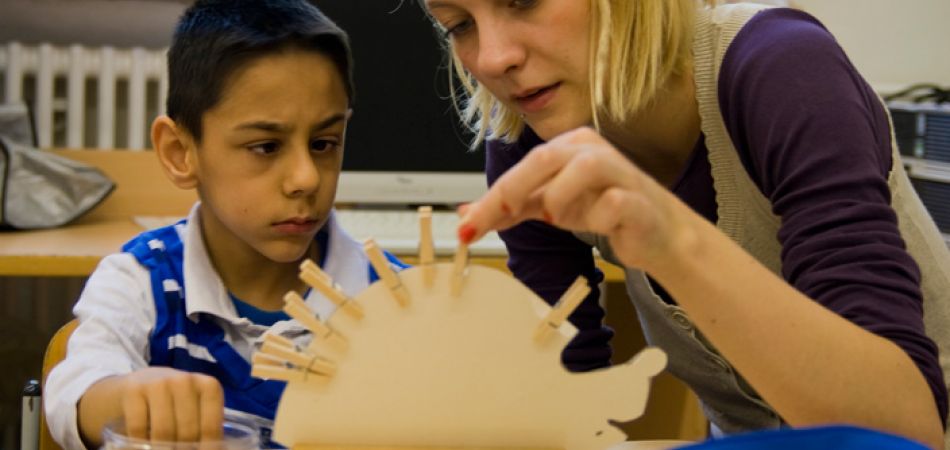 Things are quiet in the school playground, and on this particular day in February the school garden is still in hibernation. But lessons are in full swing at the Heinrich Zille School in Berlin. One class is learning a poem that matches the cold weather: "Das Büblein auf dem Eis". In all, 24 girls and boys from years 1 to 3 are sitting around four large tables for an inter-year lesson about rhyming and writing 
poetry. Erkan (the pupils' names have all been changed) is looking for rhyming words. Elena and Lukas, who is physically disabled and sitting in a wheelchair, are playing Memory together and turning up pairs of words.
When the time comes for group work, Elena pushes Lukas' wheelchair to another table. The two get on very well together, which is just what the team of teachers and educators want. After all, children with and without disabilities grow up and are taught 
together at this particular school. Class-teacher Sibylle Kaczmarek is convinced that as a result of this the children "learn to accept difference". In education this approach to learning together is referred as inclusion. But for a long time, inclusion was not at all self-evident in Germany. Since the 1960s, children with disabilities have often been taught at special educational institutions. But much has changed in the education system since 2009, when Germany ratified the UN Convention on the Rights of Persons with Disabilities, which establishes the rights of people with disabilities to 
social participation, equal opportunities, accessibility and non-discrimination. According to Article 24 of that Convention, the contracting states must ensure that people with disabilities have access to "inclusive, quality and free lessons in primary and 
secondary education".
This has been tried-and-tested at the 
Heinrich Zille School in Berlin for the past 20 years: about 40 of the school's 400 students have special educational needs ­because they have learning difficulties or display behavioural problems. Several ­children are physically or mentally dis­abled. The school, which teaches years 1 to 6, aims to create a feeling of community. In 2010 it received the Jakob Muth Award 
for Inclusive Schools for its exemplary achievements.
In the eyes of school principal Inge Hirschmann, inclusion is not something that can be taken for granted. It presents challenges for both learners and teachers if all the students are to be educated and supported individually. "Time, development phases and good teams are required," says Inge Hirschmann. Like in Sibylle Kaczmarek's learning group, where the children are presenting the results of their work: Mutlu proudly declaims a verse of the poem he has just learned. Hanna can already 
recite all the verses and even knows the 
end-rhymes. And Lukas, the disabled pupil, calls out rhyming words together with 
the other first-year children. This kind of teaching requires a lot of dedication on the part of the teachers. They have to develop tasks in which all the children with their different talents can participate and which are also a challenge for the more advanced girls and boys. In doing this, the class teacher can rely on the help of another teacher and an educator. Lukas in particular requires a constant carer.
That is the school's principle: teachers 
and special educators plus specially trained carers make up learning teams, of which youth care workers from after-school centres are also members. Together they draw up support plans for the children with disabilities, language deficits or behavioural problems. These are aimed at both strong and weak performers; weekly plans help to ensure that the children are encouraged in their reading, writing and arithmetic skills at their respective pace.
When the UN Convention on the Rights of Persons with Disabilities came into effect, it confirmed Inge Hirschmann in her decision to take that path. "We provide proof that children with serious disabilities also have a place in inclusive schools." The experi­ences she has had with inclusion have made her a sought-after discussion partner. After all, the inclusive school model is scheduled to be implemented by 2020 in Berlin, where 
already 50% of pupils with special needs are taught in regular schools. Disabled people's organizations and parents and teachers associations were able to state their views on the new model. Advisory offices have been set up, for example, to support schools on the path to inclusion. What is more, schools that have experience with inclusion act 
as tandem partners and help and advise schools that are new to the approach.
Hubert Hüppe, Federal Government Commissioner for Matters relating to Disabled Persons, encourages schools in Germany 
to start implementing the "human right to education". However, he does notice a certain resistance to change among many of those involved. The separate school system in Germany with its special educational institutions needs to be restructured first. "Inclusion is addressed very differently in the 16 German states. Often special schools are being promoted, instead of inclusive schools being set up." For Hüppe the in­clusion of students with special needs means creating "common living environments", in all walks of life, be that pro­fes­sional, educational or everyday life. In the course of his school visits, Hubert Hüppe has noticed one thing in particular: "Wherever the ­inclusive model is implemented, the achievement of all children improves." That's also the case at the Heinrich Zille School: many of the primary school ­students receive a recommendation for high school. ▪
Kerstin Schneider