Global responsibility
Health, women, supply chains - topics addressed by the German G20 Presidency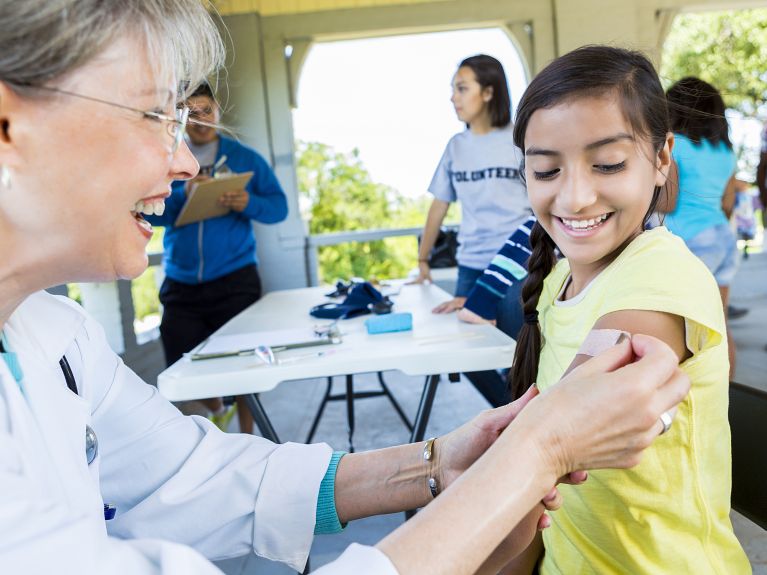 As the most important forum for economic and financial cooperation, the G20 has a responsibility to tackle the urgent risks of our time that pose major challenges for societies around the world and also have far-reaching effects on economic development. These include geopolitical conflicts, terrorism, migration and refugee flows, poverty, hunger and worsening climate change and epidemics. At the same time, the G20 must endeavour to reduce the likelihood and negative impact of possible future crises through forward-looing cooperation. The need for international cooperation with a view to shaping growing global connectivity for the benefit of all has never been greater.
Germany's G20 Presidency will build on the results of previous presidencies and ensure continuity in the G20's activities. In some areas, Germany's G20 Presidency will also build on the results and decisions of the successful G7 summit at Schloss Elmau, for example as regards the G7 initiatives on sustainable global supply chains, access to renewable energies in Africa, improved international preparedness for public health emergencies and the global fight against antimicrobial resistance.
Under its G20 Presidency, Germany will continue dialogue in the established spheres. In view of the state of the global economy, the priority should be to implement structural reforms and stability-oriented macroeconomic policies with a particular focus on the resilience of individual economies. In addition, Germany will continue cooperation on international financial and taxation issues, employment, and trade and investment. The aim is to foster economies' stability and resilience.
Furthermore, Germany will address other issues which reflect the changing global challenges. During its Presidency, Germany would like to help improve sustainability in the G20 and beyond. To this end, the G20 is to help ensure that the goals of the 2030 Agenda for Sustainable Development and of the Paris Agreement are achieved. Germany wants to discuss the opportunities and challenges posed by the spread of digital technology and look at solutions. Within the framework of the G20 Presidency, it also wants to discuss sustainable climate and energy concepts and draw up strategies which strengthen the status of women. Moreover, during its G20 Presidency, Germany will focus on health care, addressing the management of health crises, the question of how to strengthen health systems as well as antimicrobial resistance.
In addition, Germany aims to enhance the G20's role as a community founded on shared responsibility. To this end, the G20 will look at the possible prevention and the economic impact of refugee movements and displacement, advance the issue of migration and continue its efforts to combat terrorism, money laundering and corruption. The Chancellor intends (inter alia, together with African partners) to further develop approaches in order to ensure Africa's sustainable economic progress. Also, Germany wants to discuss the challenges to food security and in agriculture, focusing in particular on water.