Chancellor makes acclaimed speech in Harvard
German Federal Chancellor Angela Merkel held the commencement address to Harvard graduates – and offered them six thoughts to consider on their future paths through life.
31.05.2019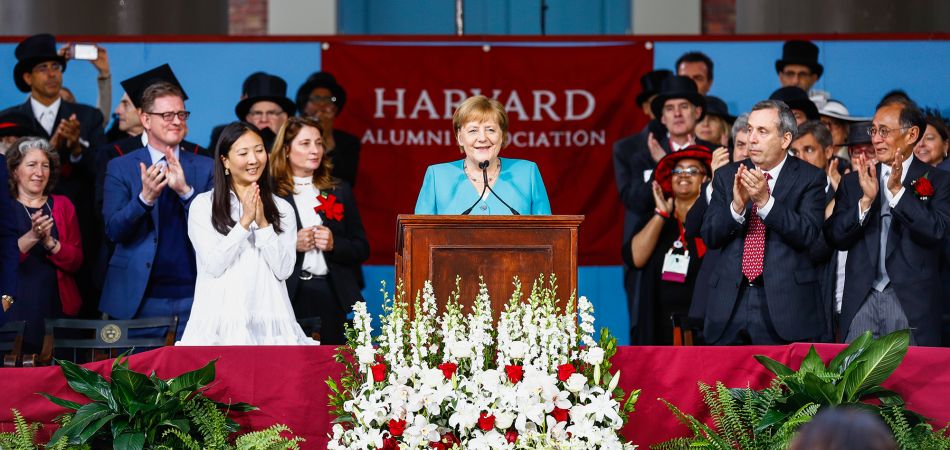 German Federal Chancellor Angela Merkel took part in this year's commencement celebrations at Harvard University. The oldest university in the United States awarded her an honorary doctorate – a great honour for her as a person and as a representative of Germany.
Addressing an audience of some 20,000 Harvard graduates, students, parents, professors and guests, the Chancellor held the Commencement Speech. She described experiences from her own life, talked about the era of Communist East Germany and the year 1989, when everywhere in Europe the shared will to freedom unleashed incredible energy.
Six thoughts for the graduates' futures
In her speech, Chancellor Merkel offered the Harvard graduates six thoughts to consider on their future path through life:
"Tear down walls of ignorance and narrow-mindedness for nothing has to stay as it is."
"Work together rather than alone – in the sense of a multilateral, global world."
"Always ask yourself: Am I doing something because it is the right thing to do or only because it is possible?"
"Do not forget: Freedom cannot be taken for granted."
"Surprise yourself by what is possible."
"Always remember that openness entails risks. Letting go of the old is part of any new beginning. And first and foremost, nothing should be taken for granted and everything is possible."
Special bond between Harvard and Germany
The repeated invitation Harvard extended to the German Federal Chancellor to take part in the commencement celebrations also underscores the special bond that links not only Harvard and Germany, but the USA and Germany.
In the past, German Federal Chancellors Konrad Adenauer (1955), Helmut Schmidt (1979) and Helmut Kohl (1990) all gave the key address at the Harvard Commencement. German Federal President Richard von Weizsäcker was a guest at the festivities in 1987.
Discussion at the Center of European Studies
Federal Chancellor Merkel's trip to Boston was solely to visit Harvard University and attend the 368th Commencement celebrations. During her visit, Merkel also met the Massachusetts Governor Charlie Baker. She further had a discussion with representatives of the Center of European Studies at Harvard University and German students.
Source: Bundesregierung.de/dpa