Help for earthquake victims
German rescue teams on the ground / Extensive emergency aid in Turkey and Syria.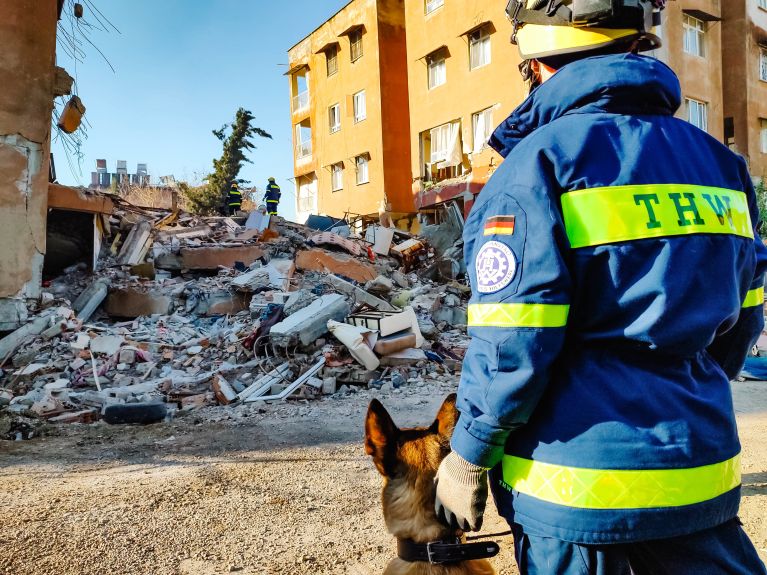 Frankfurt (d.de/dpa) – Germany is supporting people in the disaster region in Turkey and Syria with search and rescue teams, medical personnel and many tons of aid supplies. German and British helpers from @fire and Saraid for example were able to rescue a mother and her six-year-old daughter on Thursday after spending nearly 20 hours working their way through the rubble of a building in Kahramanmaras. @fire is an NGO partner of the German government.
Two large search and rescue teams dispatched by I.S.A.R.-Germany and the THW have likewise been deployed. 25 officers of Germany's Federal Police, including doctors, paramedics and dog handlers, are supporting the rescue operations on the ground.
Tents, sleeping bags, blankets, camp beds, heaters and generators are needed in the earthquake region, partly on account of the wintry conditions. 82 tons of such aid supplies are being transported by Bundeswehr aircraft to Turkey.
Helping the victims in war-torn Syria is proving even more difficult. Only one border crossing is open. Germany is making another 26 million euros available to the NGOs working at the local level. The money will go to Malteser International, the Syria Cross-border Humanitarian Fund and the Syria Humanitarian Fund, which have been working in the region for years and have long been supported by Germany.