The rediscovery of 
 Southeast Asia
Alongside Japan, China and India, a fourth economic area is emerging in Asia that is attracting the interest of German companies: the ASEAN Economic Community (AEC).
15.08.2014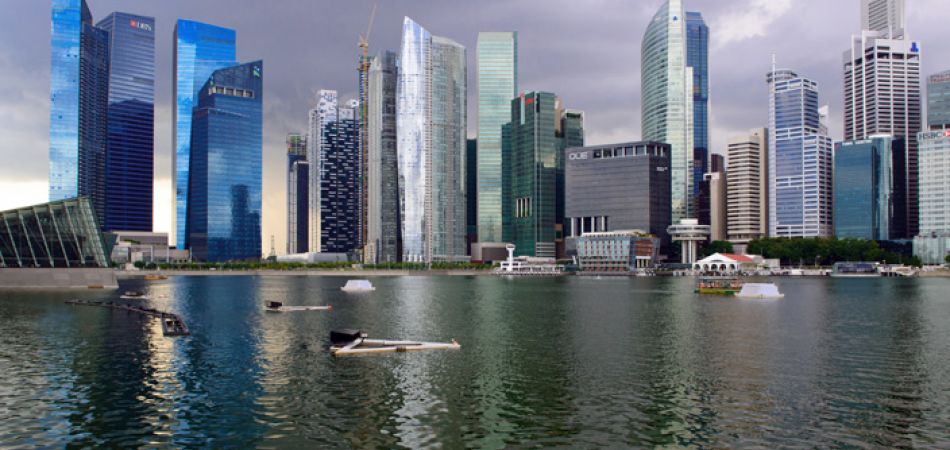 In recent years, the ten countries that make up the Association of Southeast Asian Nations (ASEAN) have been rather eclipsed by the economic upswings in China and, later, India. "ASEAN has dramatically improved the standard of living of more than 600 million people and generated enormous indirect benefits for billions of people in the surrounding countries. Even so, ASEAN has received comparatively little recognition for these achievements," says Kishore Mahbubani, Dean of the Lee Kuan Yew School of Public Policy in Singapore. However, this now seems to be changing. Business­people and politicians are increasingly turning their attention back to the Association – for a number of reasons.
Some ASEAN countries, notably the Philippines and Myanmar, are currently recording growth rates that are well above those of India, and also put China's growth into perspective. However, the ASEAN states will have to close ranks if they really want to be seen as an integrated economic area alongside Japan, China and India. Despite their diversity, they are now perceived as a coherent, closely linked region of more than 600 million people with ever lower trade barriers. ASEAN's greatest, fundamental achievement is often overlooked in this context: the confederation and its member states have secured peace, growing prosperity and geopolitical stability in the region for years. In view of the diversity of religions, forms of government and cultures in Southeast Asia, this alone represents an enormous success.
However, Southeast Asia has only been able to function as a common region since the generals in Burma installed a civilian government. Only then did investors' attention again start focusing on this traditional hub of Southeast Asia – with its 
pivotal position south of China and east of India and its immense mineral deposits. The Philippines, Malaysia and Vietnam also seem to offer special opportunities. The Philippines is experiencing a remarkable recovery. Malaysia is developing a huge residential and industrial area in the south just a stone's throw from the prosperous financial metropolis of Singapore. At the same time, Singapore and Malaysia are moving closer together politically. In the long term, the two countries en­vision a similar relationship to the one 
between the Chinese Special Administrative Region of Hong Kong and southern China. Much will now depend on the future course of Indonesia. Southeast Asia's biggest economy urgently needs investment to develop its ailing infrastructure.
German corporations like Siemens, BASF and Bosch have already discovered the new Southeast Asia – as a partner, 
as a production location and as a sales market. Siemens sponsored the Asian Green City Index study as the partner of the city of Jakarta; the company also launched the Jakarta 21 Initiative to help the city develop a strategy plan aimed at turning Jakarta into a world-class metropolis by 2050. BASF has expanded its existing joint venture with the Malaysian state oil company Petronas and is building a factory to manufacture perfumes and flavours to meet increasing demand from customers in this field. And Bosch is investing in factories in Vietnam in a business venture directed from the financial centre of Singapore. They all want to be prepared when the planned ASEAN Economic Community (AEC) 
becomes a reality – probably at the end 
of 2015. Key preparations have already been made. Over 99 percent of regional trade between the leading six ASEAN countries is now no longer taxed, although there is still an urgent need to reduce non-tariff trade barriers. These particularly affect key industries like chemicals, electronics and mechanical engineering. "You have to immerse yourself in the region," says Axel Stepken, CEO of TÜV Süd and ASEAN spokesperson of the Asia-Pacific Committee of German Business, who himself worked for many years in Indonesia.
The ten ASEAN countries get by with a mini-secretariat employing a staff of only 250 in Jakarta, and there is one thing they want to avoid for the time 
being: a lot of bureaucracy and a common currency like the EU. In this they have the support of the experts from 
the Asian Development Bank (ADB): 
"Although ASEAN needs institutional reforms to make it more efficient, it should not simply copy the European Union – it must maintain its flexibility and pragmatism." ▪
DR. CHRISTOPH HEIN is the 
business correspondent
 of the Frankfurter Allgemeine Zeitung 
in Singapore and has written 
many books on the region.