The teddy bear – a popular toy
Over one hundred years ago, a teddy bear from Swabia conquered the world. 
23.07.2019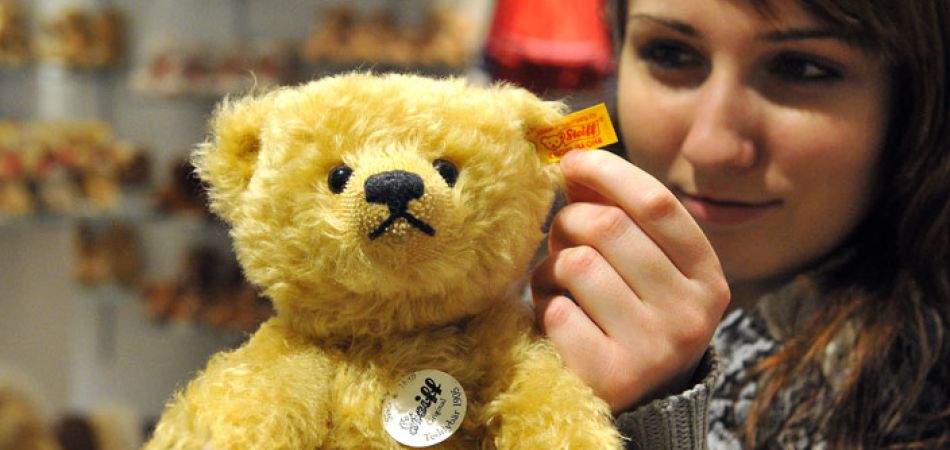 Germany. The teddy bear is the embodiment of the cuddly toy in Germany. Many children grow up with one, and many teddy bears remain loyal companions until well into adulthood. 
Named after a US president
The history of the popular soft toy stretches back to the 19th century. Margarete Steiff was a young woman from Giengen in Swabia who used a wheelchair and was unable to leave the house because she had had polio as a child. After she discovered her love of sewing, her father bought her a sewing machine, which was still uncommon at that time. In 1879, Steiff discovered a pattern for a cloth elephant in a fashion magazine. The Swabian "little elephant" became a hit and other soft toys followed. By 1901 the family business was already exporting toys as far as the USA.
In 1902, Richard Steiff, a nephew of Margarete, developed the teddy bear 55 PB, which is considered one of the first of its kind. At first, nobody wanted to have it. The German teddy with the button in its ear, which has remained the trademark of Steiff products until today, only made a breakthrough at the 1904 World Exposition in St Louis. This was because at the same time a veritable teddy boom had developed in America under President Theodor Roosevelt (nickname: Teddy). After an unsuccessful bear hunt, the president, who was a passionate hunter, is said to have refused to kill a young bear that was tied up for him to shoot.
Cuddly toy museum
Since 2004, Museum Steiff in Giengen an der Brenz has highlighted the history of the teddy bear and the company on 2,400 square metres of exhibition space. It exhibits over 2,000 products that the company has produced since its foundation.
However, the "world's first teddy museum" was already opened on Kurfürstendamm in Berlin in 1986 by the art historian and collector Florentine C. Bredow. She has temporarily moved to Hof in Bavaria with the museum, but is still looking for a new exhibition site in Berlin. "I have put all my 5,000 bears into storage, but we will definitely re-open," says the museum founder. In 2016, on the museum's 30th anniversary, the Europa-Center am Breitscheidplatz displayed part of the teddy collection that now has over 5,000 pieces. They include very rare and valuable exhibits like a Steiff bear dating from 1902. Sonneberg, the city of toys in Thuringia, also has a teddy bear museum. The largest bear there measures 5.6 metres from tip to toe. 
You would like to receive regular information about Germany? Subscribe here: