The "Green Button" goes international
Danish textiles manufacturer Beirholm is the first non-German company to receive the certification.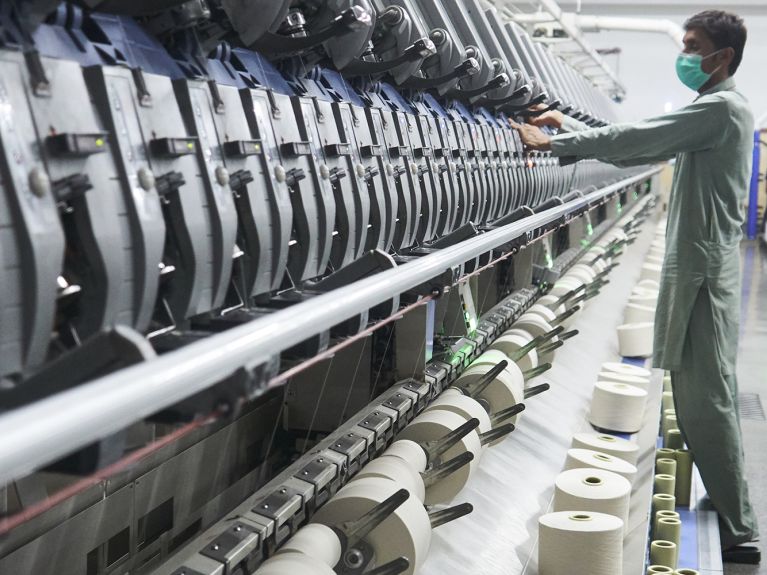 Fair wages, a ban on dangerous chemicals, limits on contaminants in waste water: Germany's state "Green Button" certification guarantees high ecological and social standards in textiles production. Dozens of German companies now use this seal of quality, and numerous foreign firms have also expressed an interest. So what is it about the Green Button that they find attractive? We asked Peter Beirholm, CEO of the Danish textiles manufacturer Beirholm, and his son Andreas. The family-owned business was the first non-German company to receive the Green Button at the beginning of 2021.
Why did you decide to seek Green Button certification for Beirholm?
Andreas Beirholm: We were interested immediately when the certification was introduced in 2019. We supply textiles to hospitals and care homes, among other customers, and often have to submit tenders for public contracts. Labels certifying sustainability are playing an increasingly important role in this context. Our private-sector customers, such as hotels and restaurants, are also showing a growing interest in the issue of sustainability.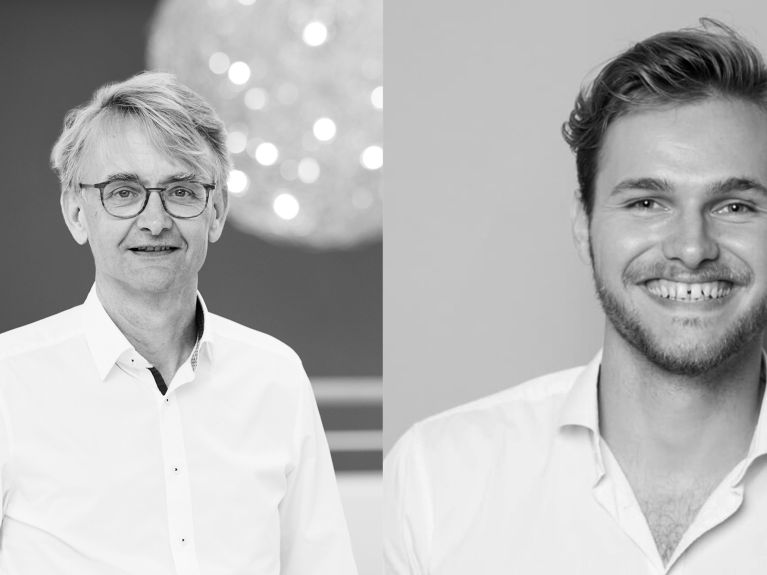 But why a German label?
Peter Beirholm: Germany is our biggest market – we generate around 50 percent of our sales there. The Green Button is quite simply a sensible add-on to what our company is already doing in the area of sustainability. And the certification is properly thought through: it builds upon other certifications, for example, which reduces bureaucracy. If a product already has the "Made in Green" label from Oeko-Tex, for instance, it will have met some of the requirements of the Green Button, so companies do not have to provide renewed evidence of this.
What distinguishes the Green Button from other certificates?
Andreas Beirholm: There's a whole jungle of labels out there, with hundreds of different textiles certifications in the EU alone. One aspect in favour of the Green Button is that it is supported directly by the German government. Furthermore, it focuses not only on ecological criteria, but to a considerable degree also on social criteria. Another positive element is that it looks at the entire supplier portfolio of a company, in line with the supply chain legislation that has just been adopted in Germany. This is a new and holistic approach that prevents companies from simply selecting a different certification to match each supplier.
Do you seen any scope for improving the Green Button?
Andreas Beirholm: Although the certification takes the entire supply chain into account, it currently focuses especially on the so-called wet procedures such as dyeing. One point of criticism might be that the focus is somewhat too narrow. However, it is likely that the Green Button will look more closely at other production steps in future, starting with the production of the raw materials.
How difficult was it to obtain the certification?
Andreas Beirholm: It was hard work. It is not enough to have a concept – you have to prove constantly that it also functions properly. What exactly is done in terms of risk management? What measures are taken when something goes wrong? What is done to guarantee that this happens in good time? Due diligence also plays an important role: How can workers at production plants abroad express concerns? Clear, tried and tested processes must be in place to ensure this.
Peter Beirholm: In our company, economic efficiency has gone hand in hand with sustainability for years. Consequently, we hardly had to change our sustainability strategy at all. What we did need to do, however, was set up an entirely new IT platform to ensure systematic reporting.
That really does sound like a lot of work…
Peter Beirholm: To be honest, after our initial talks with Green Button representatives we actually thought about abandoning the whole idea. We thought to ourselves: "Our firm is so transparent already! Why are they now insisting on all these bureaucratic requirements?" After a while, however, we realised that the requirements were exactly the right ones, and that they would even help us. On the other hand, we can also support the Green Button.
In what sense?
Andreas Beirholm: The Green Button has a future, but quite a lot still needs to be done. So far, the certification is known mainly in Germany; here in Scandinavia we still have a lot of work to do to explain it to people. However, once the supply chain law has entered into force – and many other European countries have already adopted or plan to adopt similar legislation – the Green Button will become even more attractive. As a business enterprise, we can play our part in raising awareness of the certification among our customers in Europe and around the world.