Smart downtown
Park automatically, use digital data, manage traffic: three German-US joint ventures for the future of cities.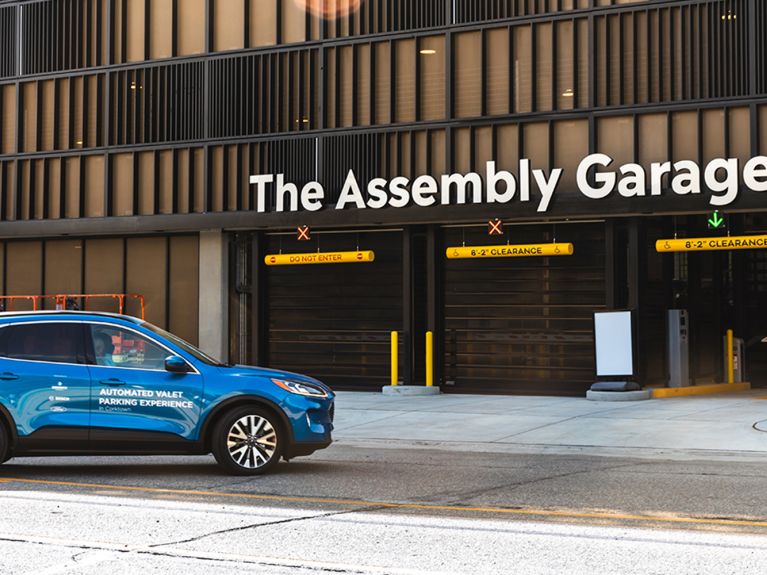 Detroit: Automatic parking
In Stuttgart, the innovative project is already up and officially running: The Bosch and Daimler corporations received approval from the authorities for the automated parking system in the car park of the Mercedes Benz Museum back in the summer of 2019. Users exit their vehicles in the car park, click their Smartphone, and the technology enables the car to autonomously find a parking space: Sensors monitor the parking slot and surroundings and provide the data for steering. The vehicle stops the moment the sensors identify pedestrians or obstacles. Now Bosch, Ford and the real estate corporation Bedrock are focussing on Detroit: Recently, the companies together launched a test in the Assembly Garage, located in the district round Michigan Central Station: It is destined to become the seedbed of innovative mobility.
Boston: Networked communications
In the Greater Boston Chamber of Commerce's 2020 Small Business of the Year awards it was Soofa that bagged the prize in the "Innovation and Growth" category. German founder Sandra Richter manages the company, which is based in Cambridge, Massachusetts, and is busy advancing a networked communications solution: Solar-powered electronic newsfeed panels not only inform the public, they encourage you to interact and post news on the displays. For this reason, in the midst of the COVID-19 pandemic, for its 54,000 inhabitants the town of Revere nr. Boston decided to communicate safety information using the Soofa panels.
Miami: Get traffic flowing
The city is getting smarter: In the USA, mostly recently Seattle and the State of Delaware both chose Siemens Mobility's "Advanced Traffic Management System"; and a major order has now been placed by Miami-Dade County. Intersections in Florida's metropolis and the surroundings will now be networked by a software to a traffic management platform. The real-time data will help adjust traffic light phasing to ensure more efficient traffic flow, with the goal being to reduce the time people spend in traffic by 15 percent and vehicles' C02 emissions by 20 percent.