"Secure jobs in ­global trade"
Angela Titzrath is the new head of Hamburger Hafen und Logistik AG: a top job in the city with a long tradition in trade.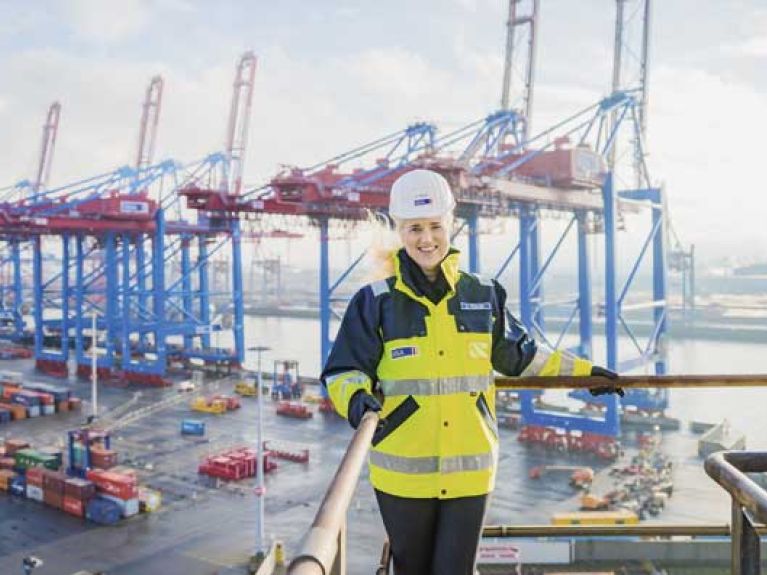 Angela Titzrath, head of Hamburger Hafen
Sitting on the far left of the first row is a woman. Next to her are five men dressed in dark blue suits and ties – pale pink, blue and white striped, some with black and white polka dots. Men from the executive board have been sitting in the first row for years, some even decades. However, something is very different today, something which they had never ever seen before: a woman sitting next to them on their front row. Angela Titzrath is the new head of the Hamburger Hafen und Logistik AG (HHLA), a logistics and transportation company operating in the Port of Hamburg and the largest employer in the port. The room is full this Thursday morning at the end of March 2017. She is making her first major appearance in Hamburg at a meeting at the cor­porate headquarters. She is due to talk about a past which she has not had anything to do with and a future which she hopes to shape.
Titzrath stands up and walks over to the microphone: "Let me first start with a few personal remarks. I moved to Hamburg last year and I'm a new citizen of this great city. And I really enjoy this job here at Hamburger Hafen und Logistik AG, unreservedly and more each day." She then goes on to discuss the crisis in shipping and how the number of containers passing through the Port of Hamburg will decrease in the future. She warns of negative developments in the global economy and requests that the HHLA let her do her job: providing secure jobs. It is personal, direct and demanding. Titzrath, a former senior director at Daimler and executive board member at leading global logistics provider DHL, is setting a new tone through her rhetoric and her actions. As a woman from another sector her appointment is notable in a city which currently finds itself in the midst of change.
In the city's parliament the coalition of Social Democrats and Greens is working with public initiatives to find solutions to the major issues affecting the city such as refugee accommodation, road transport and building houses. In business there are more and more executives coming from outside bringing in new ideas. In art and culture there is the resplendent Elbphilharmonie which opened in spring, where concert tickets can cost several thousand Euros on the black market because anyone and everyone is dying to get inside.
Hamburg is growing: around 10,000 new apartments are being built every year. This is the goal of Olaf Scholz, the First Mayor of the Free and Hanseatic City. Hamburg is drawing in the crowds: in 2015 there were twelve million overnight stays, in 2015 there were only six million. Hamburg wants to become a global city, to be famous outside of Germany's borders. Thus hosting a world-famous event has arrived just at the right time. The G20 summit is an acid test for a metropole which believes in itself. It wants to show that with its history and approach it can meet expectations. A meeting of the most important heads of state from around the world should, apart from the pragmatic discussions, symbolise three things above all else: inter-connectedness, community and open-mindedness.
These are the values which are almost 
clichés in Hamburg given how often they come up in conversation. And they are seen just as often in everyday life – by Angela Titzrath and many other protagonists who shape this global city.