How to live as a foreign artist in Germany
These steps are important to get an artist visa and live in Germany.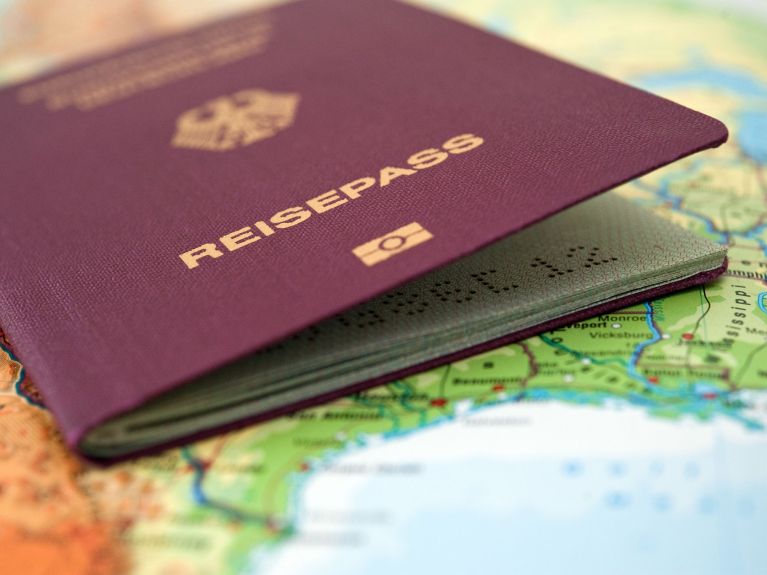 Germany's art scene attracts creative types from around the world. Once they've experienced the creative vitality of cities like Berlin, many often want to stay. But some paperwork is required. One Chicago writer found out what it takes to live legally in Germany.
By some estimates, Berlin is home to more than 60,000 artists. The creative flare and somewhat affordable rents attract designers, photographers, and painters from around the world. After experiencing Berlin's hot arts scene in person, many decide they want to unpack their bags and stay. But that decision can't be made lightly. For non-citizens, a visa is required.
Jovanny Varela went through that experience a few years ago. After graduating from art school, the Chicago-native decided he wanted to explore the world. He flew to Bavaria to visit a friend and then made his way to Berlin. He had no apartment lined up and no way to make an income.
"I was simply following my dream," says the 26-year-old Varela. "I studied painting and I felt the community in Berlin would be accommodating for an artist."
Varela lived at a hostel in Berlin for two weeks while he searched for an apartment. He sent e-mails everyday with no luck. Finally, just before he was about to give up and fly back to Chicago, he landed two apartment offers and an internship for 300 euros a month at the online magazine berlin art parasites. Varela's next step was to make sure all of his paperwork was in order.
Different types of visas for Germany
Germany offers different types of visas depending on a person's background and goals. There are student visas, family reunification visas, foreign journalist visas, work visas and many others. Varela had heard from some friends that applying for an artist's visa might be the best fit for his situation. So he decided to look into it.
As in most countries, Germany's visa application process is very detailed. A person's citizenship, work history, and reason for wanting to stay in Germany, as well as a variety of other factors, will be considered by the visa-granting authorities. The website of Germany's Federal Foreign Office provides answers to many of the most common questions. The office also has a hotline and e-mail address for those with individual questions about eligibility.
Apply for a visa before leaving
Foreigners who want to live and work in Germany should apply for a visa before leaving their home countries. Most tourist visas cannot be turned into regular work visas and not having a visa before arriving can negatively affect further visa applications. To apply before coming to Germany, simply contact the local German embassy or consulate and start the process there. Varela's case was a little unusual in that he came as a tourist, realized he wanted to stay longer, and successfully applied for an extension. Because visas usually take awhile to process, he had to scramble. He decided to go ahead and to apply for the artist's visa, or self-employed visa. If authorities granted him the visa, he would be allowed to work as a freelancer in the arts. That sounded perfect to him.
"On the first try, it was a challenge to know what I needed to present," he says. "Fortunately, I found a lawyer who offered services to let me know everything I needed...residency papers, a bank account, health insurance and to prove that I can sustain myself on what I earn."
Residency in Germany
He says the first step was to show that he had residency in Berlin. This is usually established by visiting a local city office, or Bürgeramt, with a copy of a rental contract, passport and a completed registration application, Anmeldeformular. He also needed certification from his health insurance company, a bank account and to prove he was an artist.
In order to demonstrate his status as an artist, Varela compiled a lot of information about his educational and professional background. Some compare the packet artists' prepare for visa applications in Germany as aking to applying to graduate school. Many people craft detailed curriculum vitae including all of the previous showings that they've had and photographic examples of their work. It is important to demonstrate why you can be considered a viable artist and the potential for you to maintain a steady income.
Once Varela had assembled all of the documents, he made an appointment at the Foreign Persons Office, or Ausländerbehörde. The registration official was not convinced that Varela could live off what he did as an artist, so the official gave Varela a three-month extension visa and asked him to reapply. This gave Varela time to show he could be self-supporting. The next time Varela applied, he received a six-month visa, which is now almost expired.
Varela's time in Berlin has been good to him. Within the last six months, he went from being an intern at an art magazine to its editor-in-chief. He's also grown close to many people in Berlin and sees himself staying around a while longer.
"My idea when coming to Berlin was to be here for a year, and then go back home," he says. "But I had not planned on it being as captivating as it is and in having the amount of success that I've had."
Varela's experience is echoed by many travelers to Germany. The creative stimulation and success some find in cities like Berlin prompt them to look for ways to extend their stays.
Because extensions usually require a visa, it is important to keep a few key points in mind. Start early. Varela's situation worked out, but many people encounter serious problems when they start too late or let their visas expire before applying for a new one. Some people are even prevented from returning to Germany if they overstay their visas.
Varela recommends speaking with someone who has gone through the process to help avoid time wasters. He says, "Most importantly, inform yourself as much as possible and don't wing it."
For more information on the artist or freelance visa, visit the website of the Professional Association of Visual Artists Berlin.