Trading down
German companies are doing well in the US, but Trump's unorthodox trade policy is producing a "climate of instability".
Nikolaus Piper / 07.08.2019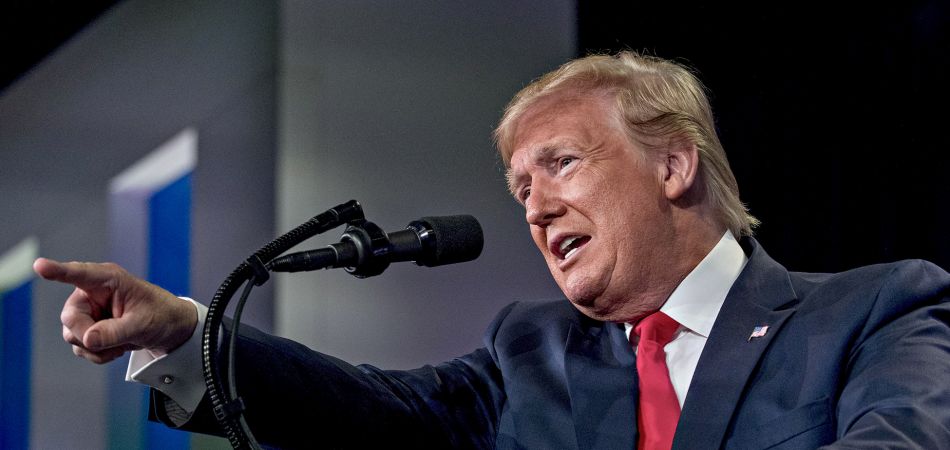 Economically, at least, things are just fine between the United States and Germany. Bilateral trade is flourishing. America is the biggest consumer of German goods worldwide, ahead of France and China. Exports across the Atlantic rose last year by 1.5 percent to €113.5 billion.
In 2018, imports from the US into Germany grew even more rapidly, rising by 4 percent to €64.6 billion. The bilateral trade surplus with the US is still the largest of all of Germany's trading partners but at least it has declined, which, with a little good will, could be construed as a step towards more normalized relations.
A great uncertainty looming over everything
German companies that invest in the US are reporting excellent financial results, thanks, among other factors, to Donald Trump's tax reforms. Last year, Washington reduced the tax rate on corporate profit from 35 to 21 percent, which has resulted in something of an economic upturn.
"The order books are full and some of our members are reporting record results," says Dietmar Rieg, President and CEO of the German-American Chamber of Commerce in New York.
Yet, like most people dealing with international trade issues these days, he adds a big "but." "But there's a great uncertainty looming over everything." This is a consequence of Trump's unorthodox trade policy in Washington.
Tariffs, trade war and new trade agreements
Entrepreneurs, traders and investors don't know what's still to come from Trump: tariffs? Or maybe even an open trade war with China? Their worst fears were confirmed in May, when the US president threatened to impose punitive tariffs on Mexico if the Mexican government failed to stop the flow of immigrants and refugees from Guatemala to the southern border of the US.
And this is happening in a dispute with a country with which the US has just concluded a renewed free trade agreement called UMCA to replace the expiring NAFTA agreement.
The American Chamber of Commerce in Germany (AmCham Germany) is also reporting good business outcomes, but great uncertainty about the future. The Transatlantic Business Barometer, which the Chamber of Commerce published in April together with the Roland Berger management consultancy, makes this abundantly clear.
A lack of reliability in US politics
It notes that the lack of reliability in US politics is weakening overall business outcomes. Just 8 percent of German companies in the US rate Trump's policies as positive, while 37 percent expect business conditions in the US to deteriorate over the next three to four years.
Conversely, the great majority of American investors regard business conditions in Germany as good or very good, although a quarter of those surveyed also expected more challenging times ahead, due to higher energy and labor costs and deficits in digital infrastructure, among other factors.
Decisions at the national level will not be enough to maintain the attractiveness of Germany and the US as countries to do business in, says Frank Sportolari, president of AmCham Germany. "Instead, we will have to rely on dialog and trans-Atlantic cooperation to counteract protectionist measures."
The US ambassador in Berlin is highly controversial
In terms of atmosphere, the deterioration in US-German economic relations is already making itself felt for many people working in government administration. Cooperation is still working well at the operational level, according to German government circles. Many experienced officials are still at their desks in Washington. "But as soon as it's about anything out of the ordinary, a tricky visa issue for example, things get very tough."
One particular problem seems to be the highly controversial US ambassador in Berlin, Richard A. Grenell, who was appointed by Trump in May last year. Contrary to usual diplomatic practice, Grenell has repeatedly, publicly and sharply criticized the German government for adhering to the nuclear deal with Iran and spending too little on defense, for example. "The man is a disaster, he is actively damaging German-American relations," says a Berlin insider. Grenell is not helping to solve conflicts; he is exacerbating them.
Read the whole text on The German Times website
Nikolaus Piper is an editor of the "Süddeutsche Zeitung" in Munich. He was their US business correspondent in New York from 2007 to 2014.