Winners on both sides
Valuable economic relationship: How German automobile manufacturers are stimulating US exports and US investments are boosting innovation in Germany.
27.04.2018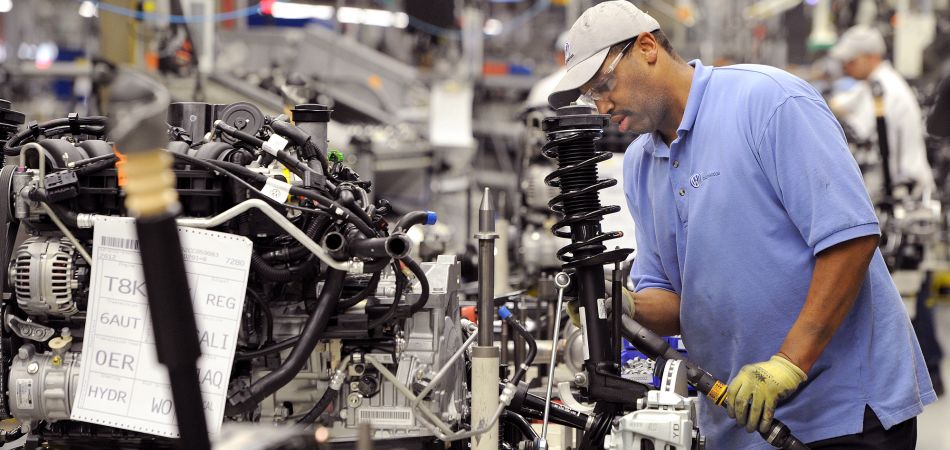 It was very good news for the state of Tennessee. In mid-March 2018, Volkswagen announced that in future it would also be producing a five-seater SUV at its Chattanooga site – in addition to the Passat and the Atlas, an off-road vehicle. The total investment comes to no less than US$ 340 million. Bob Corker, the Republican Senator from Tennessee and Chairman of the Senate's Committee on Foreign Relations subsequently said VW's choice of location was one of his best moments as a politician. ""This important partnership has benefited thousands of families and generated extensive economic activity in surrounding communities while solidifying Tennessee as the premier location for automobile manufacturing."
The automotive industry is a particularly good example of how closely the German and US economies are intertwined. Mercedes-Benz rolls out almost 300,000 vehicles a year in Tuscaloosa (Alabama) and exports them to 135 countries. Around 3,700 people work at the plant. Added to which, more than 1,000 employees are on the payroll at the HQ near Atlanta, in an eco-new-build measuring almost 20,000 square metres. And BMW is America's biggest automobile exporter. In 2017, the US subsidiary of the Munich-based group delivered 272,346 vehicles from its plant in Spartanburg (South Carolina) to all parts of the globe.
Danger of a trade war
The way in which the German and US economies are linked applies just as much to the exchange of goods as it does to mutual investments. For this reason, danger looms when new tariffs start being discussed and pundits do not even rule out a trade war. "The mutual vulnerability level is high," says Gabriel Felbermayr, Director of the Centre for International Economics at the Ifo Institute for Economic Research in Munich.
German companies create not only jobs in the USA – according to the German American Chamber of Commerce they have to date invested US$ 292 billion and created more than 700,000 jobs. Around a quarter of the companies train the skilled workers desperately needed in the USA – using the German system. A good example is the toolmaker Stihl, which even has its own training officer at its Virginia Beach site. Stihl has a payroll of around 2,000 employees in Virginia, from where it exports to over 90 countries.
US investments in Germany
Conversely, US companies are also boosting prosperity in Germany. Their investments frequently promote technical progress: In 2017, for example, IBM opened new headquarters for artificial intelligence and the Internet of Things in Munich, named after the supercomputer Watson; the company is spending around US$ 200 million on it. Or Cisco: The Silicon Valley-based network equipment provider operates an innovation centre in Berlin and has announced that it will be investing half a billion dollars in digitization projects.
The USA is also an outstanding trade partner for Germany: It exports more goods there than to any other country. "The per capita income of Americans is high and therefore so is their purchasing power for the high-quality articles that are made in Germany," comments economist Felbermayr. At the same time Germany sources lots of important products from the USA, for example software and medical technology, putting America in fourth place for imports, behind China and the EU countries France and the Netherlands.
USA benefits from exports and imports
In terms of figures, from the point of view of the USA there is currently a deficit in the transatlantic exchange of goods. Yet with trade, gain for one party does not mean loss for the other. Robert Lawrence, Professor of International Trade and Investment at the John F. Kennedy School of government at Harvard, explains: "The United States benefit both from exports and imports" – after all, the latter also raise the living standard of consumers. As such it is wrong, he says, to make an improvement in the balance of trade the objective: "Trade policy should concentrate on dismantling one's own trade and investment barriers and creating open markets for American products abroad." That is precisely what the trade agreement TTIP between the USA and the European Union was intended to achieve before the negotiations were stopped by Donald Trump when he became US president.
Lots of locals are aware of the benefits of the transatlantic economic relations –in the USA as well. Jim Newsome, for example, head of the South Carolina Port Authority, says: "The growth of BMW has opened up extremely interesting opportunities for us." BMW ships vehicles worth US$ 8.76 billion annually from his port. That figure could well rise: Thru 2021, BMW is planning to invest a further US$ 600 million in Spartanburg and employ 1,000 more staff members.