A tour of Germany by bike
People think of Germany as the country of the autobahn, yet there is also an extensive network of long-distance cycle paths here. We present the three most beautiful routes.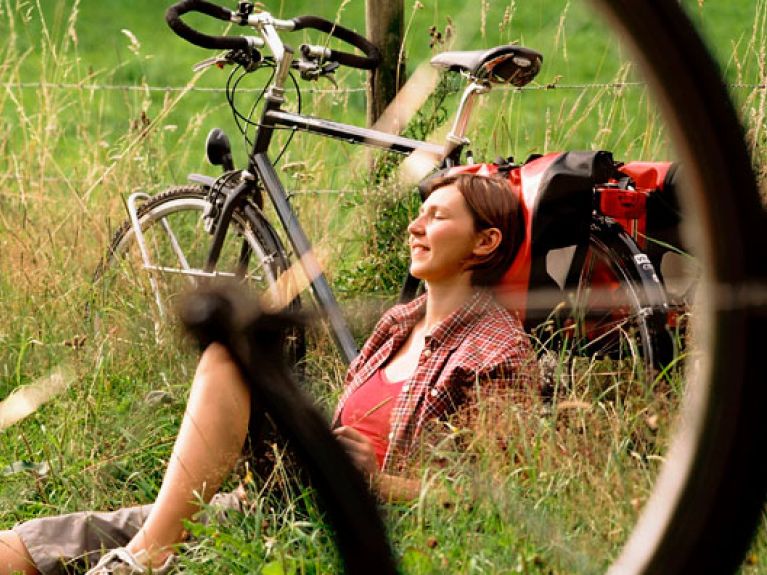 Germany. Twelve D-routes allow cyclists to explore diverse natural and cultural landscapes between the Baltic Sea and the Alps. Sounds exhausting? Not at all! Everyone, from hard-core cycling enthusiasts to families with children, can find a tour to suit them – and no mountain is too step for a cyclist on an e-bike. The D-routes are clearly marked with a wheel symbol and a number on a red background.
Baltic Sea Coast Route (D-2)
Cyclists will be accompanied by the fresh smell of the sea when coasting along this flat stretch from Flensburg to the Polish border, which takes them right across the islands of Rügen and Usedom. At the same time, they will enjoy the panorama offered by the Baltic Sea coast, with sandy beaches, coastal forests and endless birdwatching opportunities along the way. Cultural highlights en route include the Hanseatic towns of Wismar and Stralsund, as well as historic seaside spa towns like Heiligendamm. In total, the route is 1,055 kilometres long.
The Pilgrims Route (D-7)
The Pilgrims Route is part of a European Eurovelo route that runs from Trondheim in Norway all the way to Santiago de Compostela in Spain. The German section is around 1,000 kilometres, extending from Flensburg to the cathedral city of Aachen. Hamburg, Bremen, Osnabrück, Münster and Düsseldorf are excellent places to stop and explore along the way. The route takes cyclists along the Elbe and Rhine rivers. Stretches with a particular wealth of interesting sights are the Roman Route from Xanten to Detmold, the 100 Castles Route in the Münsterland region and the Water Castle Route along the fringes of the Eifel region.
Danube Route (D-6)
The Danube Route begins on the River Rhine in Weil on the border with Switzerland. From the source of the Danube at Donaueschingen, it follows the river for 600 kilometres all the way to Passau. There is plenty to discover along the route: the picturesque landscape of the Swabian Jura, the magnificent Alpine panorama in the distance and a number of castles and monasteries. Restaurants offering Swabian and Bavarian specialities are the perfect place to stop and enjoy some delicious local cuisine. For those who haven't cycled enough by the time they reach Passau, there is the option of following the Danube further along an international long-distance cycle path that will take them through seven countries all the way to the point at which the river flows into the Black Sea.
Other D-routes
Entdecke DE: Germany's most beautiful hiking trails
Entdecke DE: River cycling tours