The Munich Opera Festival
The Munich Opera Festival is an internationally renowned, spectacular musical event that attracts visitors with its top-class productions and famous names.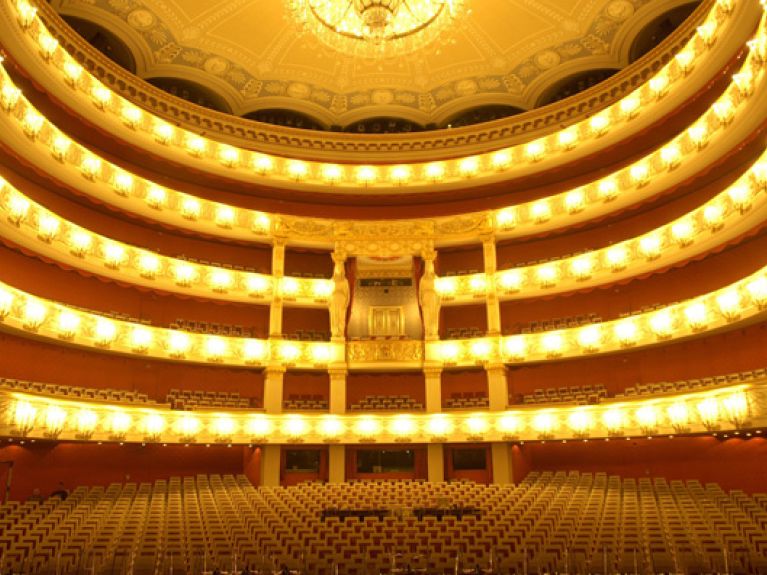 Many people think Munich is at its best in the summertime: the shady trees in the English Garden, the cool waters of the river Isar, fashionable cafes and bars. In addition to this, Munich becomes the centre of the universe for opera fans from 21 June until 31 July 2015: the world famous Munich Opera Festival is extremely rich in tradition and attracts visitors from around the globe to the Bavarian capital. The summer festival first took place in 1875 with operas by Wolfgang Amadeus Mozart and musical dramas by Richard Wagner. Nowadays it is organized by the Bavarian State Opera and the Bavarian State Ballet. It offers more than 30 opera performances, evening song recitals, concerts and ballet productions in splendid settings. And the festival has maintained its high artistic standards ever since it was founded almost 140 years ago.
Star operatic soprano Anna Netrebko in guest appearance
The 2015 programme boasts two premieres produced by Nikolaus Bachler: Constantinos Carydis will be conducting the new production of Claude Debussy's Pelléas et Mélisande at the Prinzregententheater. Christiane Pohle is the director of the opera in five acts. Richard Strauss's Arabella is celebrating its premiere at the Nationaltheater. Its director is Andreas Dresen, one of the most important contemporary German film directors (Summer in Berlin).  And the star operatic soprano Anna Netrebko will be appearing in guest performances in Munich, too. She is singing the role of Tatyana in Tchaikovsky's opera Eugen Onegin. The opera festival is featuring new experimental projects, with artists reflecting this season's theme of "Glances Kisses Bites" in unusual venues. One example is the opera "Selma Ježková" by the Danish composer Poul Ruders, after the film Dancer in the Dark by Lars von Trier. The two free Opera for All events will again be performed in front of thousands of guests: at the Festival Concert on 18 July the Bayerische Staatsorchester will be performing Modest Mussorgsky's Pictures from an Exhibition conducted by Philippe Jordan, as well as Igor Stravinsky's ballet music Le Sacre du printemps. The second Opera for All event will be Puccini's Manon Lescaut, performed by the Bavarian State Opera on 31 July with a live audio-visual transmission at Max Joseph Platz. Performing in the main roles of this new production are Kristine Opolais and Jonas Kaufmann.
www.staatsoper.de/opernfestspiele.html