New creations from Berlin
The Berlin-based fashion designers Hien Le and Tutia Schaad, both originally from Asia, have been providing creative highlights in the fashion world for years.
05.10.2016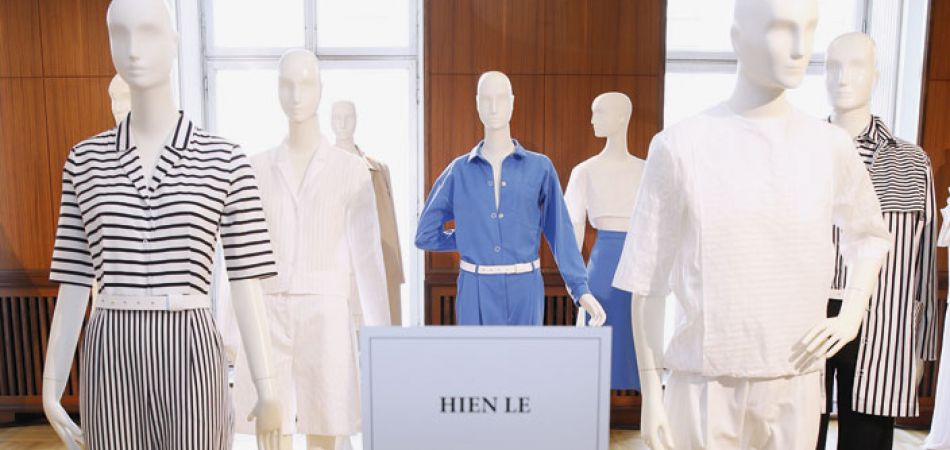 Hien Le
Perhaps it is his manner, open and congenial and not at all ­typical for the often difficult fashion industry, which paved the way for him to his career. However, perhaps it is also his determination. Hien Le was born in Laos, grew up in Berlin-Kreuzberg and initially completed an apprenticeship in ­tailoring, before going on to study fashion design at the ­University of Applied Sciences (HTW) in Berlin. Then came internships with designers and in the PR industry. This equipped him for a career, but it was still a long time before he was in the spotlight.
Hien Le's breakthrough came at the Berlin Fashion Week. He had started his own label in 2010, and in 2011 he celebrated an inspirational debut at the fashion trade fair with straight lines, subtle designs and high-quality materials. He had worked almost non-stop day and night for weeks. His reward was being named Best Newcomer by the prestigious magazine Sportswear International. Since then Hien Le has been an integral part of Berlin's fashion scene. Experts praised his spring/summer 2017 collection for its clear styling, minimalist character and sporty feel. Professionals are always trying to find something Asian in his creations, but this is something he vehemently refutes. "If I think of Asia, then I tend to think of very traditional dress and the clothing my grandparents wore," he says. His collections are German, he says – "even if 
the name isn't German". It was a TV documentary featuring Karl Lagerfeld that first piqued the young Hien Le's interest in  fashion.
Tutia Schaad
"I was a child in Hanoi, a teenager in France, a student in Switzerland and now I am a fashion designer in Berlin." This is how Tutia Schaad describes her background. Together with Johanna Perret, she forms the design duo Perret Schaad. The pair met at Berlin's well-known Weissensee School of Art. They created their joint label in 2009 and made a big ­impact the same year at Berlin Fashion Week.
Typical for the pair are clear cuts for 
the "modern woman", meaning they are often described as the "daughters of Jil Sander". Tutia Schaad prefers to design directly onto a dressmaker's mannequin, because "then it's possible to see volume which can't be seen on flat ­paper". They each develop some of the designs on their own, and the rest they develop together. They are always in agreement when it comes to colour. ­Another hallmark of the Perret Schaad label is its preference for unconven­tional showcasing. Their autumn/winter 2016/17 collection was showcased in a Berlin hardware store, which has already made it almost legendary, with the front row being seated on bar benches and the DJ in the timber section. For their spring/summer 2017 collection, they even made a 3D film featuring the well-known German actress Hannah Herz­sprung in the lead role. They wanted to use the film to explain more about their inspirations. The result was not a conventional fashion film, but a mixture of art and music video.
Tutia Schaad came to fashion through her love of drawing. Even as a child in ­Hanoi, she loved to paint people in ­colourful costumes and dreamed of ­living like a princess who can wear ­different clothes every day. "Contrary to my love of natural materials, I loved the plastic colours and colourful raincoats during the monsoon season." ▪