She knows what she wants
Maria Schrader is the first German director ever to win at the Emmy Awards – for "Unorthodox. How did she manage that?
Julia Schaaf / 23.09.2020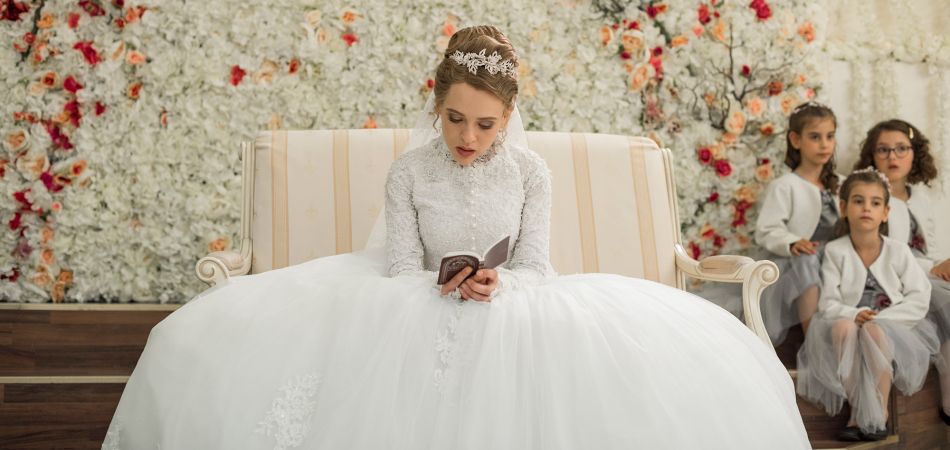 "I give the commands!" A voice resounds across the square. Not shouting, not harsh, not shrieking, but level. Loud. And clear.
So that's how it sounds when a woman who finds it a matter of course that she is in charge, makes herself heard.
The sun is gleaming on the Spree River, the Berlin Futurium not far from the main railway station, a museum dedicated to the future that serves as a film-set entrance to a university. They're filming one of those scenes that are not of much consequence for the plot but nevertheless require a lot of inputs. In carefully choreographed randomness a good dozen extras move back and forth across the square.
First she jokes. And then she says quite clearly what has to be done.
During the rehearsal Maria Schrader is scrutinizing a portable director's screen and joking: "It's like one of those puzzle images. Where's the kid with the yellow shirt? And who is the actor here?" Now, after the first take, she takes the head of the extras to one side and explains to him why he must not give the others the signal to start before she tells him to. Resolutely, almost apologetically, she tells him what has to happen.
And we're in the midst of a major social drama entitles "women and film", in which Maria Schrader currently embodies an especially interesting person. On Sunday, the Emmys were awarded in New York, the Oscars of US television, and Maria Schrader was the first German female director ever to win a prize. The celebrated four-part Netflix series "Unorthodox" about an ultraorthodox Jewess fleeing from New York to Berlin, based freely on Deborah Feldman's memoir, is Schrader's third as a director.
Outside the world of film, she's best known as an actor herself. Dark Spirelli corkscrew hair and a slightly angular mouth: As a young woman Schrader was already playing in premier films such as "Keiner liebt dich" and "Aimée und Jaguar". She turns 55 at the end of September. Next week the third season of "Deutschland '89" opens on Amazon Prime – the international hit spy series depicting the confusion at the end of the Cold War – with Schrader in it on one of the coolest female role to be seen in contemporary German TV: the East German agent Lenora Rauch. And not just the London "Guardian" was bowled over by the unscrupulous and elegant figure she cuts.
Do women direct differently?
So how did this woman succeed in a field where female directors are still far too few and far between? In which almost exclusively male star actors switch to behind the camera and then place themselves in the limelight as the main stars? And do women direct differently?
"Yes. Hmm. No." Maria Schrader is not the person for swift sentences. "I think women at times look for different angles in stories or simply tell different stories," she says. "But a fundamentally different, female approach to the work, that's not something I have seen in my work. I have experienced awful situations with female directors on set. And I've also seen male directors show a fine sensitivity that I have missed in women." In short: "I can only talk about specific people."
On set in front of the Berlin Futurium Schrader is busy directing a production at the end of August. "Ich bin dein Mensch" is being shot for the SWR TV channel, Maren Eggert plays a scientist who has to test a robot partner – a romantic comedy with a philosophical-cum-technology twist. New territory for the directr who prior to her Netflix success filmed Zeruya Shalev's novel "Love Life", that everyone thought was impossible to film, and made "Vor der Morgenröte", a formally speaking idiosyncratic film the critics loved on the years novelist Stefan Zweig spent in exile. If one asks Schrader what her style is, she simply talks about her love of trying things out.
"And go!"
"Cut!"
"Yes! Exactly! Perfect!"
"Let's do it!"
Her sheer pace is impressive. Schrader is constantly jumping out of her director's chair to show the actors how she wants the one or other sentence played or to distribute the one or other empty chair in the area being filmed to ensure a lecture theatre scene really looks like a uni. And then she's drumming the crew together in a loud voice: For someone playing one of the minor parts whose time is now over she leads the applause by way of a farewell. Or sings Happy Birthday to the chief lighting technician. The team is important to her. Schrader says of herself: "I really notice moods, and sometimes my dependence on harmony annoys me." However, that, too, has less to do with being a woman, she feels and more with years of perception training as an actor. When, after lunch, the costume designer shows her some ideas, she praises them with so much enthusiasm that no one really notices that she has almost in passing given the designs a twist of her own.
"She's simply really good," says Lisa Blumenberg of the film production company Letterbox, and herself not least since "Bad Banks" is herself one of the female role models in the industry and a member of Schrader's generation, when the women thought less about power and gender relations and simply pursued their careers. Blumenberg mentions during the shoot how the amazing response to "Unorthodox" opened all manner of doors and she succeeded in bringing on board British beau Dan Stevens ("Beauty and the Beast") for "Ich bin dein Mensch". Normally, international casting agencies wouldn't bother responding to enquiries for such a small German TV film. Blumenberg is convinced: "Maria's got a massive international career ahead of her." She thinks superfast, has an excellent eye, and, perhaps most importantly, "she knows what she wants."
Two and a half weeks later and the shooting is over. Maria Schrader has shifted the agreed meeting from evening to morning so that she does not have to interrupt her schedule in the cutting room. She's so heartfelt welcoming me that I feel like a friend. She seems open and vey present and answers at great length and very thoughtfully. At first, however, the mother of a grown-up daughter, working companion and partner of director and author Jan Schomburg, pushes her chair back and goes to the bar. "I've been sitting here for five minutes already," she says impatiently on being told that the waiter is on his way. She sits down again and laughs. "That's how I am," she says. "Sorry. After five weeks of time pressure it takes a while to shift down a gear."
If she were not an artist she would perhaps be termed a workaholic. Anyone who feels what they do is good fortune cannot be bothered with concepts like ambition or questions as to a work-life balance. "I earn my money doing something I love. I therefore don't start thinking after eight hours that the day is dragging on too long and start yearning for my yoga session." Even if she could organize her life a bit better, as "I compensate everything with over-hours, with sitting up all night, or putting things off for so long that I can't sleep and then at some point simply do that all in a rush." Schrader talks about her parents, both artists, and that her father who earned his bread and butter as a teacher, used to spend the nights doing what was so important to him. "I do think that shaped me," she says. Her own two professions are very compatible.
"A film of my own was somehow logical"
Now and again, her fellow actors are amazed about her second occupation: "That you dared do it," is a reaction she often hears, Schrader quips. However, the Hanover-born actor, who broke off high school to study at the Max Reinhardt Seminar in Vienna, did not suddenly try her hand at acting out of nowhere. On the contrary: The young theatre actor wrote her very first film roles herself back in the late 1980s and early 1990s. At the time she was a couple with director Dani Levy, and the duo has something of the status of "film royals" in Berlin. Today, Schrader describes that period as "my film-making school years". At Levy's side she wrote filmscripts, was cp-director, learned all about cutting desks, and handled films from A to Z. "My self-confidence grew with each project," she narrates. "Making a film of my own was a major step, but looking back only logical."
Just how exact her idea of what she wants is actually surprised her. Schrader talks about the preparations for "Love Life". Having gone scouting herself in Israel for the filmscript she had herself written she realized that she could really see the film set before her inner eye – and this eventually led to the film being shot in a purpose-built studio. "I learned that I already knew a lot more than I thought I knew," she comments. The actor in her always has the finished scene in her mind. The script writer and director have played through the dialogues in advance. "There are moments where I think it's madness. It's as if it's popped out of my head and taken on material form."
And the Emmy nomination? What does that mean to her?
Schrader places the knife and fork with which she has been tackling her fired-egg-and-avocado breakfast to one side. "I'm delighted," she says. "It means after all that my work has been seen and recognized." She was surprised by the response to "Unorthodox", precisely because she knew from the outset what a thin line the project trod. A German director presents orthodox Judaism in New York as a prison cage for a young woman who finds her freedom in Berlin of all places. "Thin ice?", Schrader asks, and nods meaningfully. "Yes. Definitely. Obviously. Fear all round."
She could now talk for hours why things worked out more than well, starting with her early personal experiences in Israel and a filmography in which Jewish figures and references have always played a role and where one thing led to another. But they're waiting for her in the cutting room, time is short. So she says: "There was a really major task, namely" – and pauses for 15 seconds to ponder it – "to tell the story in a way that at the end there's no space for hatred or prejudices, that bonds people rather than dividing them." Meaning respect and curiosity, not manipulation and judgement, and the knowledge that the protagonist's massive emotional conflict only arises because she also loves the world that she leaves behind her. "And I believe we managed to do that," Schrader concludes.
© All rights reserved. Frankfurter Allgemeine Zeitung GmbH, Frankfurt. Made available by Frankfurter Allgemeine Archiv.
Available until: 31.10.2020