Nine Pop Songs Help You Learn German
Research has shown that listening to music can help you improve your language skills. These pop songs will help you master the German language.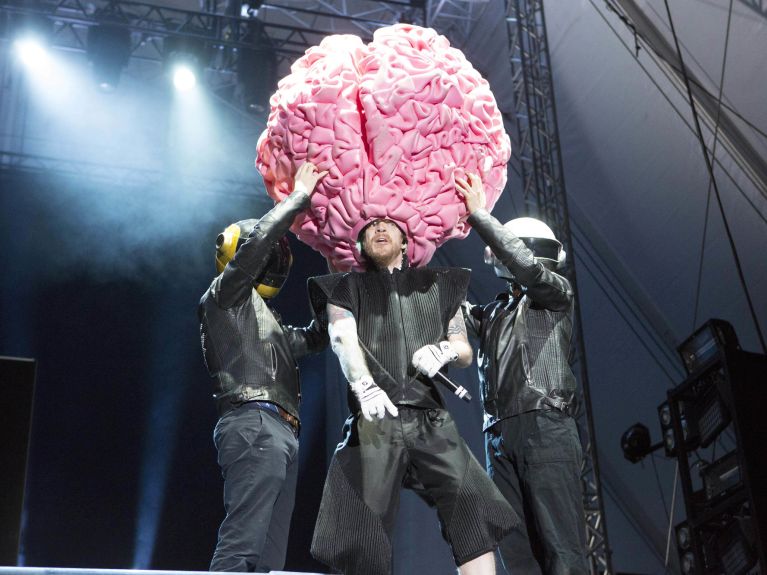 "In the 1970s, extensive research was carried out into the powers of music in the learning process, by the Bulgarian physician Georgi Lozanov. He revealed that music puts listeners into a state of relaxed alertness, the 'alpha state,' the ideal state of consciousness for learning, and his tests were conclusive.
"More recently, in the March 2005 issue of the journal 'Nature' researchers at Dartmouth College in the US reported that they had pinpointed the region of the brain where ' earworms ' or catchy tunes reside, the auditory cortex. They found that the sounds and words that have actually been heard can be readily recalled from the auditory cortex where the brain can listen to them 'virtually' again and again. Music it seems is the ideal catalyst to the memorisation of words."
Why learn German with music?
Add to the research the fact that listening to music is a lot more fun than staring at a textbook, and you have an ideal formula for language learning.  If you've ever gotten a song stuck in your head, you are familiar with the way that music and lyrics can work their way into your brain effortlessly.  The melody carries them in and while you're humming that tune, implants important grammatical concepts and vocabulary in your memory.
Songs with clear, easy-to-differentiate lyrics are ideal for language learning, but if you're having trouble understanding what the singer is saying, Google the song title + band name + lyrics.  Then listen to the song while reading the words. Repeat.  Once a catchy tune gets into your head, you'll find yourself repeating phrases and words to yourself even when you aren't studying.
These ten songs will help you improve your German:
"99 Luftballons" by Nena
You've no doubt heard this song before, but did you know that it is about a nuclear apocalypse brought about by accident? Use this catchy pop tune to practice your listening comprehension skills and learn vocab that will help you discuss the pros and cons of war.
Listen to "99 Luftballons":
Leider Geil by Deichkind
"Geil" ist a German slang word for cool (though the original meaning is "horny").  This humorous song will hammer both "leider" (unfortunately) and "geil" (cool/awesome) into your active vocabulary while explaining which of the negative/stupid/bad things in the world that are actually kind of, well "Leider Geil."
Listen to Leider Geil:
"Elke by Die Ärzte"
This song by Berlin band Die Ärzte tells the story of a couple who start as pen pals and then "12 seconds later" end up together. Those whose musical taste has punk leanings will enjoy this humorous and energetic love song.
Listen to "Elke":
"Wir trafen uns im Garten" by 2RAUMWOHNUNG
This twee but upbeat pop song is about a couple who meet in a garden.  When after the break up thoughts about her ex-partner leave her feeling tired and sad, the singer tries to distract herself with other things.  It is one of the many songs that will help you learn the vocab you will need to talk about a break-up, but unlike many of its thematic relations, it has an upbeat and positive sound and attitude.
Listen to "Wir trafen uns im Garten":
"Für immer Immer" by Fettes Brot
Practice geography and German vocab with this song about all the women from around the world that Fettes Brot have loved.
Listen to "Für immer Immer":
"Halt Dich an mir fest" by Revolverheld
This emotional ballad from Hamburg band Revolverheld will provide you with vocabulary to talk about a failing relationship.
Listen to "Halt Dich an mir fest":
"Ja" by Silbermond
Silbermond hail from Bautzen, Saxony, and they have been playing quiet, emotional pop music since forming in 1998.  Ja will help provide you with vocabulary for talking about feeling down, but strengthened by a relationship.
Listen to "Ja":
"Fallshirm" by Mia
Mia (not to be confused with Sri Lankan/British performer M.I.A.) writes upbeat, dancey pop music. The group are from Berlin and having been making music since 1997.
Listen to "Fallschirm":
"Tage wie diese" by Die Toten Hosen
The list ends with an upbeat rock-pop anthem written to get stadium crowds holding their lighters in the air and signing along. Days like these (as the title would be in English) is about those perfect days when you feel like you can do and be anything.
Listen to "Tage wie diese":