Essen is green
Nature in the city: Essen, the metropolis on the Ruhr, has been named 2017 European Green Capital and is celebrating this honour with its inhabitants and international guests.
23.01.2017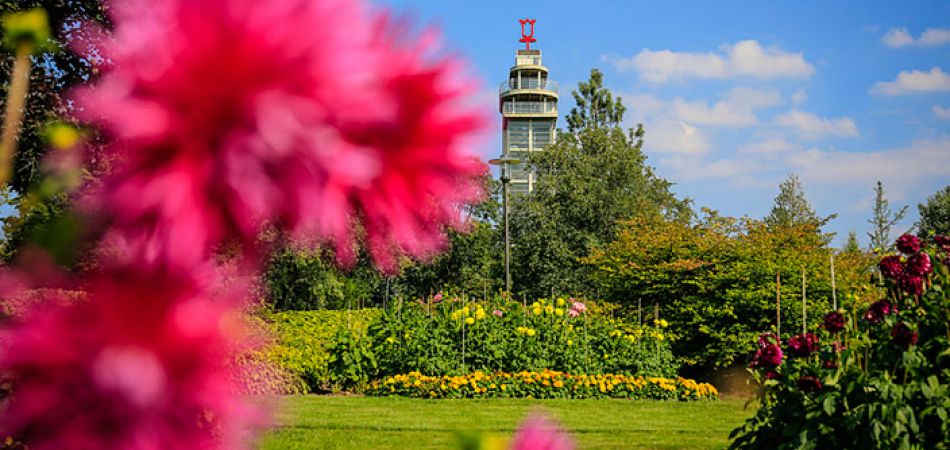 From grey to green: the City of Essen once stood for industrial smokestacks, steelworks and coal mines. People who still have those images in their heads will probably have to rub their eyes more than once while watching the film about European Green Capital – Essen 2017. Bright blues – in the sky and the city's waterways – and, above all, lush and varied tones of green dominate this view of the metropolis with 590,000 inhabitants. It presents spectacular images, mainly from the air, from Heisinger Ruhraue at dawn to the greenery of Krupp Park. The 50-minute film will be officially premiered in February 2017. The Green Capital Year in Essen was already opened on 21 January 2017, among others by European Commissioner for the Environment Karmenu Vella and Federal Environment Minister Barbara Hendricks.
"Paradises and Utopias"
Over 300 events are planned in the course of the year – from a bicycle fair and an international conference on Green Infrastructure to "Paradises and Utopias", a three-day city festival in July. The title of European Green Capital, which is awarded by the European Commission, and the varied programme are expected to attract some 500,000 tourists to Essen in 2017. The European Commission explained the decision in favour of Essen above all with the model character of the Ruhr metropolis, which has managed to achieve the structural change from a coal and steel town to the greenest city in North Rhine-Westphalia, a state largely characterised by industry.
The outstanding examples of ecological transformation also include a major improvement in water quality: people are once again allowed to swim in the Ruhr from 2017. The first official bathing spot is being set up at Seaside Beach Baldeney. The inhabitants of this year's European Green Capital are also proud of the fact that Essen is the only place in Europe where you are officially permitted to bathe in a river. This is made possible by an early warning system for monitoring water quality that is unique in Europe.
Blog contribution: The Future of Our Cities – Lots of Green, Lots of Blue
© www.deutschland.de