European Green Capital
Essen in the Ruhr region is to bear the title, awarded by the European Commission, of "European Green Capital" in 2017.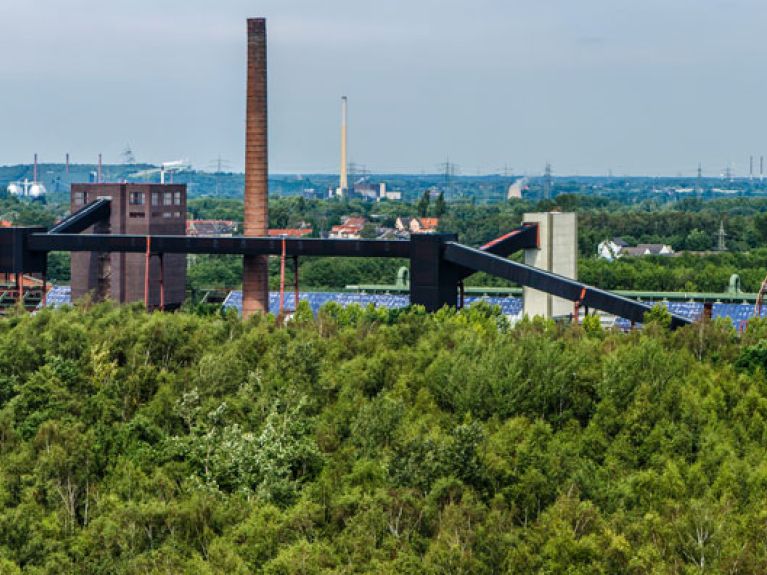 European Green Capital? That's quite a claim. Anyone who steps onto the visitor platform of the Ruhr Museum in Essen will at least see that in this region the award is rather fitting. You can see all the way to the neighbouring cities from up here, over old industrial plants and new residential developments. And in-between is a great deal of green. More than 54 percent of Essen's surface area is not developed; the city in the Ruhr district is the third greenest in Germany.
It wasn't always the case, however. Beneath visitors' feet on the viewing platform used to be the "coal washing plant" of the Zollverein Coal Mine Industrial Complex – once the largest coal mine in the world and today a UNESCO World Heritage Site. It was in this building that the mined coal was sorted according to quality and separated from unusable stone. Elsewhere in the city the winding towers of many more coal mine were creaking and groaning at the same time and smoke rose from numerous stacks: For a long time Essen was visibly marked by coal and steel. A green capital – here?
"We are giving people back the river"
Hardly anyone is more passionate about this cause than Simone Raskob. "Essen as European Green Capital – this is not a garden show, but an urban planning vision", says the head of the city's Environment Department and quickly starts talking about two projects that are particularly close to her heart. For in addition to green, the colour blue also played an important role in Essen's successful application for the award, an initiative of the European Commission. "We are giving people back the river", says Raskob, and means the Emscher. Industrialization made the Emscher a wastewater canal – with the consequence that no-one wanted to get near its banks. Today it is being returned to a natural state for hundreds of millions of euros; the wastewater runs through subterranean pipes. And in the neighbouring Ruhr River, the "artery" of the Ruhr region, the water quality is now so high that soon people will be able to use it for swimming again.
Of course, more was needed to become European Green Capital – after Stockholm, Hamburg, Vitoria-Gasteiz, Nantes, Copenhagen, Bristol and Ljubljana. Such as comprehensive concepts for air quality, energy efficiency, waste management and so on. Transport is also a key topic. Here Raskob refers to the old railway tracks that are currently being converted into cycle paths. One such path under construction is the "Radschnellweg Ruhr S 1", which will run some 100 kilometres through several cities in the Ruhr district.
Please read the interesting article "Green Cities" in our blog.