We'd like to show you deutschland.de
The Deutschland.de platform has a new face: young, fresh, mobile and interactive. Discover the new features on deutschland.de.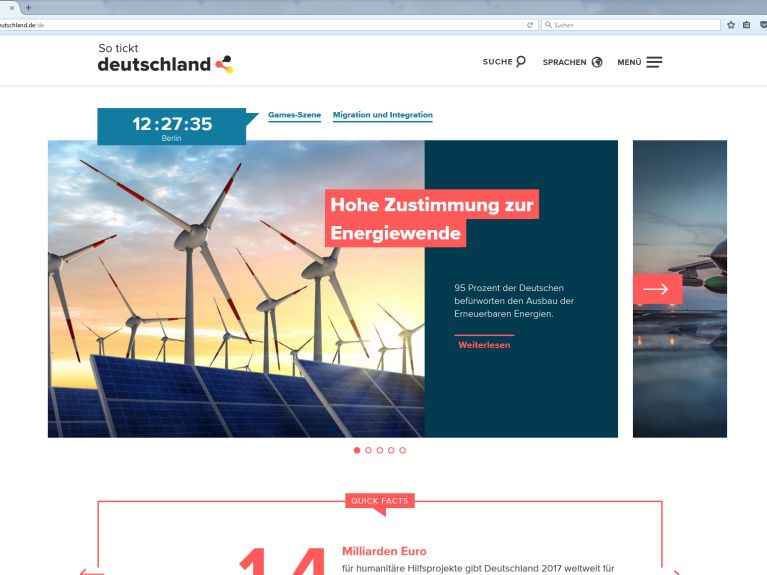 Language
Choose your language by clicking on the globe in the navigation bar. deutschland.de appears in Arabic, Chinese, English, French, German, Portuguese, Polish, Russian, Spanish and Turkish.
Menu
By clicking the menu icon you get an overview of ten country regions and the six sections Politics, Life, Business, Knowledge, Culture and the Environment, which are then divided into sub-sections. On the region pages you will find reports on topics and people that connect Germany and its partners in the world.
Search
Use the search box to find all the articles on a specific topic.
Landing page
One click on our "How Germany Ticks" logo always takes you back to Home, where the editorial desk provides new content each day. There you can find exciting topics on Germany, watch interesting video clips, test your knowledge in our Quiz and take part in online voting to give your opinion on current issues. What the website offers:
 
Current articles on the major political and social topics that Germany is talking about – such as the Energy Reform, migration and integration, and European cohesion.
Quick Facts – information at your fingertips.
Voting on current issues.
A Quiz format where you can test your knowledge about Germany.
News from the worlds of politics, business, sports and culture.
The stories behind the topics in the News: interesting people whose ideas and skills are changing things, exciting topics and new initiatives from Germany.
Multimedia stories that give you a close-up on people and their stories.
A regional view on topics and people that connect Germany and its partners in the world – in contributions for five world regions.
Insights into everyday life in Germany in our "How Germany Ticks" series.
Series on great sights, inventions and creative minds.
Theme specials reflecting the many facets of key events.
 
Share functions
Share interesting topics with your community, quite simply by clicking on the social media buttons on the left margin of the articles.
Social media channels
Follow us on Facebook, Twitter, YouTube and Instagram. On Facebook and Twitter you can tell us what is important to you and communicate with other members of the community world-wide. Social media managers in the various regions of the world are on hand to help.
 

Contact the editors
How do you like the redesign? We look forward to hearing your suggestions, criticism, praise and ideas. Simply mail us at redaktion@deutschland.de or contact us through the social media channels.
Imprint, contact and service
At the bottom of the page you'll find the contact details for the deutschland.de portal. And journalists will find information there on secondary exploitation of materials from deutschland.de.
Partner services
Anyone wanting to find out more about German politics, studying and research in Germany, the culture and the language will find additional information on our partners' websites.