Canadian-German cooperation
Working on the car of tomorrow: the Fraunhofer Institute for Solar Energy Systems ISE is collaborating closely with Canadian partners on developing a competitive fuel-cell drive.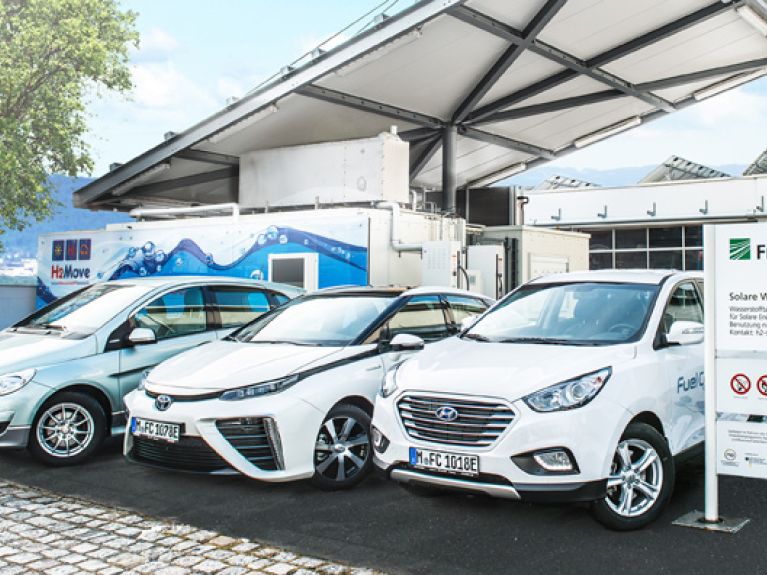 For them, no path is too long when it comes to the future of mobility. As the crow flies, the airline route from Vancouver and Freiburg may be over 8,200 kilometres long, but the experts at Simon Fraser University on Canada's West coast and their colleagues at Freiburg's Fraunhofer Institute for Solar Energy Systems ISE clearly form the right team. Their shared goal is to develop a competitive fuel-cell drive above all for use in the auto industry. To this end, a lot of basic research still needs to be done, but Ulf Groos, Head of the Fuel Cell Systems Dept. at the internationally renowned ISE, believes precisely here their Canadian partners are strongly positioned.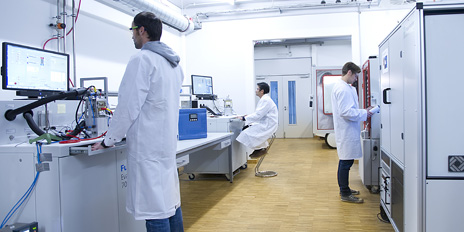 Groos points to the expertise of colleagues such as Steven Holdcroft, an outstanding authority on the membrane of fuel cells, or Michael Eikerling, an acclaimed expert on chemical reactions using catalysts. The two professors at Simon Fraser University are making a profound contribution to the Canadian-German cooperation. Likewise important are the power-packing partners from the private sector. "Leading technology corporations such as AFCC, a Daimler and Ford Joint Venture, and Ballard, a cooperation partner of Volkswagen and Audi, are located in the Vancouver region," Groos comments.
Reducing the costs
Volkswagen is also partnering the latest cooperation between the Canadian and German experts. The Federal Ministry of Education and Research (BMBF) is supporting the new project entitled "German-Canadian Fuel Cell Cooperation: Diagnosis and Development of Components for Automobile Fuel Cells" (DEKADE) which is coordinated by the ISE. Since early 2017 scientists have been busy developing novel catalyst systems, electrodes and membrane-electrode units that require very little platinum. Without the precious metal fuel cells are just not efficient enough, but platinum simply sends costs spiralling. So a crucial key to success is to reduce the amount of platinum, so the researchers and development engineers believe.
Ulf Groos illustrates why it is worth prioritizing the alternative afforded by fuel-cell drives. "Hydrogen, which is a key component of the fuel cell, has several advantages. It stores solar energy in chemical form and can then release it again using the fuel cell." The fuel-cell drive can therefore make ecologically meaningful use of surplus solar energy. Groos also mentions an advantage compared to drives that rely on electric batteries: "The future hydrogen infrastructure will function exactly the way the filling station network does today, and there will be no paradigm shift required such as is implicit in rapid charging stations."
Moreover, Asian countries such as Japan and in particular China are increasingly focussing on fuel-cell drives. As recently as April 2016 German Federal Transport Minister Alexander Dobrindt and Chinese Science Minister Wan Gang discussed cooperation in this field. In this context, a joint declaration of intent was signed between the National Organisation Hydrogen and Fuel Cell Technology (NOW) and the China Automotive Technology and Research Center envisaging strong Sino-German cooperation on innovative drive technologies and infrastructure. The German and Canadian members of the DEKADE team know very well that developing a competitive fuel-cell drive will require endurance. When the project ends in 2019, the scientists at the Fraunhofer Institute for Solar Energy Systems ISE will have been collaborating successfully for a full ten years with their colleagues in Canada.
© www.deutschland.de