The "Green Man" of Malaysia
Matthias Gelber campaigns as a "Green Ambassador" for sustainable life.
31.07.2017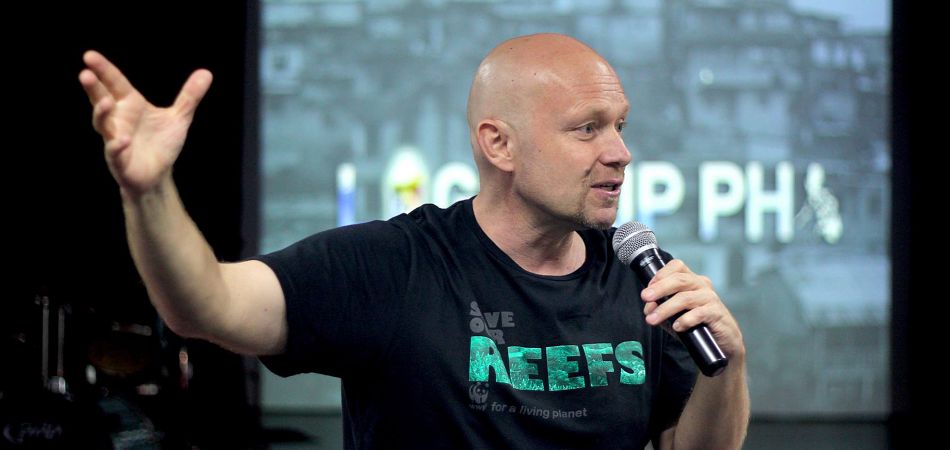 Matthias Gelber likes to wear striking dark-green shirts with bright-green plant patterns on them for photos. If the occasion is more formal in nature, then he at least wears a green tie. The 50 year-old is known in many countries in Asia as the "Green Man". He is a strong advocate of sustainable consumerism and eco-friendly behaviour, and when it comes to energy saving likes to use his own electricity bill as his calling card: It is never more than ten dollars a month – in Malaysia of all places, where the tropical climate sends electricity consumption spiralling to power air conditioners.
A consequence of Chernobyl
Gelber grew up in North Rhine-Westphalia in a village of only 500 inhabitants in the midst of woods and meadows. As a child, he simply loved the nature there. He later studied environmental science in Great Britain. It was a time when in Germany many young people were debating dying forests, acid rain and the Chernobyl nuclear meltdown. "I was never a member of the Greens, but they definitely influenced me," says Gelber. Today, he commutes between Kuala Lumpur (Malaysia) and the Philippines.
I swiftly realized my approach is well received in Asia.
Matthias Gelber
Support in Asia
He first visited Asia more than 20 years ago on behalf of the "Young Men's Christian Association" (YMCA) as the German representative to an environmental meeting in South Korea. He was subsequently invited to Indonesia, too. "I swiftly realized my approach is well received in Asia," Gelber comments. In 2004, he then moved to Malaysia. Here he launched the "Negawatts" energy-saving campaign and developed a so-called "Tiny Home", a kind of immobile trailer home with about 11 square metres of space. Thanks to how it is made, complete with organic toilet and a solar power plant, it is a kind of model project for independent, energy-saving homes. The energy-saving home fits on any car park or in the garden or backyard. "I wanted to show that it is possible to have an energy-saving home using the resources available locally in Malaysia and with products made in-country, too." In future, the Tiny Home will also be on offer as a module, meaning several can be joined together for families or eco-tourism projects.
Inform rather than preach
The production of the Tiny Home is now handled by others, as Gelber himself considers his mission to be to keep informing people about the possibilities. He is a highly sought-after speaker in Asia – at congresses, in universities and schools. He tries to avoid the image of the know-it-all white man, however. "I simply tell a few stories, make observations, lots of jokes, and ask questions," Gelber says. He regards himself more as a "foreign observer" than as a teacher, let alone a preacher.
A company in Germany
Many years ago in Germany, the ambassador for green life in Malaysia teamed up with former fellow students to found the company Maleki, which seeks to replace cement with construction materials that save 60-90 percent of the CO2 emissions. Only a few weeks ago, he received a letter from the EU saying that the process is one of Germany's top green technologies. And recently Gelber also published his first book. It bears the title "The greenman's guide to green living and working". For the production of 5,000 copies to date he set himself the target of going down in environmental history as the "greenest bookmaker": The paper is recycled, the ink extracted from mushrooms. "Moreover, we bought double as many emissions as the books then actually produced," he says.