Upcycling: turning trash into treasure
Upcycling is in vogue in Germany. How the most beautiful products are made from waste.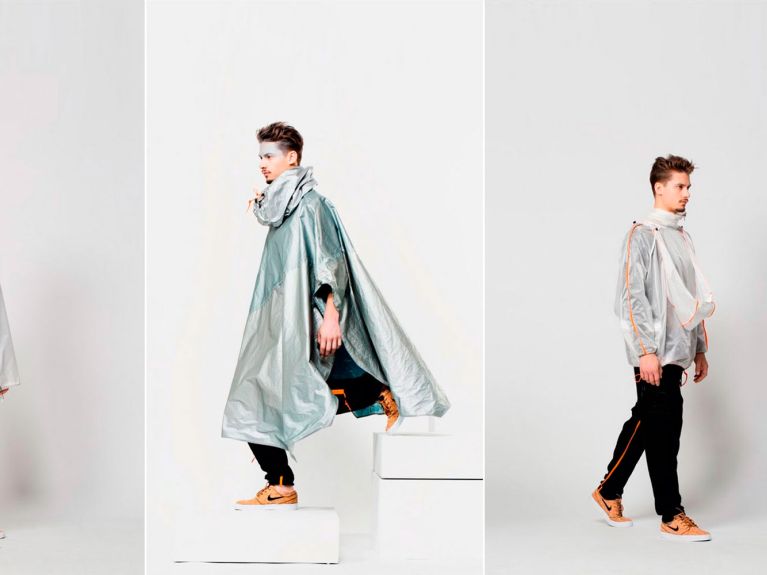 The Institut für Auslandsbeziehungen (ifa) put its finger on the pulse of the times with Pure Gold, its upcycling exhibition. Pure Gold was developed for the 100th anniversary of ifa in 2017 and since its premiere at the Museum für Kunst und Gewerbe in Hamburg has toured the world with great success. The 76 works by 53 international designers can be seen in Yangon/Myanmar in December.
Footballs become lampshades
Upcycling – in other words, the manufacture of new products from used objects or things destined for the waste dump – is now in vogue. Germany has even seen the development of an innovative upcycling scene, which is especially strong in North Rhine-Westphalia. Andercover, a Cologne-based design workshop, manufactures stylish individual pieces out of old furniture. A firm in Mülheim called Zirkeltraining takes used leather from sports equipment and transforms it into fashionable bags.  Katarzyna Karolczyk in Bochum makes original lampshades out of old footballs under the Karolchicks label, while used skateboards are turned into cool pens by Gregor Halberstadt in Kempen.
Examples of upycling from Germany
The DIY Academy in Cologne offers ideas and professional support for upcycling beginners, while old hands and professionals meet at Trash up!, the upcycling festival in Dortmund that is being held for the third time from 10 to 11 November 2018. Even retail giant Rewe offers upcycling instructions on the Internet – for example, how to make lamps out of juice bottles.
One pioneer of upcycling is MARTa Herford, the museum in East Westphalia where the Recycling Design Award has been presented since 2007. The 2017/18 prize winner  was Sep Verboom, the Belgian designer who made a carpet out of mooring ropes that had been fished from the sea. The best works also went on display in summer 2018 at Goethe-Institut Marseille under the title You Only Live Twice.