First-rate and diverse – Your degree in Germany
With more than 400 universities, numerous international study courses and an outstanding reputation the world over, Germany offers students excellent conditions in research and teaching.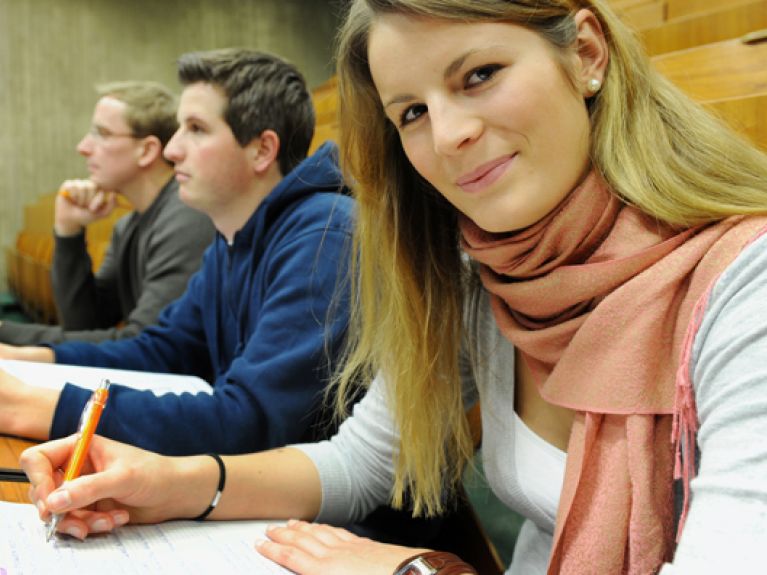 One of the nicest times of your life is when you finish school and countless opportunities suddenly await you. One exciting challenge is a degree course: You spend several years studying a subject that interests you and acquire high-level skills that are important for your ongoing professional career. Would you like to study in a university system that enjoys an outstanding international reputation and that is well known for its excellent conditions? Then a degree course in Germany is the right choice. Of the 200 best universities in the world, as listed in the QS World University Ranking 2019, twelve are in Germany. A degree in Germany can open doors to working in a German company – for example as an intern. Academics from various subject areas, particularly the natural sciences, are currently much in demand in the German labour market.
Colourful education landscape
No matter what subject interests you, in Germany you have an unbelievable number of options. You can choose between more than 400 institutions and three different types of university. Which one suits you best depends on what is important to you. If you are interested in a very academically oriented course, then a classic university is a good choice for you. If practical knowledge is more important to you, a university of applied sciences is ideal. And people with artistic talent are best suited to an academy of film, art or music. German higher education institutions offer a total of almost 19,000 courses, of which more than 1,800 have an international focus.
Low fees
Education is a key issue in Germany: over the past few years the budget has gradually been increased. In 2018 public spending in this area rose to a solid 140 billion euros. You yourself, however, spend comparatively little money on a degree course in Germany. Generally study fees are not charged at public universities, leaving only the semester contribution and the cost of rent, local public transport etc. to be paid.
The best conditions
Over the past few years, the study courses at German higher education institutions have been reformed: as part of the so-called "Bologna Process", Bachelor's and Master's degrees were introduced. These are internationally compatible and have largely replaced the old "Diplom" and "Magister" qualifications. The good conditions at German universities are drawing ever more students from abroad – in 2018 they numbered around 375,000, 16,000 more than the previous year.
This text comes from the "Career Compass Germany". The app can be downloaded for free onto smartphones, tablets and BlackBerrys via Google Play, iTunes and the Amazon Appstore. More information:
www.deutschland.de/en/topic/knowledge/education-learning/career-compass-app