German as a foreign Language
Do you want to learn German? This is where you will find out who offers German courses all over the world. And there is information on culture and society as well.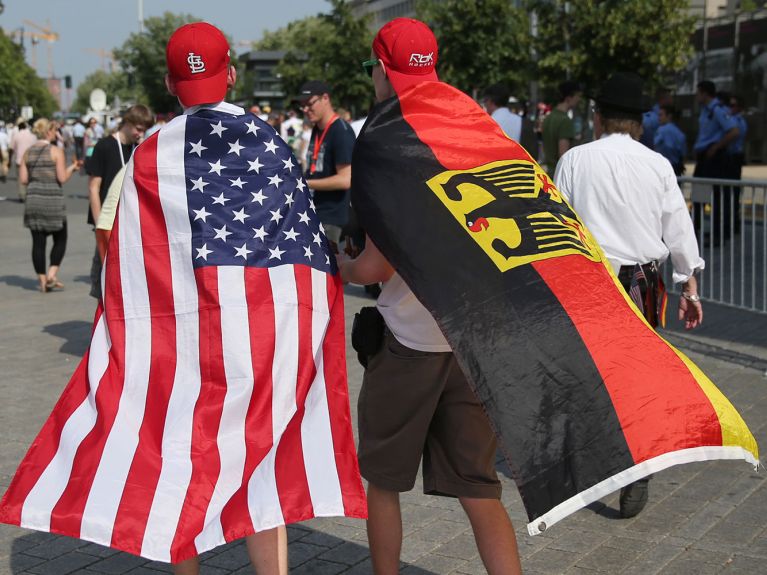 American Association of Teachers of German
Teaching German culture, language and literature in the USA is the goal of the American Association of Teachers of German (AATG). The AATG has a wide range of offers, from seminars for teachers to scholarships. Whether you want to learn business German or German for music lovers – this is where you will find the corresponding online learning programs. You can have job offers sent to you by E-mail or talk to other people about your German lessons in the Forum.
DAAD – German Academic Exchange Service
This is the gateway to German higher education and a springboard into research abroad. The German Academic Exchange Service (Deutscher Akademischer Austausch Dienst, DAAD) sponsors study and research in Germany and abroad. The site reports on life in Germany and on its educational system, providing databases containing information on international courses of studies and scholarships.
European Network for German as a Foreign Language (DaF)
The DaF network primarily targets teachers of German as a foreign language. It focuses on the teaching and learning methods used in German lessons for non-native speakers and is also an excellent source for teaching and learning materials.
FplusD – The German-French language portal
Go to FplusD, the German-French language portal, and you will read that "Learning a language means opening yourself to the world." This is where you can find out more about culture and everyday life in Germany and France and discover opportunities to take part in exchange trips and language courses.
Goethe-Institut
The "heart of the matter" when learning another language is real-life contact with the culture. The Goethe Institute e.V., Germany's largest organization for foreign cultural policy, mediates German language and culture at home and abroad. From Abidjan to Zagreb: the portal takes you to all Goethe Institutes around the world.
Ifa
Art and education in the service of international understanding: one of the foremost web addresses for foreign-directed German cultural policy is the Stuttgart Institute for Foreign Relations (Institut für Auslandsbeziehungen e.V., ifa). It promotes understanding and peaceful relations between cultures and nations.
Institute for the German Language
Lexicology, grammar and pragmatics: the Institute for the German Language (Institut für deutsche Sprache, IDS) carefully scrutinizes these three linguistic areas. The IDS documents new words, analyzes German grammar as compared to other European languages and studies the language behavior of different segments of the population.
International Association of Teachers of German
Teachers of German on the five continents are organized in associations. The umbrella organization, the International Association of Teachers of German (Internationaler Deutschlehrerverband, IDV) represents their interests. At seminars, conferences, and courses, the association provides professional support to the teachers. The event calendar will help you find information about your issues of interest. German teachers from more than 86 countries participate in IDV forum discussions in German. You can also use the info page service or the newsletter in order to exchange experiences and find out about the International Olympics of German.
TestDaF
German is not an easy language to learn. Would you like to study in Germany? Do you need to provide evidence of sufficient language skills to be accepted into higher education? Or does your job require you to speak German? The "German as a Foreign Language Test" (Test Deutsch als Fremdsprache, known as TestDaF for short) is a language examination that is offered and recognized the world over.
Central Agency for Schools Abroad
Canada, Nigeria or Australia: Schools abroad around the world spread German culture and help to maintain German language skills. The Central Agency for Schools Abroad (ZfA) with its head offices in Cologne supports such facilities financially and pedagogically. The ZfA dispatches teachers to classrooms around the globe and supports their continuing education as well.