A valuable network
The development of the DAAD network of interdisciplinary centers for German and European studies began at the universities of Berkeley, Georgetown and Harvard 25 years ago.
06.07.2016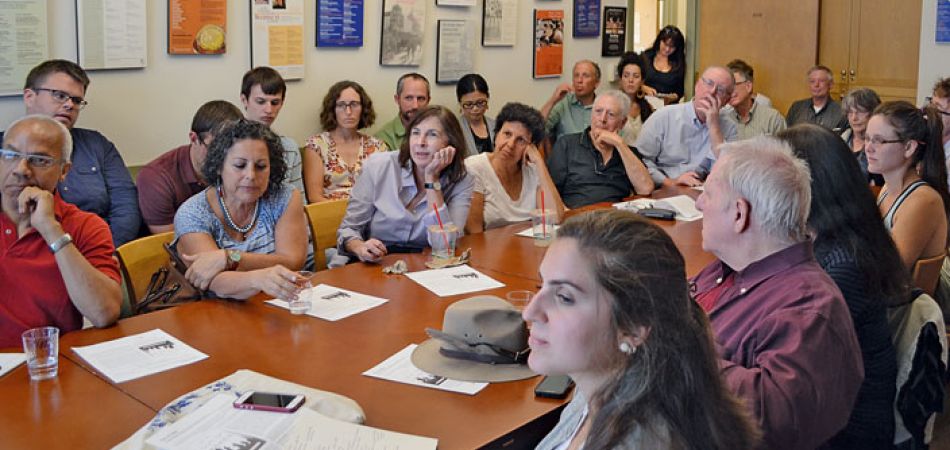 Understanding the complex political, economic and social situation in Europe, and therefore also Germany, is not always easy, especially not from North America. Help is available from the world of research: centers for German and European studies have been established at prestigious US univer­sities, such as the BMW Center for German and European Studies, which was founded at Georgetown University in Washington DC in 1990. It offers much more than interdisciplinary research and teaching about modern Germany and Europe with the emphasis on cultural studies, economics, history, and political science – this is how Director Jeffrey Anderson sums up the center's profile. The Master of Arts in German and European Studies (MAGES) program is considered the flagship of the center. Some 20 students enroll in the master's program each year, and there are already roughly 400 alumni. "Many of our alumni are working either directly or indirectly in fields that are part of the transatlantic network," says Anderson. The center aims to educate future generations of transatlantic leaders.
The German Academic Exchange Service (DAAD) has supported interdisciplinary centers for German and European studies at outstanding foreign universities since 1991. It is currently supporting such centers with funds from the Federal Foreign Office in a total of 11 countries. In addition to these centers, there are a number of other institutions that received valuable DAAD support in the course of their development. This DAAD network consists of a total of 20 centers worldwide, including six in the United States and three in Canada. In 1991, support began for the first centers in Berkeley, Georgetown and Harvard; a large, central anniversary event will be held at Georgetown University at the beginning of December 2016.
There are good reasons for funding scholarships, workshops, study tours, summer schools and conferences: "The centers are important because, among other things, they bring together existing expertise on Germany at universities – for example, in law, social sciences and political science or German studies," says Christian Strowa, DAAD Team Leader for the centers. Their interdisciplinary approach means the centers effectively advertise subjects relating to Germany across departmental boundaries and attract attention among students who did not yet have Germany very much in their sights. "Academics and students gain a different, more multi­layered view of Germany," says Strowa. Their expertise is often sought, as Nina Lemmens, Director of the DAAD North America Regional Office in New York City, reports: "Policymakers are glad to seek advice from researchers at the centers when they are dealing with German-European or German-transatlantic questions," she says. As a result, the centers at Georgetown and Berkeley, for example, have 
established themselves as think tanks on the East and West Coast. These institutions are also interesting from the DAAD perspective because they offer a valuable external view of Germany and the country is not looked at in isolation. "Germany is always also seen within the context of Europe," says Strowa.
That is demonstrated in an exemplary way by the events staged by the centers. In 2015, the Minda de Gunzburg Center for Euro­pean Studies at Harvard University, which was founded in 1969 and received DAAD funding for a long time, examined the 
conflict in the Ukraine crisis and the European financial crisis in numerous events. Founded in 1990, the Center for German and European Studies (CGES) at the University of California in Berkeley focuses more strongly on Germany. There, in 2015, the subject of "Global Germany" was examined in a number of gatherings that looked at Germany's partnership with the new EU member countries and the influence of globalization on German culture and society. And in the fall, at another conference 
arranged by the center, researchers discussed the reunification of Germany as a model for reconciliation between North and South Korea and between China and Taiwan. "This year has been very exciting because we have looked at subjects like the refugee crisis in our lectures," explains Akasemi Newsome, CGES Executive Director. Students and the general population in California are very heterogeneous. "Immigration is a subject that always interests people here," she says.
Many researchers are impressed by the interdisciplinary nature of these centers. One of them is Mario Daniels, currently DAAD Visiting Assistant Professor at the BMW Center at Georgetown University. "The BMW Center is a powerhouse of networking and has a fantastic event calendar bringing in high ranking scholars from the US and Europe," says the histor­ian. It collaborates with many other in­stitutions inside and outside the university. "It would be difficult to find a hub of intellectual contacts and activities like 
the BMW Center on either side of the 
Atlantic," he says. Interest is also great among students and junior researchers. "The BMW Center has become a magnet for talented young people seeking to deepen their understanding of Europe," says Director Jeffrey Anderson. As a result, the center has provided strong impetus for Georgetown University and the polit­ical capital Washington DC – and thereby also helped to strengthen transatlantic relations in difficult times. ▪
Benjamin Haerdle