CrossCulture Plus internships: changing perspectives
CrossCulture Plus internships enable young people from the Arab world to gain intercultural experience.
26.03.2014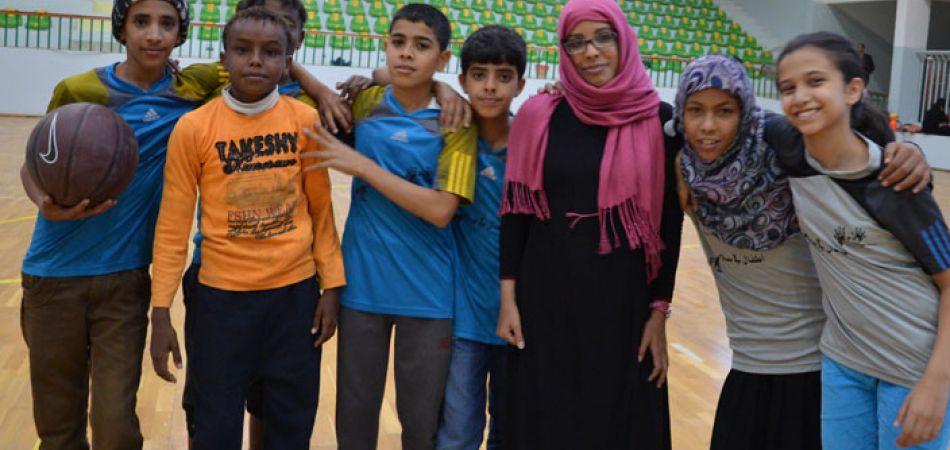 When Hanan Khaled thinks back to her time in Germany, she especially likes to remember how she explored the town by bicycle, street by street, with a smile on her face. "For Germans, riding a bike is a normal sport, for me it was like flying," says Hanan Khaled.
Hanan Khaled, 29, comes from Yemen. From June to August 2013, she received a scholarship from the CrossCulture Plus programme that enables young professionals from Egypt, Tunisia, Libya and Yemen to live between six weeks and three months in Germany and complete an internship in a German organisation. CrossCulture Plus wants to strengthen dialogue between people, institutions and cultures and intensify partnership between Germany and Islamic countries. The scholarship is offered by the ifa (Institut für Auslandsbeziehungen) and funded by the Federal Foreign Office within the context of the transformation partnership, which actively supports the democratisation process in the Arab world.
Hanan Khaled worked for the Hot Times project of the Eine Welt Netz NRW organisation in Düsseldorf – NRW is the abbreviation for the German state of North Rhine-Westphalia. Hot Times is a project that informs children and young people about the impacts of climate change. During her internship Hanan Khaled organised Facebook campaigns, workshops and conferences.
CrossCulture Plus interns work in various areas of civil society in their native countries: for example, in the fields of education, human rights, the promotion of democracy and environmental protection. They complete their internship in Germany in an organisation working in a similar field. However, the scheme is not only about acquiring professional skills. "The programme should also offer an opportunity for intercultural learning," says Eva Sodeik-Zecha, departmental head for CrossCulture internships. "It is all about experiencing a change of perspective, feeling what another culture is like from inside." This opens up new perspectives on development and social change. During their time in Germany the interns establish important contacts that they can use for future cooperation on their return to their home countries. The returning interns' close ties with their respective organisations mean that their international experience flows into their work there. They thus become opinion leaders who contribute to the development of democratic structures in their countries of origin.
The special feature of the CrossCulture Plus programme is that the internships are adapted to the needs and desires of the participants. Furthermore, there is a framework programme with supporting events or personal visits and meetings. Hanan Khaled, for example, took part in the Global Media Forum, a Deutsche Welle international conference in Bonn, visited the GIZ (Gesellschaft für Internationale Zusammenarbeit), the organisation based in Eschborn near Frankfurt that implements German development cooperation, and attended the Digital Participation Summit in Münster.
In addition to the award of scholarships, funding is provided for smaller projects by CrossCulture alumni in the Arab transition countries that strengthen local civil society structures. Children in Peace is such a project. It was founded by Osama Alfakih, a 31-year-old Yemeni who works for the Youth Leadership Development Foundation in Sanaa, a non-government organisation that supports children and young people in Yemen. He completed an internship with the CrossCulture programme in 2010. Children in Peace supports children in the Akhdam minority social group that experiences serious discrimination in Yemen. "The marginalised", as the Akhdam are also known in Yemen, are at the very bottom of the social hierarchy. "We bring the children of the Akhdam together with children from other social strata," says Osama Alfakih. "They get to know one another in social projects or while engaging in sport together. And the differences between the social classes gradually become smaller as a result."
Osama Alfakih is receiving support from CrossCulture Plus for four months. "We have a great interest in ensuring that there are opportunities for cooperation or joint projects between the local organisation and the intern's host organisation following the internship," says Eva Sodeik Zecha. "The CrossCulture Plus programme is meant to provide an incentive for cooperation of this kind."
The scholarship also benefited Hanan Khaled after her return to Yemen. Inspired by the work of the German GIZ, she has set up the Home Garden project. With two other non-governmental organisations, she helps poor people in Yemen lay out gardens. This is intended to improve the food supply. The funding for the project comes from Germany. ▪
Viktoria Kleber and Christoph Ricking
More about the CrossCulture programme