Vocational training without borders
A vocational school is preparing German and French youngsters for the employment market. What do the students think of their cross-border learning experience?
05.02.2018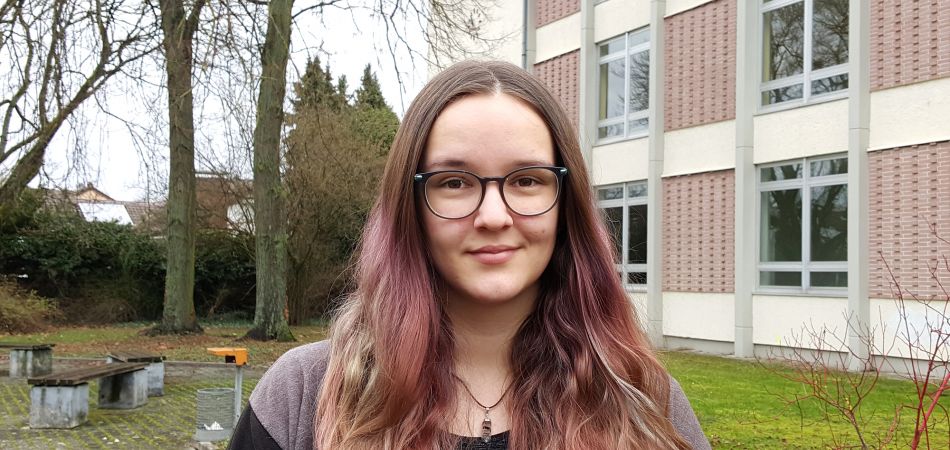 Germany. They transcend borders every day: for more than 30 years, the BSK vocational schools in Kehl have been collaborating closely with partners in France. Kehl is situated in the southwest of Germany, right on the border with France. Apprentices and young professionals here profit from this proximity. Currently, there are more than 50 French youngsters among the 1,400 pupils at the BSK vocational schools. At the same time, German apprentices are prepared for a possible future in France or for dealing with customers from Germany's neighbour. In 2017, the BSK was awarded the Adenauer-de Gaulle prize in recognition of its cross-border commitment – a prize jointly awarded by the German and French governments. We talked to one German and one French student, who explained what is special about their vocational training in Kehl.
Julia Wiegele (20): The best of both worlds
"I learnt French right from the start, as my parents moved from Germany to Alsace a few years before I was born. I did all of my schooling in France and took the "Abibac" in Strasbourg – a German-French version of the Abitur (Germany's university entrance qualification). When I was at primary school, I sometimes had to ask what the French words were, as we spoke German at home. When I later learnt English I found it easier to get to grips with a new language than most of the others did.
I want to use my language skills in my job.
Julia Wiegele, a freight forwarding and logistics apprentice
I quickly realised that I wanted to use my language skills in my job. At a company in Achern, which is 30 kilometres from Kehl, I am now on an apprenticeship programme training to become a freight forwarding and logistics services provider, with an additional qualification in logistics management. That's quite a mouthful! Among other things, we are taught about controlling and data processing. I'm currently working in the dispatch department, which doesn't give me much chance to use my language skills. Luckily my company sent me off on an internship abroad at a subsidiary in Atlanta in the USA.
Two days a week I attend classes at the BSK in Kehl. I think it's great that my school does cross-border projects. That is not something you find everywhere. When I am finished with my apprenticeship, I see more of a professional future for myself in Germany. Where I would then live? I don't really care – just so long as it is somewhere close to the border."
Thomas Saum (22): A good start thanks to an intensive German course
"After taking my Abitur, I first checked out my job prospects close to home in Alsace in France. Mechanics is something that has always interested me. I finally found what I was looking for in Germany, and have been an apprentice in a steel processing plant since 2014. For the theoretical side of my training, I attend classes at the BSK vocational schools in Kehl.
The fact that I am able to do my training here, even though I come from France, is pretty special. I am the only Frenchman in my class, but I quickly settled in. I already had quite good German. In my home village of Seebach we speak the Alsatian dialect, which is similar to German. I also learnt German at school. Even so, I would not have found it so easy at first if it had not been for the preparatory year and intensive language course that the BSK offers. 
Lessons very closely reflect what is needed in the profession.
Thomas Saum, industrial mechanics apprentice
In 2017 I passed the exams qualifying me as a skilled metalworker. If all goes well, I will qualify as an industrial mechanic in 2018. That is exactly why I came to Germany. I really like the way lessons are structured here – they very closely reflect what is needed in the profession. I would also like to gain some further qualifications. I don't know where I will end up working. For the moment I am just happy that many of my old friends from France live just across the border in Strasbourg."
BSK vocational schools in Kehl