Berlin Fashion Week
A key gathering place for international fashion designers and retailers – and bang up to date with all the latest trends: for three days, Berlin will be dominated by fashion and lifestyle.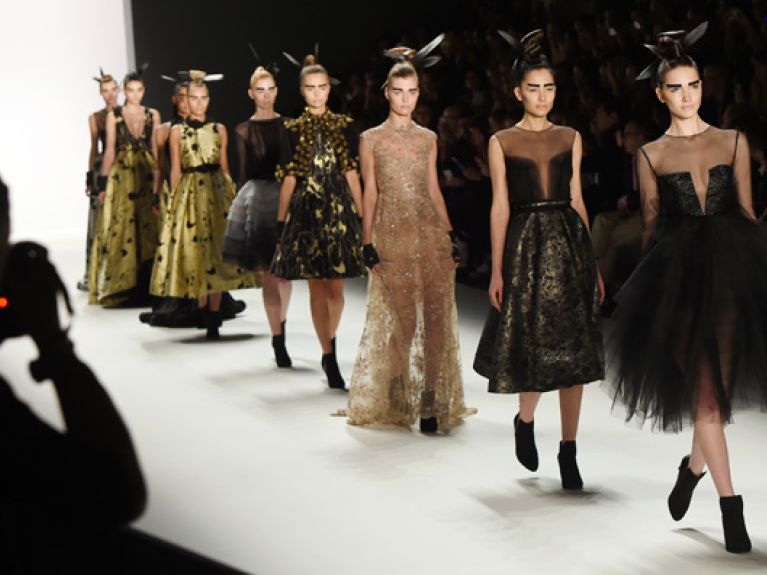 Berlin is lively, creative and definitely hip. Not only do trends get set here – twice a year, the German capital also becomes an international stage for fashion and lifestyle: from 17 to 19 January 2017, Berlin Fashion Week will attract 200,000 fashionistas, primarily from Europe, Eastern Europe and Asia, to the metropolis on the River Spree. 
Berlin has long been one of the world's top five centres of fashion, alongside Paris, Milan and New York: back in the early nineteenth century, the Berlin fashion scene was to be found clustered around Hausvogteiplatz in the city's Mitte district. This is where the legendary "Berlin chic" style of the 1920s originated, nearly a century ago. Ever since the Berlin Wall fell in 1989, Berlin's open and electrifying fashion scene has been attracting creative types and fashion designers. Boasting some 2,500 firms and employing 22,800 people, the density of fashion companies in Berlin is higher than anywhere else in Germany. Fashion industry sales in the city soared by 117 percent to roughly 3.8 billion euros from 2009 to 2013.  
Green fashion and wearable IT
Sustainability is a major focus at this year's Berlin Fashion Week with its 70 fashion shows. Green fashion and upcycling – when new garments are made out of old ones – are becoming increasingly important. The specialist Greenshowroom and Ethical Fashion Show events will be dedicated solely to ecological and sustainably produced fashion. More and more Berlin fashion labels – including "Schmidttakahashi", "Ica Watermelon" and "Ewa Herzog" – are applying this standard in their production processes. The "edelziege" label created by Mongolian-born Saruul Fischer is also taking part in the Greenshowroom: "edelziege" blends Mongolian cashmere with lace from Plauen and has been causing quite a stir at Fashion Week for some years now.
The fashion industry is also interested in the question of how technology and clothing can be combined. Some fashion labels are designing garments that can measure the wearer's blood pressure or have integrated lights that come on when riding a bike. Some labels are incorporating luminescent fibre-optic cables into the seams of jackets or into scarves in a visual presentation of technical progress. Such "wearable IT" will be on show for example at Fashiontech Berlin – and it will be interesting to discover how much of this will then be seen on the streets in the autumn/winter of 2017/2018.
The highlight of Berlin Fashion Week is Mercedes Benz Fashion Week Berlin, featuring fashion shows by leading international designers. Traditionally, the emphasis here is on designers from Berlin. For example, the German-Iranian fashion designer Leyla Piedayesh will be presenting the new collection of her Lala Berlin label there. The Bulgarian designer Vladimir Karaleev, who established his own label of the same name in Berlin, will be showing his simple and often unicolour designs on the catwalk. As Karaleev once revealed, his designs are influenced by contemporary art and functional architecture.
Berlin Fashion Week from 17 to 19 January 2017
© www.deutschland.de