From child refugee to trendy restauranteur
How The Duc Ngo, who came to Germany from Vietnam aged five, made a career for himself in the gastronomy sector.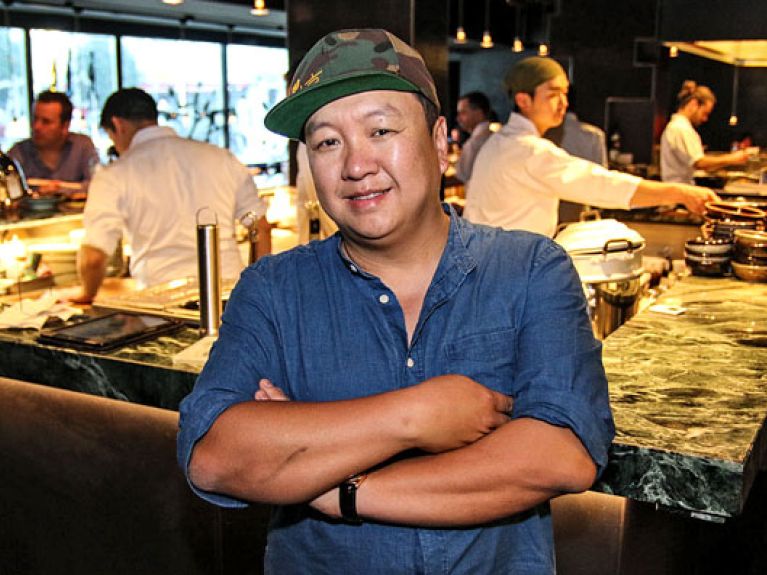 There's no stopping The Duc Ngo. Once again, he is planning a new restaurant. He wants to turn the former Kant-Café in Berlin's Charlottenburg district into a trendy new venue. And Duc, as his friends call him, has clear ideas about how he could do that. "Here will be quality fish dishes, and over there vegan and vegetarian food," says the 43-year-old. He hasn't settled on a name for the two-part restaurant yet. "But I want to open at the end of July." Duc already runs six restaurants in the surrounding area. Sushi, soups, avant-garde Vietnamese cuisine – whatever he comes up with, works, for the most part.
"Like the refugees travelling today"
Duc is a charming host and enjoys his work. "That's my Vietnamese genes," he says. The Duc Ngo was born in Hanoi in 1974. "My father was Chinese, a minority that endured severe discrimination in Vietnam in the late 1970s. My parents were harassed every day and had to close their grocery store," recalls Duc. Consequently the family decided to leave the country. "We travelled across the South China Sea in a completely overladen junk." He can remember it precisely, despite only having been five at the time. "It was like the refugees travelling today," he notes. Once we had arrived at a transit camp in Hong Kong, we had the chance to go to either Santiago de Chile or West Berlin. "We opted for Germany and were warmly welcomed," recalls Duc.
Japanology and sushi
After staying at a former police barracks for a while, the family got an apartment. Duc took his A Levels at 18. Even while still at school, he worked part-time at McDonalds and sold ice cream in the Zoologischer Garten. "I was always interested in gastronomy. I liked eating and started cooking." He took an especial interest in Japanese food from an early age. "Simple, clear, conveying the idea of Zen, that was my thing." After his A Levels he studied Japanology at Freie Universität in Berlin – and waited tables in sushi restaurants. He quickly learned the essential cutting technique for raw fish and how to elegantly hand-shape the rice for nigiri sushi. It was during this time that he had his first idea for a restaurant. Then, in January 1999 Duc opened "Kuchi" on Kantstrasse in Charlottenburg, a stylish sushi bar. It was an initial spark that set more in motion. Shortly after a second restaurant followed, "Next to Kuchi" right next door, for simple takeaway dishes, and in 2001 "Kuchi II" in Berlin's Mitte district.
Career ups and downs
In winter 2005 he was ready for his next coup and opened the gourmet restaurant "Shiro i Shiro" on Rosa-Luxemburg-Strasse, spectacularly furnished with porcelain-white tables and chairs, crystal chandeliers and dove-blue textile wall coverings. Just one year later it numbered among the world's 50 best newly opened restaurants. Sharon Stone, Mick Jagger and David Lynch dined there, "the whole top showbiz." However, it wasn't to last. "The dishes were getting increasingly artificial, we lost contact to our guests, the landlord wanted to raise the rent six-fold. Everything bad happened at once." After three years, Duc closed "Shiro i Shiro" with a heavy heart and took some time out.
Do what you are good at
Duc went travelling for six months in the USA, Japan, South Korea, India and Turkey on a tour of self-discovery. "I rested, recharged the batteries and came up with new ideas," he says. "I also realized that I shouldn't be something I am not and should only do what I can do best." After returning to Berlin, he initially cooked at the newly opened trendy "Bar Tausend" on Schiffbauerdamm. Till Harter, the man behind the enterprise, persuaded Duc to take over the back section with his former "Shiro i Shiro" team. "I met new people here who asked if I might develop and realize concepts for them."
Almost 200 employees
This led, in partnership with Micky Rosen and Alex Urseanu, to the concept for "Moriki" in Frankfurt/Main. In a 400-square-metre restaurant in one of the two Deutsche Bank towers, he advanced the idea of "Kuchi" with sushi, noodle dishes and traditional Vietnamese dishes. Four further restaurants followed, most recently "893" in Berlin. Duc now employs around 160 staff – a number that is surely soon to grow to 200. Almost all family members work for him "if they want." And a great many friends. He sees his restaurants as a family affair. "We help one another; that brings us closer together." Does he have a dream? "Perhaps a star for a very small, exclusive sushi restaurant," he says. But right now he is focussing on opening the next restaurant.