"Entdecke DE": The Call of the Mountain
The "Entdecke DE" series takes you on a tour through Germany. This time, our wintry destination is Garmisch-Partenkirchen and the Zugspitze.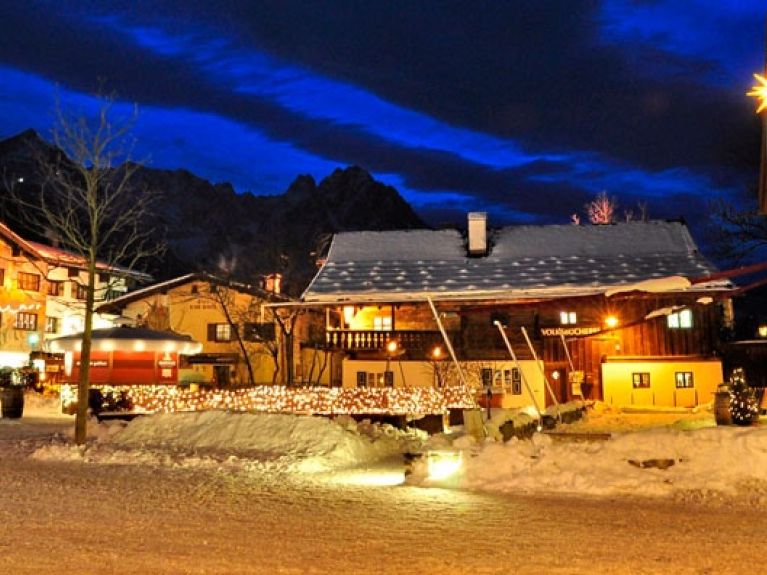 There's no higher peak in Germany, and the path to the top is steep. It takes around 70 minutes, and for many tourists begins with a ride in the blue-and-white cog-rail carriages of the Bavarian Zugspitze Railway. At 2,962 metres, the Zugspitze is Germany's highest mountain and one of the most popular destinations for visitors from all over the world, not to mention the landmark of Garmisch-Partenkirchen.
This town in the Upper Bavarian Loisach valley is mad about winter sports. A market town with a population of around 27,000, Garmisch-Partenkirchen hosted the Alpine World Ski Championships in 2011. In the winter season, the cog railway and the two local cable cars ferry numerous ski and snowboard fans every day up the Zugspitze to Germany's highest skiing area. At the top, on Germany's only glacier, more than 20 kilometres of runs, a snowboard park, toboggan runs, glacier walks and an igloo village await.
To get to the very top of Germany, which is another 282 metres higher, the Glacier Cable Car floats above skiers and ski lifts and up past the Schneefernerhaus environmental research station. Up on the Zugspitze viewing terrace, snow crunches underfoot, and the thermometer shows frosty temperatures well below zero. At this time of year, Germany's highest beer garden and highest mountain lodge, the Münchner Haus, are closed. Consecrated by the current pope Benedict XVI, Germany's highest church – "Maria Heimsuchung" – offers church services and time for spiritual reflection.
The air is thin at an altitude of nearly 3,000 metres, and you can see for miles. When the weather is clear, winter and summer visitors alike can enjoy a 360 degree panorama encompassing 400 peaks in Germany, Austria, Switzerland and Italy – an exhilarating view that attracts around 450,000 visitors each year.
www.gapa.de
www.zugspitze.de
© www.deutschland.de