Shared history
No other non-European country was more closely involved in the history of the two German states than Vietnam.
22.06.2015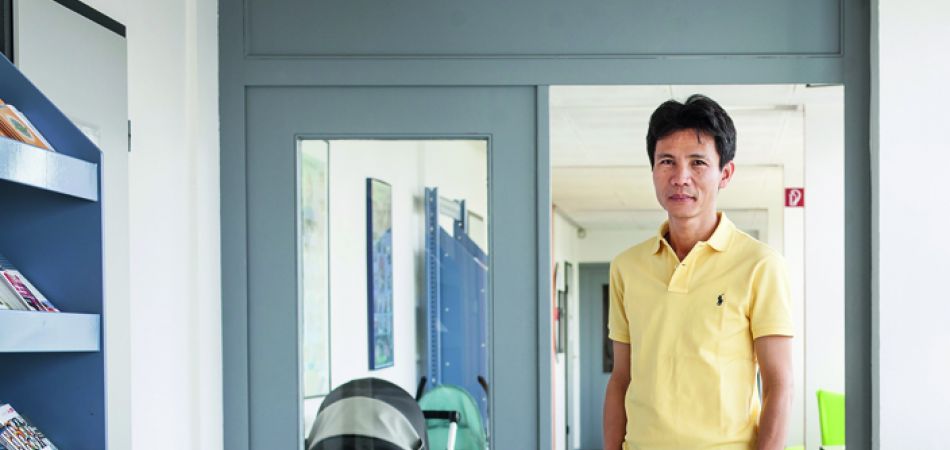 There was a big surprise in store for Phan Huy Thao when he arrived in the GDR in December 1989. The 24-year-old Vietnamese had travelled to East Berlin as a contract worker together with ninety fellow countrymen. "But it wasn't until after we arrived that we found out that the Wall had fallen," he says. Germany and Europe were in a state of upheaval – and they had landed right in the middle of it. To begin with, however, everything went according to plan. Phan started working in East Berlin for Progress, a state-owned menswear combine, as an interpreter between Vietnamese workers and their German colleagues.
Phan was one of many. The GDR government recruited over 60,000 Vietnamese to work in "publically owned enterprises" (VEB) between 1980 and 1990. They were supposed to make up for the growing labour shortages. Vietnam was a "socialist brother country", and the two countries had long maintained close relations. When the Vietnam War broke out in 1955, for example, the GDR took in hundreds of Vietnamese children out of solidarity. The boys and girls went to school and then received vocational training. These schoolchildren were followed by apprentices, students and researchers. Many later returned to their home country as highly qualified adults and took on important roles in Vietnamese society, in some cases as politicians and entrepreneurs. This led to the development of networks that still exist today. The Federal Republic of Germany also took in thousands of Vietnamese, mainly after the Vietnam War. Almost 40,000 people, including many "boat people" and war orphans adopted by German families, were able to come to western Germany with relatively little red tape.
But we haven't finished telling Phan Huy Thao's story yet. He had already been in the GDR once before. Phan Huy Thao came as a student in 1982 and enrolled in Chemnitz to study mechanical engineering technology. He travelled home after successfully graduating in early 1988 and then spent two years working for a textile combine in Hanoi. "Then I received an offer as a contract worker, and I accepted. It was the beginning of a new stage in my life." He was originally supposed to stay in East Berlin for five years, but the collapse of the state-run economy in the GDR put a spanner in the works. Phan and his fellow countrymen were given notice only three months later. Most of the contract workers returned to 
Vietnam during the first years after German reunification. They received 3,000 deutschmarks in compensation plus travel expenses. But thousands stayed, including Phan Huy Thao. He initially had to get by on unemployment benefit; then he found a place on a re-training programme and subsequently worked for 
non-profit organisations. He later married, started a family, studied social work on day-release, and settled down in Berlin. Since 2006 Phan Huy Thao has worked as a migration consultant for an association called Reistrommel (Rice Drum) in the Marzahn district of Berlin.
His story is shared by many, because Vietnam was more closely involved in the history of the two German states during the second half of the 20th century than any other non-European country. "Today there are roughly 120,000 people of Vietnamese origin living in Germany, approximately 20,000 of them in Berlin," says Phan Huy Thao. They are regarded as one of the best integrated immigrant groups in Germany. And they are being joined by more newcomers, especially students, all the time. Because of the increasing shortage of skilled personnel, German organisations are actively looking for Vietnamese who want to train as nursing staff in Germany. ▪