2017 trends in winter sports
Every winter sport season has its particular trends. Above all, speed fans have reason to get excited in 2017. A selection of the hippest winter sports.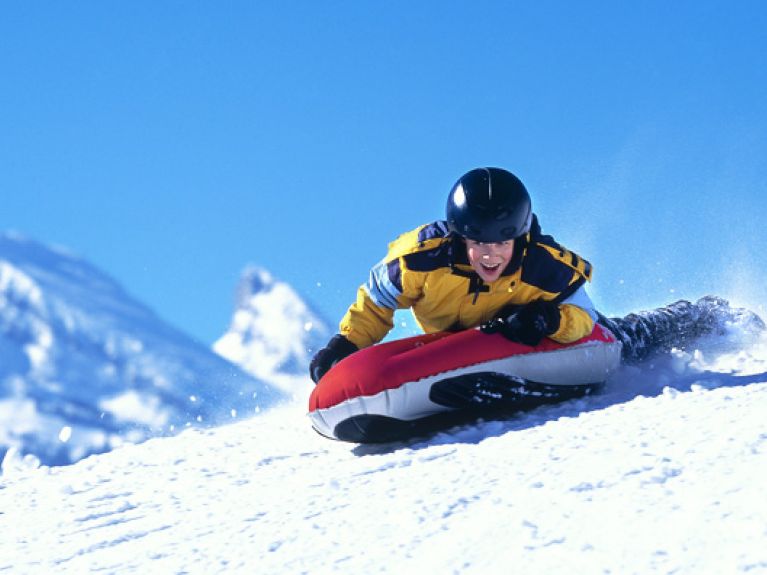 Airboarding
When high-tech air cushions travel downhill at up to 100 kilometres an hour, you don't have to wait long for an adrenalin kick. It takes a certain amount of courage to slide down icy slopes lying on your stomach. But the airboard is easy to steer by shifting your body weight. The necessary technique is taught in several German winter sport centres – for example, in Holzhau in the Ore Mountains.
Fatbiking  
Is your bike simply left to rust in the garage during the winter? That doesn't have to be the case. A fatbike makes it possible to compete in fast downhill racing even on snow and ice. The world's first winter fatbike park in Ruhpolding in Upper Bavaria is completely designed for these fun bikes with extra wide tyres and promises a totally new view of the trail.
Skijöring
This equestrian winter sport from Scandinavia involves teams consisting of one rider and one skier, who should wear a helmet with visor. This is because being pulled through the winter landscape by a horse with the aid of a tow rope at up to 50 kilometres an hour shoots lots of snow into the air. Skijörung is offered in the Swabian Jura, for example. Although this low mountain range cannot guarantee the availability of snow like the Alps, its remoteness from mass tourism offers the advantage of charming routes in unadulterated landscapes. 
Snowkiting
The winter variant of water-based kitesurfing involves a snowboarder with a kite being pulled over the snow by the force of the wind. Kiters experience a kick during moments of weightlessness when they are briefly lifted into the air. This winter sport trend was already discovered by skiers during the 1960s, but is only now taking off in German winter sport centres. If you are sure on your feet on a snowboard, you can take lessons in this sport, for example, on the Feldberg in the Black Forest. 
Snowfen 
If you combine "snow" and "surfer", you end up with a surfboard with runners and a sail that can glide over a frozen lake at up to 80 kilometres an hour. Speed junkies don't need to travel to the mountains to snow surf. Lowland regions also offer areas of frozen water or snow. Courses are offered in Berlin and Hamburg, for example, in appropriate weather conditions.